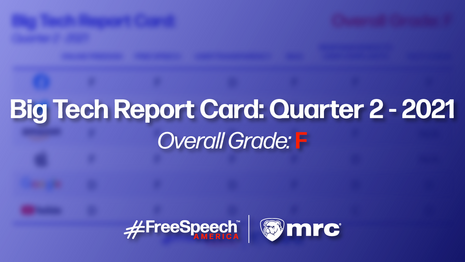 Big Tech's Online Freedom grade actually got worse in the second quarter of 2021, despite an appalling first quarter report card with a grade of "F." Facebook led the plunge to yet another "F" for the industry intent on censoring conservative content. Twitter, Amazon, Apple, Google and YouTube joined Facebook in their authoritarian crackdown on conservative speech and anyone who questioned the lockstep leftist narrative. For the latest incidents of censorship, check CensorTrack.org. 
The two biggest censorship stories of this quarter involved further censoring former President Donald Trump, and restricting content related to COVID-19. The first quarter ended with Facebook in the midst of its appeals process to determine whether Trump would be allowed back on. The site's response to the Oversight Board's ruling was abysmal. Facebook had to eat crow this quarter when the Wuhan laboratory leak theory began gaining traction. The platform said it would stop censoring content concerning the origins of COVID-19 "in light of ongoing investigations." 
Twitter, on the other hand, initially refused to say if it would stop censoring laboratory leak content. Amazon reportedly banned America's Frontline Doctors from using its Amazon Web Services (AWS) product over the group's views on COVID-19. Google continued to manipulate search results to discredit the Wuhan laboratory theory even after the White House announced an investigation into it. Additionally, it expanded its censorship efforts this quarter, moving into censoring Google Docs that contained COVID-19 related information. 
Big Tech's censorship efforts did not stop with silencing users over COVID-19, however. Among Twitter's worst incidents, it not only permanently banned Project Veritas founder James O'Keefe, it also suspended multiple accounts just for tweeting Trump's statements. Apple may have reinstated Parler to its App Store, but Parler claimed Apple forced it to start censoring content to Apple's standards. That is not a win for free speech. Some of YouTube's lowlights include censoring Christian author and radio host Eric Metaxas, a speech by a sitting U.S. Senator, and no quarter would be complete without another swipe at conservative commentator Steven Crowder. 
The Media Research Center's Free Speech America once again graded Big Tech using five categories, culminating in an overall grade for each company's Online Freedom. The five areas included: Free Speech, User Transparency, Bias, Responsiveness to User Complaints and Fact-Checking.
More freedom and less restriction is the only model that celebrates American principles and treats users as adults who can make their own decisions. Big Tech continued to demonstrate through its actions that it does not support American principles of free speech. When even major leftists like comedian Bill Maher call out Big Tech for suppressing freedom of speech, it is clear that there is a big problem.
This quarter, Big Tech earned a collective "F" for the second quarter in a row. Facebook declined in three categories and its overall Online Freedom grade, while both Twitter and Apple fell to "F"s in User Transparency. No platform improved in any category this quarter.
FACEBOOK
Overall Grade: F
Facebook continued to silence Trump, with its Oversight Board temporarily upholding his ban. The Oversight Board kicked the overall decision back to Facebook and gave the company six months to determine the former president's future on the platform. Facebook gave Trump an added two-year suspension, and said it will assess the decision to ban him when those two years have expired. It also infamously removed a "Jerusalem Prayer Team" page with "75 million followers" after the page was allegedly targeted by "radical Islamic organizations," according to the group's founder Dr. Michael Evans. Facebook was forced to stop blocking content about the COVID-19 Wuhan Lab leak theory this quarter, yet the platform refused to touch left-wing political influencers and organizations with real histories of promoting violence. 
Free Speech: Facebook set new rules on "Heightened Penalties for Public Figures During Times of Civil Unrest and Ongoing Violence" and used them to extend Trump's suspension to two years. The platform removed the page of pro-life nonprofit LifeSiteNews. Facebook blocked users from linking to a New York Post story that reported on Black Lives Matter co-founder Patrisse Khan-Cullors reportedly purchasing her fourth home for $1.4 million. Fact-checkers have also continued to run rampant on Facebook's platform. Facebook pages with posts that receive fact-checks suffer from a limited reach in response to fact-checks, until the posts are removed. AP News fact-checked a graphic from the Media Research Center on Facebook that explained what the Democratic Party's H.R. 1 election bill would do to the country. The biased news outlet falsely claimed that the graphic was "missing context." Grade: F
User Transparency: Facebook's Oversight Board rebuked the platform for how it handled banning Trump. Facebook did not hold Trump's suspension to the same standard as normal penalties against other users. The Oversight Board stated: "Unfortunately, the lack of transparency regarding these decision-making processes appears to contribute to perceptions that the company may be unduly influenced by political or commercial considerations." The Oversight Board directly called out Facebook for inadequately implementing its policies equally to every user. As a result, Facebook claimed that it would increase transparency in June. The platform published information about how its strike system operates but did not provide many specifics regarding what content will or will not receive a strike. It also planned to provide "more context" to some pages, and will label some pages as "satire," or a "fan page." Grade: D
Bias: Facebook has a notorious history of banning conservatives and conservative organizations while still allowing leftists and foreign propaganda outlets to use the platform for their political agendas unscathed. In the past quarter, Facebook suspended Trump for two years and removed the page of the pro-life nonprofit LifeSiteNews. The company has also reportedly refused to donate political contributions to elected officials who did not vote to certify the 2020 presidential election, which included eight Republican senators and 139 House Republicans. Meanwhile, political contributions will resume as normal for Democrats. Additionally, Facebook blocked the link to a New York Post story that criticized Black Lives Matter co-founder Patrisse Khan-Cullors for reportedly purchasing her fourth home for $1.4 million. In comparison, Facebook still allows far-left political influencers on the platform despite their egregious actions. Grade: F
Responsiveness to User Complaints: At the request of Facebook's Oversight Board, the company introduced new policies regarding how it handles the accounts of politicians. Rather than support free speech, Facebook banned Trump for two years but still managed to implement new rules for politicians that meant greater censorship. In the past, Facebook allowed the posts of politicians to remain active for "newsworthiness" even if they broke some of the platform's rules. However, the company has decided to censor politicians now as they do normal users. And despite users complaining about Facebook censoring discussions regarding COVID-19 and vaccines, the company has appeared to double down. Alleged Facebook insider Morgan Kahmann went public in an interview with Project Veritas to reportedly expose Facebook's new system to crack down on COVID-19 vaccine criticism. While Facebook appears to respond quickly to its Oversight Board, the company ignores the concerns of average users. Grade: F
Fact-Checks: Early in the COVID-19 pandemic, Facebook and its fact-checkers censored claims that COVID-19 was manufactured in a laboratory in Wuhan, China. However, Facebook backtracked on that decision in May as the laboratory origin became a more widely accepted possibility. PolitiFact quietly retracted one of its fact-checks about the laboratory leak theory. The fact-checker originally issued a "Pants on Fire" rating on an article mentioning an interview that Fox News host Tucker Carlson had with Chinese virologist Dr. Li-Meng Yan. She said that COVID-19 was "created" in a lab. USA Today, another of Facebook's fact-checkers, updated one of its fact-checks of the theory in a similar manner. The possibility of COVID-19 originating in a laboratory always existed, but Facebook and its fact-checkers appeared content acting as a mouthpiece for the Chinese Communist Party. Grade: F
TWITTER
Overall Grade: F
Twitter continued to be one of the worst platforms for censorship. Twitter shut down multiple accounts in Q2 for sharing statements released by Trump, who the platform banned in Q1, claiming the accounts were a form of "ban evasion," a violation of Twitter's policies. Twitter also explained that because it has "permanently banned" Trump. It won't even allow his archived tweets on the platform in any form. 
Free Speech: Twitter permanently banned Project Veritas founder James O'Keefe this quarter after having banned Project Veritas in Q1. The platform also issued temporary suspensions to The Post Millennial journalist Ian Miles Cheong, Representative Marjorie Taylor Greene (R-GA), and sports commentator Jason Whitlock. Whitlock's suspension was one of several similar incidents related to the story of Black Lives Matter leader Patrisse Khan-Cullors purchase of a new home that Twitter and other platforms actively worked to suppress. Twitter also went after an anti-Critical Race Theory account and California's GOP Chairwoman, Jessica Millan Patterson. Once the COVID-19 Wuhan laboratory leak theory gained traction, Twitter initially refused to say if it would stop censoring content related to the theory. Grade: F
User Transparency: Some things don't change. Twitter often does not provide a reason for taking action against a user, or does not provide information as to which specific tweets were in violation. At other times, their explanation didn't make sense, and no clarification was provided.Twitter made a massive attack on transparency this quarter and stated that it would not allow any archived tweets from Trump to appear on its platform since his account is permanently suspended. This quarter also saw the launch of Twitter Blue, a new paid subscription service. The company admitted in its FAQ that the subscription is not refundable if a paid account is suspended. Worse, the subscription will also have to be manually cancelled in the event of an account suspension or charges will continue to recur despite the suspension. Twitter's guidelines remain vague and subjective, guaranteeing biased enforcement. Grade: F 
Bias: Twitter once again censored many conservatives in Q2. The platform was highly biased in the enforcement of its policies. Twitter has falsely claimed that it acts to prevent bullying and incitement or glorifying of violence. The Post Millennial editor-at-large Andy Ngo cataloged numerous tweets against him that were not censored — at least not before he pointed them out. It also did nothing to prevent the posting of Representative Maxine Waters's (D-CA) comments encouraging George Floyd protestors to "stay in the street" and "get more confrontational." It banned a New York Post exposé on Hunter Biden in Q1, claiming that it was based on "hacked materials," a claim that proved false. Then Twitter allowed the posting of an article that actually did rely on hacked materials in Q2, in addition to reporting by ProPublica based on leaked tax returns. Twitter also failed to fact-check leftists when they propagate fake news. Grade: F
Responsiveness to User Complaints: There were reports that Twitter refused to take action against accounts reported for harassing women. Twitter finally agreed to require '80s pop star Richard Marx to delete a tweet in which he celebrated Sen. Rand Paul's (R-KY) neighbor's violent physical attack on him only after Paul made enough noise about it. Twitter also finally caved to pressure and censored the Hamas Political Bureau chief, Ismail Haniyeh, amid fighting between Palestinians and Israel. But it refused to censor the Ayatollah Khamenei, leader of the world's largest exporter of terrorism — Iran. Grade: D
Fact-Checks: Twitter's version of a fact-check is less intrusive than Facebook's, typically consisting of a linked warning label that appears below the tweet. The site admitted that "in most cases," when such a label is used, the platform will also "[r]educe the visibility of the Tweet on Twitter and/or prevent it from being recommended." The fact-check pages that are linked are typically not one "authoritative" article written by a fact-checking organization as Facebook's are. Rather, Twitter has created pages that are a roundup of many articles and tweets about the topic, though nearly all of them come from left-leaning sources. Twitter continues to use these most heavily for COVID-19 related tweets, even when the user is linking to official sources in the tweet. In some cases, when the warning label is utilized, Twitter will also restrict the ability to like or share the tweet, as was done in at least one case this quarter related to a COVID-19 vaccine injury report. Grade: D
AMAZON
Overall Grade: F
Amazon has continued to censor products in Q2 challenging its preferred narratives — especially books — following a Q1 rife with censorship and anti-conservative bias. In Q1 Amazon quietly altered its policy "to explicitly forbid books that promote 'hate speech,'" according to Just The News, "a major rule change that could be used to rationalize action against a broader range of books sold by the digital retail giant." This opened the floodgates for the massive online marketplace to continue its modern day book burning of works written by conservative authors. Some have also accused Amazon of deleting negative reviews of books written by famous liberals to help pump up their performance on the company's marketplace. Others have suggested Amazon deleted reviews it doesn't like. 
Amazon's cloud-computing arm, Amazon Web Services (AWS), reportedly banned nonprofit, America's Frontline Doctors (AFLDS), from using its services for challenging the company's liberal orthodoxies on the coronavirus. 
Amazon CEO Jeff Bezos owns The Washington Post, which happened to halt its presidential fact-checking program under the Biden Administration during Q2. 
Free Speech: Amazon temporarily blocked sales of yet another book from its massive digital marketplace about the excesses of transgender ideology in Q2. This came after Amazon's contentious removal of Ryan T. Anderson's book, "When Harry Became Sally: Responding to the Transgender Moment," in Q1, which is also critical of the contemporary transgender movement. After Maria Keffler spoke with the Christian Post about Amazon's block on her book, "Desist, Detrans, & Detox: Getting Your Child Out of the Gender Cult," Amazon reportedly sent her an email indicating sales of her book had been blocked in "error." The alleged website for Andrew Meyer from the 'Don't Taze Me Bro' meme stated in a blog that Amazon temporarily banned sales of the book "Don't Taze Me Bro: Real Questions, Fake News and My Life As a Meme." The blog further stated that Amazon told Meyer it had done so in "error." The purported website of telecommunications consultant Martin Geddes accused Amazon in a blog of having removed a book by Geddes titled "Open Your Mind to Change - A Guidebook to the Great Awakening." The book discusses politically incorrect topics like the deep state and fake news.
But, it's not just sales Amazon is going after. The company suspended multiple ads for the Media Research Center's own CNSNews.com Commentary Editor Rob Shimshock's new book, "Nightmare Crescendo: Breaking the Chokehold of Woke Capital" for containing controversial topics, having incorrect capitalization and improper usage of the word "whose" only after he began targeting his ads to a larger audience and with more key terms. Others on Twitter have accused Amazon of censoring books from conservative authors on the platform this quarter as well. 
AWS took the same action against the heavily criticized and censored AFLDS in Q2, as it did to the free-speech focused social network Parler in Q1. Amazon banned AFLDS from using AWS's web hosting services, the same as it did to Parler, essentially wiping their website off the internet until AFLDS was able to find an alternative solution. Grade: F 
User Transparency: At least two of the books Amazon removed this quarter were reportedly taken down in "error," and a bevy of other conservative books were also reported as unavailable for purchase on its digital marketplace for periods of time. Amazon's reported explanation, according to The Christian Post, that it was an "error," does not contribute to user transparency. Additionally, Amazon could provide greater detail when explaining why books have been taken down, whether in error or not. 
Further eroding Amazon's transparency, it came out in April that Amazon had co-hosted an event in November of 2020 where Renwei Electronics received what BuzzFeed News described as a "warm welcome." According to BuzzFeed, Renwei's "smart prison" system is used to track prisoners in China's Xinjiang region, "where more than 1 million Muslim minorities have been locked up." At the event, Renwei was noted as one of six "outstanding entrepreneurial companies," and was allowed to give a speech to some of China's top investors. Grade: D
Bias: Nearly all of the reports of banned books from this quarter were conservative books. While books removed in "error" were often reinstated within days of the public complaints about the incident, the comparatively minimal number of leftist books that endured such treatment demonstrates clear bias.
Amazon also clearly displayed its bias for woke culture when it began pushing native advertising about its "inclusive health benefits and a comfortable wage" using a transgender employee named Luv-Luv. In the ad, Luv-Luv pointed out that Luv-Luv joined Amazon for the health benefits it offered transgender people. "Amazon has paid for four surgeries for me. That's probably over $210,000," Luv-Luv remarked in the ad. Grade: F
Responsiveness to User Complaints: Amazon has shown that it is quick to respond to the complaints of authors when their books appear to have been removed from its marketplace, as it did for Keffler and Meyer. The answer may or may not be something that the author agrees with, but rarely does Amazon remove someone's book listing without also alerting them that it has done so. However, it could provide greater detail when explaining why books are taken down, whether in error or not. Grade: F
Fact-Checks: N/A
APPLE
Overall Grade: F
Apple is another Big Tech company that actually got worse in the second quarter.It agreed to reinstate the Parler app to its App Store, but with stipulations. Parler must employ content moderation to Apple's satisfaction, amounting to forced censorship, Parler reported. Apple neither confirmed nor denied this, contributing to its falling User Transparency grade this quarter. 
Free Speech: Apple reinstated Parler, but censored free speech in the process. Mark Meckler, formerly the interim CEO at Parler, said Apple's version of the app includes censorship. Meckler told Stuart Varney of Fox News that Apple "required" the app to "censor content that is aimed at peoples' inherent characteristics, immutable characteristics; race, gender, sexual orientation" before agreeing to approve it. The tech giant also allegedly cut ties with Antonio García Martínez, a former Facebook employee and author of the memoir Chaos Monkeys, just a few weeks after Apple hired him. The company took action after its employees accused Martinez of being a potentially unsafe misogynist and cited bits and pieces of his book as evidence. Martinez maintained in a Twitter thread that Apple, "actively recruited" him and that the company was "well aware" of the distinction between his literary and professional "personas." Grade: F
User Transparency: Apple has not put out a statement confirming or denying whether it required Parler to censor certain content on the iOS version of the Parler app. The company also defended its decision to fire Martinez when it told Bloomberg News that "[b]ehavior that demeans or discriminates against people for who they are has no place here." Martinez, however, responded in a tweet saying that Apple's implied allegations of objectionable behavior while working for the company are "categorically false." Grade: F
Bias: Apple's bias is obvious. It removed the Parler app from its App Store in the first quarter over claims that the Jan. 6 Capitol riot was organized on the platform. However, it was later reported that much of the organizing occurred on Facebook. Apple took no action against Facebook's App Store status and didn't force the company to amend its moderation policies to address the issue. Instead, Apple forced Parler, which brands itself as a free speech platform, to create a censored version of its app in order to regain App Store approval. Grade: F
Responsiveness to User Complaints: Apple responded to user complaints by reinstating the Parler app. It almost made things worse. The company did little to explain its app review process until mid-April. Apple then responded to a letter sent three weeks earlier by Sen. Mike Lee (R-UT) and Rep. Ken Buck (R-CO) asking Apple to answer for its actions. Apple defended the mere 24-hour window it gave Parler to respond to its content removal requests, citing alleged previous compliance failures and "the egregiousness of the violations and ongoing potential for further harm." Apple claimed that after the 24-hour period, "Parler did not communicate a sufficient plan to improve its moderation of user-generated content in the app." Grade: D
Fact-Checks: N/A
GOOGLE
Overall Grade: D
Google might not be the first company to come to mind when thinking about Big Tech censorship, but the search engine is capable of devastating tactics. Google Drive interfered with a doctor or an entire group of concerned citizens by meddling with their ability to share documents amid the COVID-19 pandemic. Google has been historically secretive about the workings of its search algorithms but is transparent about catering to the ever-changing whims of political-correctness in language policing.
Free Speech: Google Docs restricted Dr. Vladimir Zelenko in June, the first doctor to advocate for alternative COVID-19 treatments, from sharing six different documents. Users received a terms of service note when the doctor tried to share the documents with them. "We're sorry. You can't access this item because it is in violation of our Terms of Service," the Google alert explained. It was unclear what rule was broken.
COVID-19 was a major theme of Google's subtle, but censorious policies in 2021. "Google is blocking access to a PDF document that has compiled 106 pages of screenshots of mainstream media reports about people who have allegedly experienced negative side effects or died after taking a COVID-19 vaccine and social media testimony from those who have alleged adverse vaccine reactions," Reclaim The Net reported April 23. In a move that may be a warning of things to come, Google also launched an "Inclusive Language" warning program in late May. Even after the White House announced it would be investigating the Wuhan laboratory leak theory, Google continued to manipulate search results to prevent the further spread of the theory. Grade: F
User Transparency: Google's censorship is more underhanded than other Big Tech companies because it is a search engine. Conservative commentator Dana Loesch said links shared in a live discussion in late April were deleted: Loesch accused Google of deleting "every single link" and "especially any links to [her] newsletter" from her radio show's live discussion. Loesch posted a screenshot on Twitter from what she described as "the heavily Google-policed live discussion" that showed random links posted to the discussion by her staff that got deleted.
Google's willingness to embrace PC ideology was on display when it announced in May that "gendered" language in Google Workspace apps would trigger warnings such as: "This indicates gender. If you would like to choose gender inclusive phrasing consider: chair, chairperson." The new warnings followed Google's recently updated documentation policy, which advised developers to avoid "ableist" and gendered phrases, even in tech jargon. Grade: D
Bias: Google's opposition to online freedom often manifests itself as bias by omission.Conservative commentator and Grabien Media founder Tom Elliott posted screenshots in late May that showed the purported results of three different search engines when using the term "rand paul" in the respective search bars. The search was reportedly made after Senator Rand Paul (R-KY) was sent a suspicious package with an image of a gun pointed at his head. Among Bing, DuckDuckGo and Google, Google was the only search engine with no articles in the search results about the incident featured in the screenshot. Luke Rudkowski, founder of the independent news outlet We Are Change, encountered a similar disparity. He posted screenshots in April after reputedly searching "Riots today" on DuckDuckGo and Google. The screenshot of DuckDuckGo's results showed race riots in Minnesota. The screenshot from Google showed results concerning past riots in Brixton, UK and the Capitol Riot. Grade: F
Responsiveness to User Complaints: Google has shown at least some willingness to play ball, but on unfair terms. "On Monday, Alphabet Inc.'s Google also indicated it would allow Parler back on the Google Play store if the app meets guidelines," Bloomberg reported. The same article attributed a statement to Google: "Parler is welcome back in the Play store once it submits an app that complies with our policies." Bloomberg then recounted, "The company added that the app had remained available on Android via other channels despite the January removal from Google Play." Grade: D
Fact-Checks: While Google does not use fact-checks like Facebook, it does rely heavily on Wikipedia for content that is provided in "knowledge boxes" above search results. A study found that only one-third of Google searches result in clicks, in part due to the knowledge boxes that seemingly provide the information sought. However, Wikipedia's co-founder Larry Sanger has called out the platform for being heavily biased in the past. Grade: D
YOUTUBE
Overall Grade: D
YouTube has a famous history of censoring creators and does so on a massive scale. Conservative commentator Steven Crowder voiced his concerns as early as 2019 after reading YouTube policy updates that a "purge" on YouTube was imminent. His concerns have since been justified. YouTube channels are given multiple warnings or "strikes" for alleged policy violations, regardless of whether conservatives agree with the merit of those policies themselves. YouTube embarrassed itself by having its CEO accept an award from a company that is publicly supported by YouTube.
Free Speech: In early June, Christian author and radio host Eric Metaxas tweeted that YouTube purged content from his channel. The Louder with Crowder team said in mid-May that YouTube suspended conservative commentator Steven Crowder's channel for two weeks and issued a second strike against it. YouTube had also previously participated in censoring content concerning the origins of COVID-19, and it is unclear whether it has stopped, as the company seems not to have made a statement about it.
Antonin Scalia Law School Professor Eugene Kontorovich in May told the Media Research Center (MRC) that YouTube removed video of an interview he did on RT, a Russian propaganda outlet, saying that YouTube told him that a "team" of reviewers "think" the video violated the platform's guidelines. YouTube also took down a speech by Sen. Ron Johnson (R-WI) and suspended his account for a week.
YouTube CEO Susan Wojcicki was quoted in a promotional video for an event explaining, "I also really care deeply about the freedom of expression." However, she also admitted YouTube "removed nine million videos last quarter and almost all of them – over 90 percent – we removed with machines, which is good because it means if there's content that's violative, we find that really quickly." Grade: F
User Transparency: YouTube is known for being up-front about the fact it censors via frequent reports. YouTube explained in early April that it created the new Violative View Rate (VVR) as part of its Community Guidelines Enforcement Report. YouTube claims that VVR helps leadership "estimate the percentage of the views on YouTube that come from violative content." Wojcicki touted the move as a shift toward "more transparency around the effectiveness of our systems." 
However, at the same time, YouTube has strongly denied that its systems or moderators have biases that impact the platform. Wojcicki appeared at the Poland-based Impact '21 conference in May and denied YouTube's increasingly blatant censorship of conservative voices online, making the absurd claim that when humans create algorithms, their biases aren't coded into the algorithms: "We build systems. The systems have no concept of political view or bias." Even Congresswoman Alexandria Ocasio-Cortez (D-NY) commented in 2019 that algorithms contain "inequities" that "get translated… if you don't fix the bias, then you're just automating the bias." 
YouTube made a public mockery of itself after Wojcicki received a free speech award from an event listing YouTube as the top ranking "Signature Sponsor." "After an unprecedented year of YouTube censorship, the Freedom Forum Institute, a group which states that its mission is 'to foster First Amendment freedoms for all,' has given YouTube CEO Susan Wojcicki a Free Expression Award," Reclaim The Net reported April 16. Grade: D
Bias: Susan Wojcicki may deny that YouTube has a liberal bias, but the platform's record proves otherwise, particularly by targeting conservative commentators like Crowder and Metaxas.
Big Tech platforms are famous for censoring conservatives allegedly by mistake. However, YouTube reinstated the anti-conservative, anti-free speech operation known as Right Wing Watch (RWW) after leftist backlash, claiming the ban was an accident. It appeared that once YouTube was put on notice that the RWW channel was using conservative video clips in an attempt to discredit and deplatform conservatives, it was quick to apologize and reinstate the channel.
A change in YouTube's ad policy this quarter left the door wide open for bias. While its new ban on masthead ads for alcohol sales, gambling and prescription drugs should be immune from bias, the ban on election and political ads, according to reporting by Axios, will be subject to a case-by-case review if they are determined to be "political in nature." Grade: F
Responsiveness to User Complaints: YouTube has been at least somewhat reliable when asked for feedback. When contacted after Metaxas claimed to have been censored in June, a YouTube spokesperson responded the next day, explaining: "We terminated the Eric Metaxas Show channel in accordance with our longstanding three strikes system. Specifically, we removed content that violated our policies on COVID-19 medical misinformation and presidential election integrity." To YouTube's credit however, it does maintain a Twitter account, TeamYouTube, that directly addresses user concerns. Even so, the account sometimes fails to respond to major inquiries, such as this one asking: "Can you please reinstate @RebelNews and @Infowars to YouTube monetization?" Grade: C
Fact-Checks: YouTube posts fact-checks directing users to one of the worst sources of misinformation: Wikipedia. A video from conservative commentator Scott Adams, famous for his Dilbert comics, was fact-checked for briefly mentioning QAnon theorists. He discussed Big Tech's purge of QAnon theorists late in a May 26 video. YouTube included a fact-check box linking to Wikipedia beneath his video that explained: "QAnon, or simply Q, is a discredited far-right conspiracy theory alleging that a cabal of Satanic, cannibalistic pedophiles run a global child sex trafficking ring and conspired against Trump during his term in office. QAnon is commonly described as a cult." All for a cartoon.
Conservative commentator John Stossel has also been slapped by fact-checks leading to Wikipedia. Stossel published a video, "The Climate Censors," on June 8 describing how liberals are using Big Tech to censor conservative perspectives on climate change into oblivion. YouTube's Wikipedia-linked fact-check explained: "Climate change includes both global warming driven by human-induced emissions of greenhouse gases and the resulting large-scale shifts in weather patterns." One of Wikipedia's founders, Larry Sanger, posted a blog condemning the platform he created for being "More One-Sided Than Ever." He accused Wikipedia of writing "obviously one-sided whitewash" to protect then-Presidential candidate Joe Biden. Grade: D
Parler, Rumble, Gab and Others
When conservatives rightfully called out Big Tech platforms for censorship and suppression of free speech, a common refrain from the left was that they should start their own platforms. Several alternative platforms have stepped up to the challenge, some claiming to hold to free speech values: Parler, Rumble, Gab, FreeTalk and CloutHub. But it turns out the left — and Big Tech — were not serious about their challenge to free speech-loving Americans. Even after some of the more prominent startups, like Parler and Gab, began to grow, Big Tech has censored them and attempted to shut at least one of the new alternative platforms down. 
Given how new these alternative platforms are, there was not much data on how they moderate content. Parler relaunched in Q2, with new hosting for its web site. It also submitted to Apple's moderation requirements to gain approval for its iOS app to be restored, according to the platform. Google has yet to allow the app back in its Google Play app store, but it can be "sideloaded" onto Android phones. Odysee, a YouTube alternative, appears to have acquiesced to Apple's anti-speech actions. Users have said the platform blocks searches of certain subjects, like "COVID," and displays a message that "This search term is disabled to comply with iOS content guidelines." Blocked searches are still available on the web platform. 
Given the relative newness of many alternative platforms, MRC Free Speech America did not assess grades for them this quarter. As more data become available on new platforms, they may be added to future report cards. Newer platforms that may be monitored include but are not limited to: Parler, Rumble, Gab, CloutHub, MeWe, FreeTalk, Telegram and Odysee.