The undisguised bias of a dispatch tonight by Associated Press reporter Laurie Kellman, with help from Scott Bauer, about Wisconsin Governor Scott Walker's appearance before a Congressional committee may have as its source two items found at the Newspaper Guild's web site (seen after the jump).
One is an announcement relating to a possible deterioration in the Guild's negotiations with AP, where union members have been working without a contract since November. Immediately below the announcement is an extraordinarily mean and spiteful cartoon produced by "alternative" comic Tom Tomorrow directed at Wisconsin Congressman Paul Ryan which has no place at the site of a group wishing to at least maintain a fig-leaf pretense of objectivity.
First let's look at several of the sentences seen in the 10:26 p.m. version of the pair's report (saved here at my host for future reference, fair use and discussion purposes) -- after the headline ("Wisconsin governor defends hobbling unions'), with which the AP pair may have had help:
The opening -- "Wisconsin Gov. Scott Walker defended his school of union hobbling as a route to fiscal discipline ..."
Paragraph 5 -- "Walker's budget for Wisconsin is just the opposite (of bipartisanship -- Ed.) - an explicit act of partisanship."
Paragraph 7 -- "Walker's assault on the public employee unions roiled Wisconsin politics, inspiring widespread protests and a walkout by Senate Democrats in the legislature."
Paragraph 8 -- "Former GOP vice presidential candidate Sarah Palin is set to attend a tea party rally this weekend at the Wisconsin Capitol, the site of recent protests over legislation that would strip union rights for most public workers." There they go again, implying that all union rights are stripped for those involved (in an earlier paragraph, the AP writers claim that Wisconsin's pending law "ends collective bargaining on everything except wages for state and local government employees").
Paragraph 9 -- "The bitterness followed Walker to Washington on Thursday. The hearing, billed by Chairman Darrell Issa, R-Calif., as a look at the choices faced by budget-strapped local governments, was more a coming-out for the Republican governor."
Paragraph 11 -- "Governors all must balance their budgets, (Vermont Governor Peter) Shumlin, a Democrat, said, and most do it without sparking the kind of animosity roiling Wisconsin."
Paragraph 19 -- "(DC nonvoting Congressional Delegate Eleanor Holmes) Norton suggested Walker should take a lesson on civility from Congress, of all places. Though she often disagrees with Issa, for example, 'I have always felt that this was somebody I could talk with and we could have a civil conversation.'"
Now let's get to Guild's home page (it also refers to itself at the "News Media Guild"). It opens with an update published today on the labor dispute with AP:
The News Media Guild launched a nationwide investigation into possible illegal coercive anti-union conduct by The Associated Press after receiving reports this week that managers threatened mass layoffs at the news cooperative. The Guild told AP on Wednesday that it had reports from its members that some managers may have violated the anti-coercion provisions of the National Labor Relations Act. It demanded that AP produce a summary of all management contacts with staff about the ongoing labor negotiations.
Gee, I'm no fan of AP management, but I suspect that the "threats" might really have been suggestions of the possibility that a lot of people might get laid off if a resolution isn't reached. I don't believe AP is required by law to execute a contract with the Guild, which would appear to indicate that if they want to lay Guild members off, they are within their rights to do so.
Below the update on the Guild's home page is the real topper, Tom Tomorrow's cartoon. I've copied the first half, and I'll type the text of the rest, again for fair use and discussion purposes only: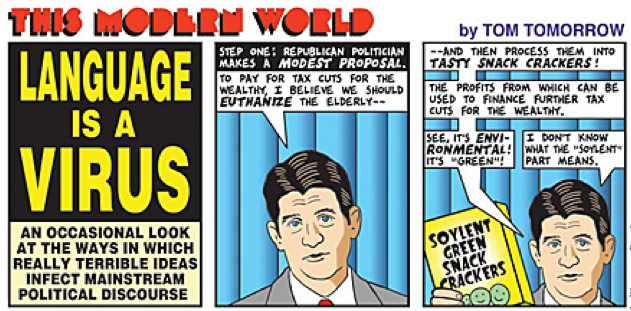 The text of the cartoon's final three frames runs as follows:
Frame 4 --
Heading: "Step Two: Serious people applaud the seriousness of the plan.
One Man: "Processing the elderly into snack crackers has always been the third rail of American politics."
Second Man: "It's extremely courageous."
Frame 5 --
Heading: "Step 3: Left-wing critics are portrayed as naive, unrealistic ideologues."
Man: "If they had their way, government would be required to provide cradle-to-grave ponies and rainbows."
Woman: "They are so unserious, it is barely worth acknowledging their existence."
Frame 6 --
Heading: "Step 4: The window of acceptable debate is shifted ever further toward outright lunacy."
Man: "Perhaps we could take a more moderate approach--and simply abandon the elderly in the desert to fend for themselves!"
Second Man: That's about what I'd expect--from a big government socialist like you!"
It is very difficult to imagine how the members of a union that is in what looks like a death match with the entity which may be its largest employer and whose leadership would publish hateful garbage like the Tom Tomorrow cartoon detailed above can relay news, especially news directly relating to management-labor relations or government finances, in anything resembling an objective manner.
And usually, as with Kellman and Bauer tonight, they don't.
Cross-posted at BizzyBlog.com.