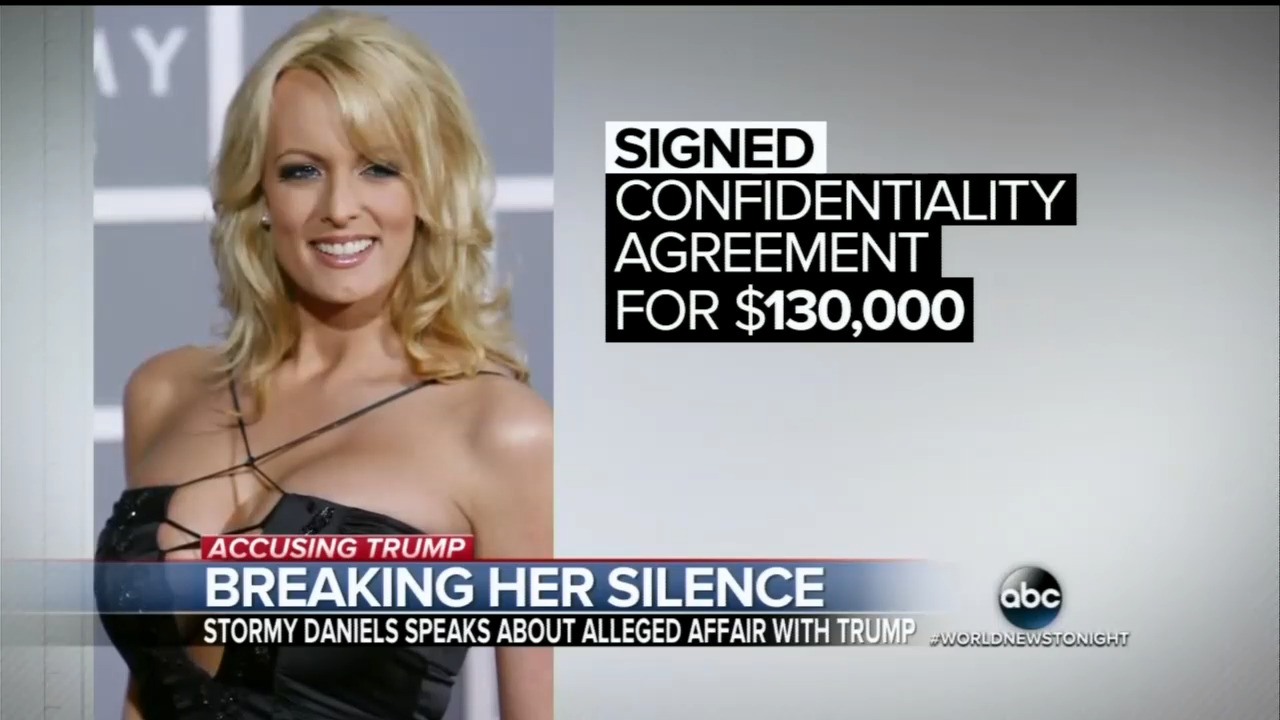 The news media's obviously insatiable appetite for scandal news surrounding Republican President Donald Trump is sharply at odds with their aversion to covering such stories about Democratic President Bill Clinton two decades ago.
From March 7 through March 25, during the run-up to porn actress Stephanie Clifford's (aka, "Stormy Daniels") Sunday night interview with CBS, the ABC, CBS and NBC evening newscasts aired 23 reports about various allegations of sexual impropriety involving President Trump, totaling 40 minutes of airtime.
Most of that time has gone to Daniels (30 minutes, 30 seconds). But all three network evening newscasts also found time to talk about onetime Playboy Playmate Karen McDougal's claim of an affair with Trump (8 minutes, 13 seconds), while ABC and NBC also gave a combined 77 seconds to the defamation suit brought against the President by former Apprentice contestant Summer Zervos, who alleges Trump harassed her in 2007.
ABC's World News Tonight has spent the most airtime (19 minutes, 18 seconds), followed by the NBC Nightly News (11 minutes, 57 seconds) and the CBS Evening News (8 minutes, 45 seconds). And, of course, none of this includes the countless hours devoted to these tabloid stories by CNN and MSNBC over the past couple of weeks — as well as the preposterous amount of airtime on today's broadcast morning news shows.
The media's hunger for Trump sex scandal stories conflicts with how they treated more serious allegations — workplace sexual harassment and rape — against a Democratic President in the 1990s.
■ Paula Jones: On February 11, 1994, Paula Jones appeared at the Conservative Political Action Conference to allege that then.-Gov. Bill Clinton sexually harassed her in a hotel room in 1991. CBS and NBC totally ignored it, while ABC's World News Tonight gave those charges just a 16-second anchor brief. The broadcast networks said nothing else about the case until Jones filed a civil suit in May 1994.
When the media finally did start talking about this case, they telegraphed their disdain for Clinton's victim. "The case is being fomented by right-wing nuts," Newsweek's Evan Thomas pronounced on the May 7, 1994 edition of Inside Washington, slamming Jones as a "sleazy woman with big hair coming out of the trailer parks."
"Why does anyone care what this woman has to say?" ABC's Charles Gibson complained to his colleague Sam Donaldson on the June 16, 1994 Good Morning America. Gibson echoed White House talking points against Jones: "Is she not trying to capitalize on this, in effect to profit from impugning the President?"
When the case finally concluded, Jones received an $850,000 settlement from Bill Clinton.
■ Kathleen Willey: On July 30, 1997, when news trickled out that the Paula Jones legal team had subpoenaed Kathleen Willey, who said Clinton groped her in the White House, the network evening newscasts offered a mere 94 seconds of coverage (on CBS and NBC). ABC aired nothing initially in those first days.
CBS's Bill Plante, who broke the story on the CBS Evening News, larded his report with Team Clinton's attacks on Willey: "Robert Bennett, the President's attorney, called the subpoena an effort to embarrass the President behind the scenes, and he notes that the woman in question knows nothing about the Paula Corbin Jones case. Other lawyers see this as an attempt to pressure Mr. Clinton to settle. But unless and until this case is settled, this is only the beginning of attempts by attorneys on both sides to damage the reputations and credibility of everyone involved."
 
■ Juanita Broaddrick: When Broaddrick's name first surfaced in March of 1998 as a Clinton rape victim, ABC and CBS skipped it, and NBC's morning and evening newscasts aired just over 7 minutes of coverage. When Broaddrick went public with her charges on February 19, 1999, to Dorothy Rabinowitz of The Wall Street Journal (since NBC was still withholding the interview of Broaddrick conducted by Lisa Myers, which would eventually air on Dateline), the coverage in the first three days amounted to just three minutes, 23 seconds.
As with Jones, the media deplored being asked to cover serious misconduct charges being leveled against a sitting President. On February 27, 1999, Time's Jack E. White complained on Inside Washington: "What I find fascinating about this case is that we've sunk so low now that a charge of this magnitude can be leveled against the President of the United States with next to no evidence at all. I think that's outrageous."
Four days earlier, on Imus in the Morning, then-CBS Evening News anchor Dan Rather showed his irritation with the story after host Don Imus told him he had read how "even the woman herself, Juanita Broaddrick, said that she hopes that this thing went away this week and even she was sick about hearing about it and it's her story."
"Well, let's hope she gets her way with that," Rather shot back.
+++++
During the height of the Clinton scandals, the liberal press corps insisted that concern about a politician's sexual misbehavior — including, apparently, workplace harassment and allegations of rape — was only the concern of narrow-minded Puritans.
"Are we going to look back on this time 100 years from now the way we look back on Salem?" then-Newsweek senior editor Joe Klein wondered on CBS's Face the Nation, back on May 8, 1994.
Back then, Klein argued that focusing on morality would hurt the country: "We're going to wind up with government by goody-goodies, government by people who have done nothing in their life expect walk the straight and narrow, who have no creative thoughts. We're going to look back on this 100 years from now and say we drove some of our best people out of politics."
Two decades ago, when faced with sexual misconduct charges against a Democratic President, supposedly enlightened liberals in the news media could have helped launch something akin to the #MeToo movement. Now they are gleefully covering scandalous charges against a Republican President, leaving one to wonder: Is that a sign that the times have changed, or just the party label of the man in the White House?