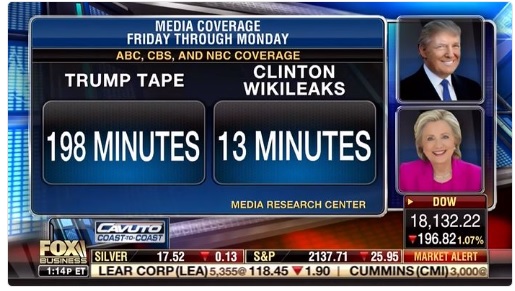 The networks continue their fascination with the crude Trump tape story. After four news cycles, from Friday night through Tuesday morning, the Big Three networks have aired 198 minutes and 13 seconds of coverage on Trump telling NBC's Billy Bush in 2005 that you can grab women in the crotch and get away with it if you're s a star. By contrast, the networks have only managed 13 minutes and nine seconds of air time on the Wikileaks information dump on Hillary Clinton. That's an imbalance of interest of 15 to 1.
These four days of coverage far outpace the entire amount of coverage these networks have ever given on their morning and evening newscasts to Juanita Broaddrick's allegation of rape by Bill Clinton in a Little Rock hotel in 1978. After Broaddrick granted an interview to Lisa Myers and Dateline NBC in 1999, the network sat on it for weeks....until Bill Clinton was not removed from office by the U.S. Senate after an impeachment trial.
Wouldn't it seem like a rape – even a long-ago rape – carry more news value than a dated outtake full of crude sex talk? Not if you're a member of the pro-Clinton media.
When Broaddrick's name first surfaced in March of 1998 as a Clinton rape victim, ABC and CBS skipped it, and NBC aired just over 7 minutes of coverage.
When Broaddrick went public with her charges on February 19, 1999, to Dorothy Rabinowitz of The Wall Street Journal (since NBC was still holding its Myers tape), the coverage in the first three days amounted to just three minutes, 23 seconds.
For a broader view, we consult our MediaWatch newsletter, which measured broadcast network coverage from February 19 to 28, 1999:
ABC. World News Tonight has reported nothing. Nightline has done nothing. Good Morning America aired a brief mention from Charles Gibson on the 19th. (There were two questions to Clinton flack Paul Begala on March 2.)

CBS. On Saturday the 20th, CBS Evening News showed a 1:51 story by anchor John Roberts. CBS This Morning aired nothing. Face the Nation asked nothing about it.

NBC. NBC Nightly News did not touch its own network's scoop, despite promoting ABC's Monica Lewinsky interview in two stories on March 2. Today aired only a brief until the Myers interview. The morning after the interview, it carried a report by Claire Shipman and a Katie Couric interview with Clinton ally Alan Dershowitz and Dorothy Rabinowitz, who wrote the Wall Street Journal story. On the 26th, Matt Lauer asked NOW's Patricia Ireland tough questions, including whether she'd ask Clinton to resign, since that's what she demanded of Sen. Bob Packwood. On the 28th, most of Meet the Press focused the Broaddrick story.

PBS and NPR. The NewsHour has only aired one Terence Smith discussion with Jim Lehrer. While NPR's Nina Totenberg broke Anita Hill's unproven charges into the mainstream press, NPR broadcast only one report on Morning Edition on the 25th, the day after the NBC interview. All Things Considered (and Totenberg) have not filed reports.
When Trump has tried to raise the Broaddrick issue, it's treated as nasty mudslinging. In August, I noted NPR reporter Mara Liasson freaking out on the taxpayer-funded airwaves:
DONALD TRUMP: She's married to a man who hurt many women. And Hillary, if you look and see - you study, Hillary hurt many women, the women that he abused.

MARA LIASSON: Trump has yet to produce any evidence of exactly how Hillary hurt those women. The Clinton campaign says it's confident the attacks from Trump won't hurt. They're old news, her advisers say.
There's no evidence Hillary did anything wrong -- in part because the liberal media have no interest in finding out. They don't ask her if George Stephanopoulos was lying in his memoir All Too Human when he said Hillary said to him about the first tale on the presidential campaign trail came from a woman named Connie Hamzy. Hillary told him "We have to destroy her story." (Italics in the book.)
Liasson ended the story with more editorializing, that for Trump, "maybe there's no strategy, just a visceral, almost feral instinct for the weaknesses of his opponent."
The networks displayed a similar massive disparity between coverage of other Clinton accusers Paula Jones and Kathleen Willey versus the avalanche of coverage for the Trump tapes.