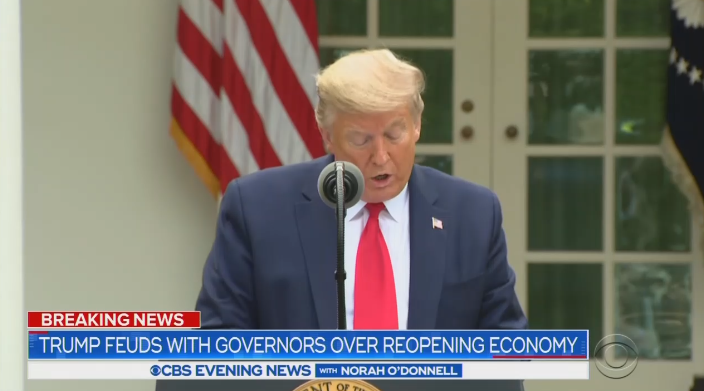 The liberal media were proving themselves to be a one-trick pony. In recent days, dating back to late last month, members of the liberal media blew the dust off their impeachment playbook as they attacked President Trump for alleged inaction against the coronavirus. With phrases such as "constitutional crisis," "cover-up," and the ridiculous "the walls are closing in" shtick creeping back into their vocabulary, it was clear they had nothing original to say.
CNN White House correspondent and anti-Trump hack John Harwood was one of the first to fall back into their old routine. In a CNN Tonight appearance on March 27, he busted out their embarrassing "the walls are closing in" mantra.
Harwood began by suggesting, without evidence, that Trump was feeling "afraid" about what was going on with the virus and the economy. He added that the virus had "exposed his lack of interests and aptitude for governing," and chided: "He skated by for more than three years without a serious crisis as President. Now one is upon him. The response has been widely condemned by people across the political spectrum. And so, in multiple ways, the walls are closing in."
Fast forward to Monday, April 13, when CNN cut away from the coronavirus press briefing to share their unhinged hot takes. At that time, chief White House correspondent and carnival barker Jim Acosta proclaimed to his colleagues: "I do think to some extent the President is realizing that the walls are closing in on him when it comes to managing this crisis."
Later that same night, PrimeTime host Chris Cuomo kicked off his post-Easter show by resurrecting the media's go-to accusation: Trump was engaged in a "cover-up." "The President can try to rewrite history. He can try to cover-up and do what he does best, which is cover his own flank," he spat.
The accusation made a reappearance on Tuesday night. The raging CNN host suggested that the President pulling funding from the World Health Organization was somehow a "cover-up."
"But we need to be facts first. We know there's a cover-up attempt going on here. This President doesn't want to own his own actions. It's not about gotcha. It's about getting to a better place," Cuomo argued. He was doing Speaker Nancy Pelosi proud.
Also on Tuesday morning, the media were tipped off by New Yorker Governor Andrew Cuomo (D), a liberal media hero during the coronavirus outbreak, that it was time to start saying there was an impending "constitutional crisis" regarding who had the authority to reopen the economy.
Andrew had dropped the term in an interview with MSNBC's Willie Geist during a Morning Joe appearance. "Willie, the only way this situation gets worse is if the President creates a constitutional crisis," he warned. "If he says to me, 'I declare it open,' … And then we will have a constitutional crisis like you haven't seen in decades."
Geist would later boast that Cuomo said he was "ready for the constitutional crisis" Trump would cause if he ordered states to reopen. Governor's comments had also found their way onto the CBS Evening News thanks to scorned White House correspondent Paula Reid.
"[Trump] says it's up to him to decide how those local areas reopen, even though the Constitution clearly says otherwise," she said at the top of her report before getting to the Governor, who she said was "warning of a constitutional crisis."
And so, everything was a "constitutional crisis" once again. Nothing new under the sun.