Cross-dressing has been a running gag in cartoons since phenakistoscopes. But in 2019, it's a super serious form of expression to promote "diversity and inclusion" in children's TV shows.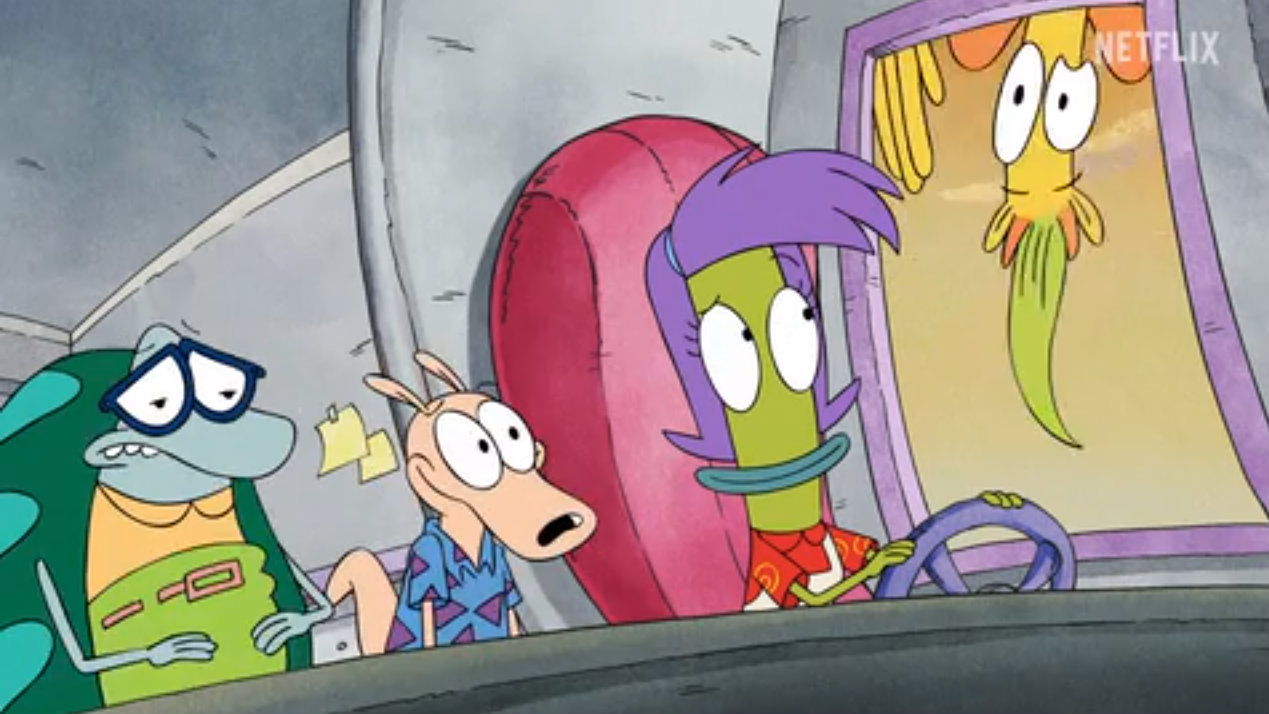 Netflix's Rocko's Modern Life: Static Cling -- a revival of a 1990s Nickelodeon hit -- will feature a story arc with a transgender character named Rachel Bighead, according to an exclusive Entertainment Weekly report. Rachel dons a pearl necklace, a colorful dress, makeup, and long hair held together by a blue headband. The character also has a comically deep voice. 
In the original show, Rachel was known as Ralph -- the creator of a cartoon show called The Fatheads. In Ralph's premiere episode, his father disowns him for moving to "Hollowood" to become a cartoonist. The episode was titled "I Have No Son." Oh, the irony. 
In the Netflix revival, Ralph goes on a "mission of self-discovery" where he begins to call himself Rachel. Though Ralph's father originally disapproved of Ralph's Hollywood aspirations, he suddenly has a change of heart when his son turns trans. 
Nick Adams, GLAAD's "director of transgender representation," consulted on Static Cling. Tooting his own horn, Adams wrote to EW:
Rocko's Modern Life: Static Cling tells a beautiful — and hilarious — story about accepting change," he writes. "The younger characters accept Rachel immediately; recognizing she's still their friend. And while Rachel's father is slow to accept change within his own family, even he realizes that loving your child should be unconditional. This story of inclusion and acceptance is so needed in our current climate.
The move into LGBTQ politics apparently has roots in the original show. Series creator Joe Murray confirmed to EW that the episode "Closet Clown" that aired in July 1996 was an allegory for a gay person's coming-out experience. Back then, however, animators' politics had to be hidden in metaphors to avoid explicitly indoctrinating children.
The episode was about Ralph's father, Mr. Bighead, who secretly identifies as a clown in an anti-clown town. Adults could pick up on the episode's message while kids were none-the-wiser. The new story involving Mr. Bighead's son blatantly bashes kids over the head with gender ideology. 
Rocko's Modern Life is far from the first kids' show to hop on the LGBTQ bandwagon. In May, PBS released an episode of Arthur where two male characters got married. A month later, My Little Pony released an episode featuring a lesbian couple and She-Ra and the Princesses of Power on Netflix featured 2 gay dads before that. Since its inception in 2013, the Cartoon Network's Steven Universe has been revered by the left for openly discussing gender queerness and polyamorous relationships. 
So much for avoiding indoctrination.