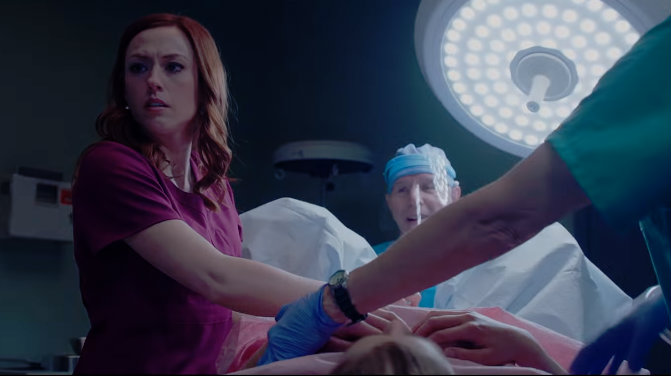 In not-so-shocking-but-certainly-infuriating news, it's been reported that several big cable television networks have refused to promote the new pro-life anti-Planned Parenthood movie, Unplanned. "It isn't for lack trying on the part of marketers," The Hollywood Reporter claimed. "It's that their "efforts have been consistently rebuffed by TV networks."
Several mainstream channels like HGTV, Lifetime, and Hallmark have straight up rejected advertising for Pureflix's new movie, so if you've been wondering why you've only seen ads for the film on Fox News Channel, the promotional fix is in. Oddly enough, this is coming from channels that we regularly consider as providing wholesome, family friendly material.
THR reported that, besides FNC, "every other mainstream television outlet has declined to air the ad." Among these, the Travel Channel, Cooking Channel, HGTV and Food Network, — all owned by Discovery — "refused to sell ad time for Unplanned due to the 'sensitive nature' of the movie," Unplanned's promoters claimed. Unplanned producer John Sullivan claimed, "We were looking to spend money, but they didn't want to get involved."
The Hallmark Channel and USA Network (NBC Universal) also firmly rejected the film's ads, objecting to the controversial nature of the movie. Another producer, Joe Knapp, surmised, "Most of the networks didn't go into detail beyond citing the subject matter of the film and that they didn't want to get into politics."
Yeah, maybe. Though it's not like some of these networks have ever shied away from promoting a certain left wing bias. Lifetime for example, (owned by A&E, a Walt Disney/Hearst Communications Venture) "previously promoted an interview with Scarlett Johansson where she pitches Planned Parenthood." Sounds about right. It wouldn't surprise any of us if a Hollywood production about a heroic Cecile Richards was given the promotional works by most of these companies. But then again, we're just spitballing.
While this is highly unfortunate, there are still some good people out there putting some serious cash into promoting the film before it's March 29 release. THR reported that "along with Fox News, The Christian Broadcast Network accepted ads, as has conservative talk radio, with Glenn Beck taking a particularly active role in promoting the movie."
Also, MyPillow founder Mike Liddell has donated a whopping $1 million of his own to Unplanned in order to get it off the ground amidst promotional woes, including the film receiving an official MPAA R-rating (which the directors have claimed has a political motive,) and being unable to license "mainstream music for the movie." THR claimed, "a half-dozen major music labels said no to the filmmakers, including Disney, Universal Music, Sony/ATV and Round Hill Music."
Unplanned isn't the first movie dealing with abortion to be blacklisted this year. Marketing for Gosnell - The Trial of America's Most Prolific Serial Killer was stymied by The New York Times, NPR, Facebook and Rotten Tomatoes.
Unplanned opens across America on Friday, March 29.