Female tennis great, feminist, and gay rights activist Martina Navratilova may have just compromised her status as an LGBTQ icon with a Tuesday evening tweet. Navratilova criticized current transgender policies in sports, stating "you can't just proclaim yourself a female and be able to compete against women."
Well Martina, somebody should have told you that you can't just proclaim such common sense on social media.
Navratilova, long considered to be the greatest female tennis player of all time, and one of the "first openly gay sports figures", engaged in a Twitter debate prompted by BBC Sport writer Alistair Magowan's article about criticism leveled at trans athletes who compete at a high level.
Magowan posted the article titled Transgender Women in Sport: Are They Really A 'Threat' to Female Sport? and captioned it with a tweet lamenting the "100,000 hate messages" received by Cyclist Dr. Rachel McKinnon "since winning her world masters title in October." The prevailing message that Magowan was pushing is that those who think it's unfair for men to become women and compete in sports are encumbered by some sort of misunderstanding.
However, tennis star Navratilova, who was once one of the "wokest" high profile figures of her time, was brave enough to confront Magowan's narrative. She tweeted in response to the BBC article, stating, "Clearly that can't be right. You can't just proclaim yourself a female and be able to compete against women. There must be some standards, and having a penis and competing as a woman would not fit that standard…"
Navratilova hasn't been on the tennis circuit since 2010, after winning senior women's doubles at that year's French Open. This was immediately after undergoing radiation therapy for breast cancer. Impressive to say the least, but for the International Tennis Hall of Famer, her career has always been impressive
In terms of gay rights, Navratilova's coming out was also a watershed moment for the movement, and to this day, she continues to advocate for LGBTQ rights and progressive issues. In 2017, Navratilova wrote a public letter slamming former Australian tennis player Margaret Court's "racist and homophobic" language against female tennis players, and most recently blasted the BBC for promoting the "gender-pay gap."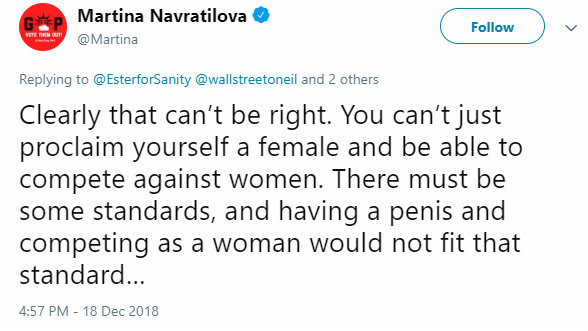 But it should be interesting to see if Martina Navratilova's activism buck stops here, considering that her Tuesday tweet represents a worldview that many radical LGBTQers have now deemed transphobic. Still, we hope that her perspective can jigger people back into thinking that the radical trans agenda may be going too far.