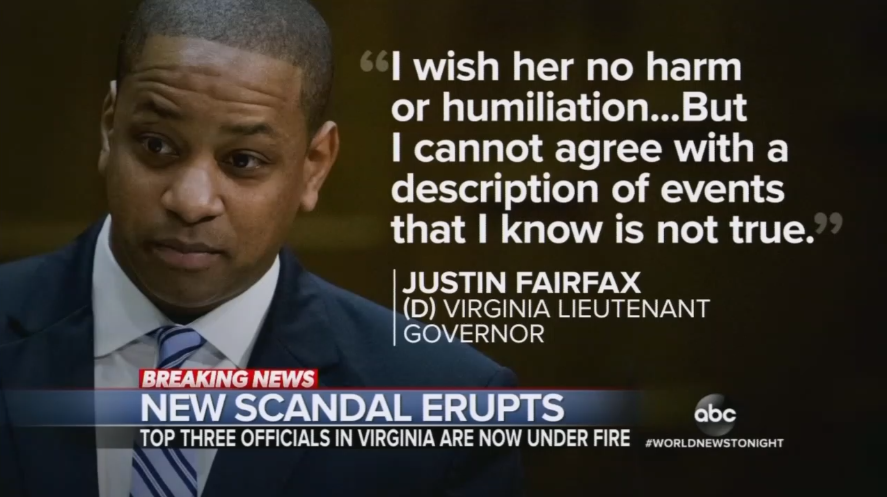 According to disturbing reports out Wednesday, Virginia Lieutenant Governor Justin Fairfax was in a closed-door meeting with other Democrats discussion the sexual assault allegations against him when he angrily declared "f*** that b****." In what seemed like an effort to help Fairfax's image, none of the broadcast networks (ABC, CBS, and NBC) reported the comments that evening. Instead, they chose to focus on the toned down statements Fairfax released later in the day.
Despite noting Fairfax's obscene comment in a tweet, NBC News failed to report it to their large Nightly News audience. "Tonight, with Governor Ralph Northam still clinging to power after his own blackface admission, Virginia's Lieutenant Governor continues to deny a separate accusation against him," announced anchor Lester Holt at the top of the program.
NBC correspondent Geoff Bennett quickly brushed over Fairfax's response to the new public comments from his accuser, Dr. Vanessa Tyson. "Fairfax releasing a statement of his own, saying, 'I cannot agree with a description of events that I know is not true,'" was all Bennett reported.
The CBS Evening News didn't want to get close to Fairfax's comments as well. "Fairfax has repeatedly denied the allegation and responded today saying, 'Reading Dr. Tyson's account is painful. I have never done anything like what she suggests,'" reported political correspondent Ed O'Keefe.
After first ignoring the sexual assault allegation against Fairfax on Monday, ABC correspondent Tom Llamas parroted Fairfax's defense on World News Tonight:
LLAMAS: Fairfax has called the encounter consensual and initially denounced the accusations as a smear campaign.

FAIRFAX: You know, there's a possibility that I might be elevated to the governorship. It's at that point that they come out with the attacks and the smears.

LLAMAS: But today, he released a statement, saying, "I wish her no harm or humiliation, but I cannot agree with the description of events that I know is not true." It's all left Virginia Democrats in disarray.
Some would say "f*** that b****" was the exact opposite of "I wish no harm or humiliation".
These networks covered for Fairfax by ignoring his truly derogatory remarks, just like CNN and MSNBC. But when Justice Brett Kavanaugh delivered his strong and emotional yet respectful rebuttal to the allegations against him, some of them painted him as a wild madman.
On ABC, they claimed Kavanaugh was acting like an "aggressive drunk." Correspondent Terry Moran bitterly suggested Kavanaugh was "a man struggling to keep himself from disintegrating, from falling apart on national TV." "The tone was all wrong. I thought that he didn't exhibit the temperament of a judge, certainly not of a Supreme Court Justice," Sunny Hostin added. So, was Fairfax showing the right temperament to be lieutenant governor?
ABC actually exposed where their true concern was as Llamas was wrapping up the segment. "[T]his is all creating a real crisis here. If the governor, the lieutenant governor, and also the attorney general all step down, then the House speaker becomes the new man in charge," he exclaimed.
So, apparently, it would a "real crisis" if the Republican speaker of the House of Delegates became governor by the end of all this. But the raging Lieutenant Governor proclaiming "f*** that B****" was not newsworthy.
The transcripts are below, click "expand" to read:
ABC's World News Tonight
February 6, 2019
6:34 p.m. Eastern

DAVID MUIR: And to another story and a shocking new headline involving it tonight. We have been following the political chaos in Virginia, unleashed when the governor came under fire for a racist photo. The Governor under pressure to resign for that racist image in his medical school yearbook. Then the Lieutenant Governor, who would serve next, is now facing an allegation of sexual assault. And tonight, what the Attorney General has now admitted, revealing that he wore black face once back in college.

(…)

TOM LLAMAS: Virtually all Virginia Democrats called on Northam to resign, but now, the man in line to replace him, Lieutenant Governor Justin Fairfax, now himself fending off a new allegation of sexual assault. Dr. Vanessa Tyson, a political science professor at Scripps college, accuses Fairfax of forcing her to perform oral sex in a hotel room at the 2004 Democratic National Convention, writing, "What began as consensual kissing quickly turned into a sexual assault." Fairfax has called the encounter consensual and initially denounced the accusations as a smear campaign.

JUSTIN FAIRFAX: You know, there's a possibility that I might be elevated to the governorship. It's at that point that they come out with the attacks and the smears.

LLAMAS: But today, he released a statement, saying, "I wish her no harm or humiliation, but I cannot agree with the description of events that I know is not true." It's all left Virginia Democrats in disarray.

(…)

[Cuts back to live]

MUIR: So, let's get to Tom llamas. Tom, the longer you stay there, the worse this gets. He's live tonight from Richmond, Virginia. And tonight, there are not only calls for the Governor now to resign, but calls for the Lieutenant Governor to resign after that accusation of sexual assault?

LLAMAS: That's right, David. The National Organization of Women has called on Lieutenant Governor Fairfax to step down and at least one Democratic congresswoman from Virginia says she believes Dr. Tyson. And David, this is all creating a real crisis here. If the governor, the lieutenant governor, and also the attorney general all step down, then the House speaker becomes the new man in charge, in a way that we have not seen in modern political history. David?

MUIR: A really stunning series of events.

(…)
CBS Evening News
February 6, 2019
6:33 p.m. Eastern

(…)

ED O'KEEFE: Then there's Lieutenant Governor Justin Fairfax, who's facing an allegation of sexual assault during the Democratic National Convention in 2004. Today his accuser, Vanessa Tyson, put out a lengthy statement saying she's a Democrat and is sharing her story "with tremendous anguish". She says she had gone to Fairfax's hotel room to "retrieve documents" and that after "consensual kissing", "Mr. Fairfax forced me to perform oral sex on him." Fairfax has repeatedly denied the allegation and responded today saying, "Reading Dr. Tyson's account is painful. I have never done anything like what she suggests."

(…)
NBC Nightly News
February 6, 2019
7:01 p.m. Eastern

LESTER HOLT: Good evening, everyone. The stain of scandal is spreading across Virginia politics tonight as that state's Attorney General admits that he too had once appeared wearing blackface. Mark Herring becoming the third high-ranking Virginia Democrat to become embroiled in controversy since last Friday. Tonight, with Governor Ralph Northam still clinging to power after his own blackface admission, Virginia's Lieutenant Governor continues to deny a separate accusation against him.

(…)

GEOFF BENNETT: Those scandals sending shock waves as the woman accusing Lieutenant Governor Justin Fairfax of sexual assault, today broke her silence. Dr. Vanessa Tyson, a college professor, saying in a statement that a 2004 encounter with Fairfax, which she says "started as consensual kissing", "turned into a sexual assault". Tyson says Fairfax "has tried to brand me as a liar to a national audience in service to his political ambitions." Fairfax releasing a statement of his own, saying, "I cannot agree with a description of events that I know is not true."

(…)