On Tuesday, President Trump tweeted he would be "announcing THE MOST DISHONEST & CORRUPT MEDIA AWARDS OF THE YEAR" on Monday "in various categories from the Fake News Media."
What the President will choose to highlight is anybody's guess, but NewsBusters documented plenty of biased coverage and fake news last year — if you haven't already done so, please check out our year-end compilations of examples of the media fawning over liberals, smashing conservatives, trashing Trump or just being plain stupid.
But there's bias, and then there's sheer incompetence. The biggest media obsession last year was the search for evidence of Trump's supposed collusion with Russia, and in their eagerness to prove malfeasance on the part of the President, liberal reporters in 2017 repeatedly stumbled into error and were forced to make embarrassing corrections. 
Here, in no particular order, are eight egregious examples of media malpractice the President might want to consider as he makes his own choices for the worst reporting of the year:
1. CNN's Botched WikiLeaks E-Mail 'Exclusive'
On December 8, CNN.com published an early-morning story by correspondents Manu Raju and Jeremy Herb claiming Trump's campaign team received an e-mail from WikiLeaks on September 4, 2016 with "a decryption key and website address for hacked WikiLeaks documents" that would not be publicly revealed until September 13.
Was this finally some proof of the collusion that anti-Trump media have been searching for? That morning and into the afternoon, all of CNN's programs proudly touted a "Breaking News" banner with a "CNN Exclusive" that read the following: "Emails Reveal Effort to Give Trump Campaign WikiLeaks Documents."
It turned out, the e-mail actually went out on September 14, 2016, after the information was available to anyone.
That afternoon, after hours of breathless hype, CNN issued an on-air correction read by Raju. The reporters however, faced no disciplinary action because, according to a spokewoman, they "followed the editorial standards process."

2. Bloomberg, WSJ Blunder on Bank Subpoenas
On December 5, Bloomberg and other financial media claimed Special Counsel Robert Mueller had "issued a subpoena" to Deutsche Bank which "zeroed in" on President Trump personally. Their explosive headline: "Mueller Subpoenas Trump's Deutsche Bank Records, Source Says."
Months earlier, the President had told The New York Times that if Mueller investigated his financial records, it would cross a red line. Had such a line been crossed? The media went into their customary frenzy; on MSNBC, host Ari Melber claimed the story was "rattling the Trump White House," while Rachel Maddow called it a "full-scale White House freak-out."
But within a day, the media had to backpedal, as the request was apparently not for the President's personal records, but only for "documents and data related to people or entities affiliated with Trump" (as the Wall Street Journal's revised article put it).
Never mind.

3. Brian Ross's Biggest Blunder
During live "Special Report" coverage on December 1, ABC News chief investigative Brian Ross made the jaw-dropping claim that former National Security Advisor Michael Flynn would testify that during the 2016 campaign, then-candidate Donald Trump had "ordered him — directed him to make contact with the Russians, which contradicts all that Donald Trump has said to this point."
If true, that would conceivably put the President in legal jeopardy; within minutes, Ross's report was being parroted across the media and the stock market fell more than 300 points. But it turned out that Ross had committed the biggest blunder of his career: as Ross clarified hours later, Trump made the alleged request of Flynn not as a candidate, but during the transition — which made it merely an act of foreign policy, not collusion. 
ABC suspended Ross for one month without pay and barred him from covering President Trump in the future.

4. Comey Nukes The New York Times
On February 14, a bombshell New York Times story reported that "phone records and intercepted calls show that members of Donald J. Trump's 2016 presidential campaign and other Trump associates had repeated contacts with senior Russian intelligence officials in the year before the election" and particularly around the time of the DNC e-mail hacking.
Was that true? At a June 8 hearing, Republican Senator Jim Risch (Idaho) asked former FBI Director James Comey directly about the story and whether it's "a fair statement" to declare the piece to be "not true." 
Comey responded that "it was not true." He added:
The challenge, and I'm not picking on reporters, about writing on classified information is: The people talking about it often don't really know what's going on, and those of us who actually know what's going on are not talking about.
Yet the New York Times did not withdraw its claim, noting only in its write-up that "Mr. Comey did not say exactly what he believed was incorrect about the article," and that the paper's anonymous sources still stood by their claims: "The original sources could not immediately be reached after Mr. Comey's remarks, but in the months since the article was published, they have indicated that they believed the account was solid."

5. ABC & CNN's Phony Predictions
Previewing a June 8 hearing featuring ousted FBI Director James Comey, both ABC and CNN claimed Comey would specifically dispute President Trump's statement that Comey told the President "on three separate occasions, that I'm not under investigation."
"According to our source, Comey will dispute that," ABC's Jonathan Karl said on the June 6 edition of World News Tonight. Over on CNN's Erin Burnett OutFront that same night, political analyst Gloria Borger made the same claim: "He will say he never assured Donald Trump that he was not under investigation, that that would have been improper for him to do so."
Two days later, Comey said exactly the opposite — confirming that he had assured the President that he was not under investigation: 
Prior to the Jan. 6 meeting, I discussed with the FBI's leadership team whether I should be prepared to assure President-elect Trump that we were not investigating him personally. That was true; we did not have an open counter-intelligence case on him. We agreed I should do so if circumstances warranted. During our one-on-one meeting at Trump Tower, based on President-elect Trump's reaction to the briefing and without him directly asking the question, I offered that assurance.
Both CNN and ABC updated their Web stories, but ABC never told viewers that it's reporting was flawed.

6. CNN's Scaramucci Fiasco
On June 22, a story posted on CNN.com claimed the Senate Intelligence Committee was investigating the head of a massive Russian investment fund who met with Anthony Scaramucci before Inauguration Day; the story speculated that the two might have discussed the new administration lifting Russian sanctions — a tidbit that, if true, would have potentially big financial benefits to the investment fund.
The story quickly fell apart, as it cited a single anonymous source. By the next day, visitors to CNN's Web page found a giant "Editor's Note," explaining that the story "did not meet CNN's editorial standards and has been retracted....CNN apologizes to Mr. Scaramucci." In the aftermath of this embarrassing episode, the CNN reporter, Thomas Frank, along with assistant managing editor Eric Lichtblau and investigative reporting editor Lex Haris resigned on June 26.

7. MSNBC Misleads on Trump "Easing Sanctions on Russia"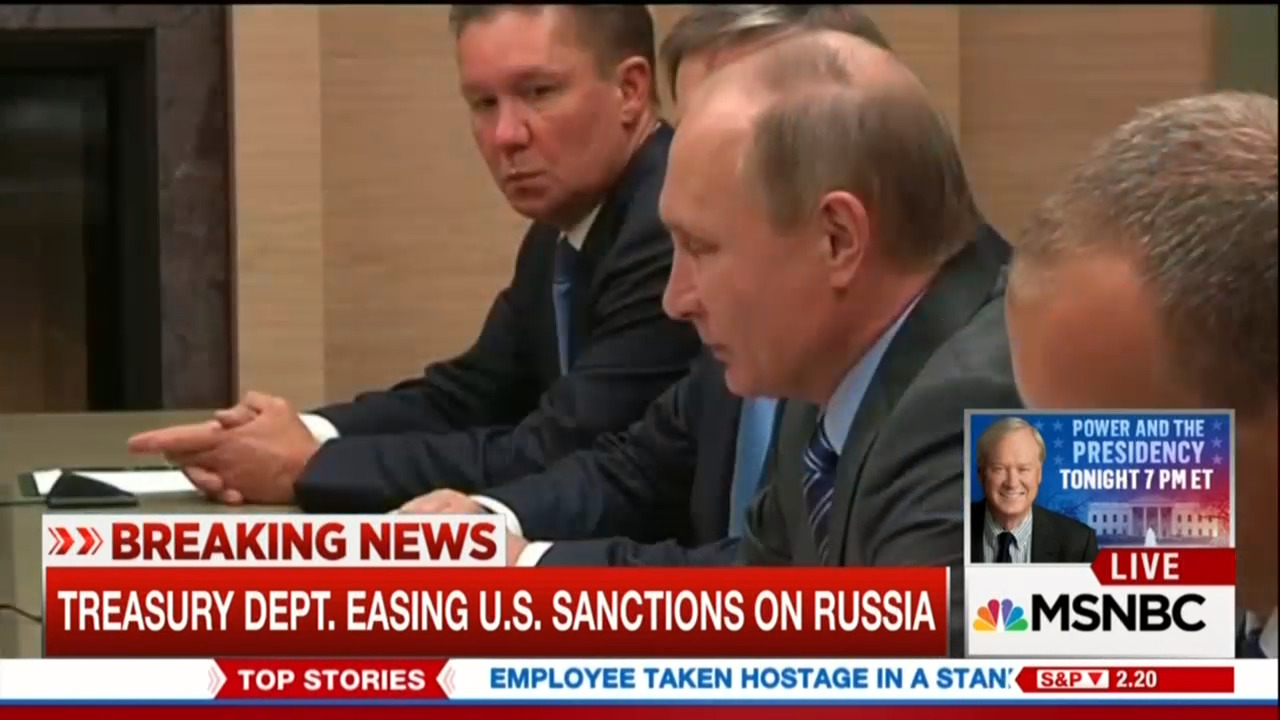 NBC News national correspondent Peter Alexander sent the media into a frenzy on February 2 when he tweeted "BREAKING" news that the U.S. Treasury Department announced it would, in his words, "allow some companies to do transactions with Russia's FSB, aka fmr KGB." Alexander then phoned in to MSNBC, where the screaming headline claimed the new administration was "easing U.S. sanctions on Russia."
As Washington Examiner columnist Becket Adams chronicled, Alexander's report triggered a media freak-out. Mother Jones' David Corn tweeted that it was a "reward" for Russia's "plot to subvert the 2016 election," while The Atlantic's David Frum instantly insisted it was more proof that an "independent commission [was needed] to investigate Russia's role in the 2016 U.S. election."
Except that the sanctions weren't being eased — it was only a "technical fix, planned under Obama, to avoid any unintended consequences of cybersanctions," as Alexander noted in a follow-up tweet later in the day.
Oops.

8. Four Does Not Equal Seventeen
The media loved to tweak Trump by repeating how the evidence proving Russian meddling in the election was the unanimous verdict of U.S. intelligence. "All 17 intelligence agencies have agreed Russia was behind the hack of Democratic email systems and tried to influence the 2016 election to benefit Trump," the Associated Press noted on June 22.
Three days later, The New York Times published a piece that scolded Trump because "he still refuses to acknowledge a basic fact agreed upon by 17 American intelligence agencies that he now oversees: Russia orchestrated the attacks, and did it to help get him elected."
This media talking point was used by journalists such as NBC's Andrea Mitchell to speculate about the President's mental health, as she did on MSNBC's Morning Joe on June 30: "I'm certainly not a doctor, but I worry about him not having acknowledged the depth of the Russian hacking. We have 17 intelligence agencies all in accord, in a rare degree of agreement, with a high consensus, that it was Vladimir Putin who ordered this."
But both The Times and The Associated Press eventually back-peddled on those hyped claims, admitting that only three agencies (FBI, CIA and NSA) had reviewed the intelligence, which was then issued by a fourth, the Office of the Director of National Intelligence.
The Times corrected first, on June 29, admitting: "The assessment was not approved by all 17 organizations in the American intelligence community." The next day, the AP issued a correction that encompassed four separate articles: "In stories published April 6, June 2, June 26 and June 29, the Associated Press reported that all 17 U.S. intelligence agencies have agreed that Russia tried to influence the 2016 election to benefit Donald Trump....Not all 17 intelligence agencies were involved in reaching the assessment."
Meanwhile, the media's mis-reporting remains ubiquitous online, such as this USA Today story from October 2016 with the arrogantly false headline: "Yes, 17 intelligence agencies really did say Russia was behind hacking."
No. No, they didn't.