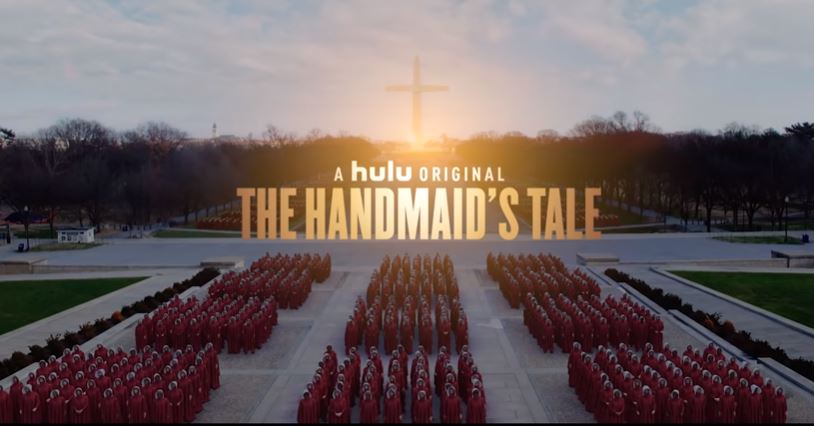 In Monday's New York Times, Eleanor Stanford interviewed the showrunner for The Handmaid's Tale, "Seeking to Be More Than TV Medicine -- Bruce Miller wanted Season 3 of 'The Handmaid's Tale' to be entertaining above all else." "Entertaining" is certainly not a bad goal for a series on a streaming service, but that goal is hampered by the fact that The Handmaid's Tale is a sacred text (or at least sacred digital) in woke and feminist circles and shall not be mocked.
The full-page Times interview reads more like something off of Teen Vogue than the self-proclaimed newspaper of record.
Stanford opened with a feverish description of life in present-day America. The opening paragraphs are a particular hoot:
What do you do when reality starts looking uncomfortably like your dystopian fiction?

When Bruce Miller began work on a TV adaptation of Margaret Atwood's 1985 book "The Handmaid's Tale," the primaries for the 2016 presidential election still hadn't happened. The Supreme Court was less conservative. Thousands of children hadn't yet been separated from their families at the southern border.

The events in Atwood's novel, set in a religious dictatorship called Gilead in which the few fertile women are separated from their own children and forced to reproduce for powerful couples, seemed … if not quite impossible, then at least not imminent.

Since then, legislators in several states have voted to ban or limit women's access to abortions, and it seems increasingly possible that Roe v. Wade will be challenged. Families have been broken up. Isolationism has flourished. Many of the things that happen in the third season of "The Handmaid's Tale," which began Wednesday on Hulu, "are close to what's happening" in America, Miller said.

"It's horrible," he added. "Our job is to think of what would happen in one of the worst places on Earth. Then it's our place."
A couple of Stanford's questions:
The first season debuted in the first half of 2017. How has the political climate in America over the last two years affected the show?....There is a sense that watching a show about a repressive dystopia isn't the best escapism when your political reality feels repressive. Has that changed the way you think about the show as entertainment?
A similar social liberal overreaction could be found in Monday's news pages, with reporter Ernesto Londono fretting over "State Dept. Alters Stance On Showing Pride Flags." The text box: "Quietly abandoning gay rights as a foreign policy imperative." Never mind Trump's new policy to pressure nations to decriminalize homosexuality, for some reason flying rainbow flags over embassies (an odd and unprofessional idea in the first place) is far more significant.
American diplomats in Brazil recently sought State Department permission to fly rainbow flags this month at the United States Embassy and a consulate, citing an increasingly hostile environment for gay Brazilians since the election of the far-right President Jair Bolsonaro last fall.

Washington rejected the request in what some see as the latest sign that the Trump administration may be quietly abandoning the advancement of rights for gay and transgender people as a foreign policy imperative.
Thus ends a long tradition of...a single presidential administration. Londono made sure to give all gay rights credit to the previous Democratic administration.
The symbolic gesture had become routine at American diplomatic posts since 2011, when Hillary Clinton, then secretary of state, proclaimed in a landmark speech that "gay rights are human rights."....The State Department's curt rejection left gay personnel and their backers reeling. In conversations this past week, American diplomats who are gay described a prevailing mood of fear and angst. None would speak on the record for fear of retaliation....Mrs. Clinton's 2011 speech before a United Nations body in Geneva that "gay rights are human rights and human rights are gay rights" represented an ambitious bid by the United States to lead a global campaign to decriminalize homosexuality and expand the legal rights of gay and transgender people.
But when Trump goes even further in support of gay rights, suddenly it's bad:
Mr. Trump's announcement this month that his administration would lead an effort to decriminalize homosexuality across the world has been met with criticism, given his administration's rollback of rights at home for gay, bisexual and transgender people.