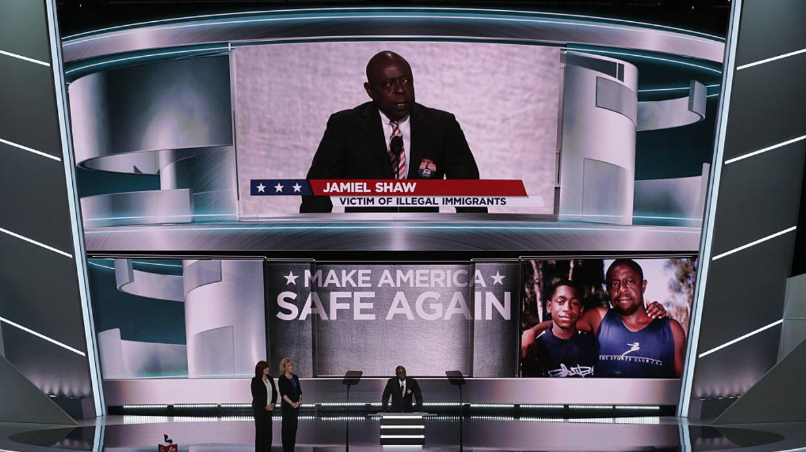 Earlier, we showed how Univision/Fusion anchor Jorge Ramos gave an immigration lecture to the father of a young man murdered by an illegal immigrant gang member. Sadly, it wasn't just Ramos, and Univision News went further.
Ramos, at least, opened a sincere conversation with Jamiel Shaw, Sr. On the other hand, Univision News played the grievance card by suggesting that the surviving parents that spoke out against sanctuary city policies at the Republican National Convention "depicted undocumented immigrants as murderers."
Univision did this over two separate posts. The first, titled "The Three Speeches That Depicted Undocumented Immigrants As Murderers" was a quick montage of subtitled clips from each of the surviving parents (Mary Ann Mendoza, Sabine Durden, and Jamiel Shaw, Sr).
The second post is a full article titled "Trump's Convention Focuses On 'Sanctuary Cities' For The Undocumented",  which casts this framing in a similar light:
The participation of the relatives, who told the stories of how they'd lost their children, occured during a session centered on a message of law and order ("Make America Safe Again").

Their interventions reinforced a  message that the problematic Republican candidate has reiterated over the course of his campaign: (that) undocumented immigrants are potentially dangerous.
What is truly problematic here is Univision's insistence on smearing grieving parents in the name of maintaining an open-borders status quo. As we saw in the Ramos-Shaw interview, even very narrowly targeted bans on sanctuary city protections are going to be derided as racist and anti-immigrant. Proponents of enforcement-first approaches are going to be accused, as were these parents, of hating the Latino community and of suggesting that all illegal immigrants are dangerous.
In a sane world, Univision would have the decency to embrace clarification and enforcement of our statutes. In the world we live in, though, Univision is going to continue to advocate for what's best for business, and label anyone who disagrees as a "Nazi".