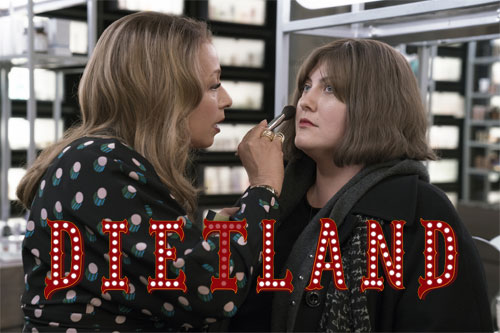 Those who were begging for another insufferably woke feminist series after The Handmaid's Tale are in luck. AMC's new show Dietland is poised to become the newest symbol of #MeToo movement. This program, however, aims to take things to a whole new level with the next natural step in stopping possible rapists: murder.
Based on the 2015 novel of the same name by Sarai Walker, the June 4 two-part premiere "Pilot" and "Tender Belly" follows obese ghostwriter Plum Kettle (Joy Nash) as she attempts to lose weight while being employed by a fashion magazine. Over the course of two episodes, Plum eventually becomes recruited by an underground feminist group known as "Calliope House" to take part in a "mission of fighting misogyny, gender inequality," and other injustices in the beauty industry.
Meanwhile, another secret group known as "Jennifer" skips the revolution pretense and heads straight to kidnapping and murdering men who committed sexual assault against women. In the premiere alone, they kill two military men and a photographer who were charged with rape and sexual assault allegations. If The Handmaid's Tale is how liberal women see themselves in Trump's America, Dietland is what liberal women wish to see in Trump's America.
The mindset of the show becomes clear when Plum unironically paraphrases Margaret Atwood at the end of the first episode, saying "that women's biggest fear is that men will kill them. Men's worst fear about women? Being laughed at." I suppose then it would only be natural to assume the next step for protecting women is murdering men. Gone are the days of innocent until proven guilty. Now, if someone says they were raped, someone has to die. Although it's easy to wish death on serial rapists like Harvey Weinstein who prey on vulnerable women for decades, feminists never consider the lives of those falsely accused, which happens more often than they would have you believe.
As if on cue, liberal sites rush to declare the show "timely" and relevant to hide the disintegration of the justice system. The Los Angeles Times writes, "'Dietland' is a wonderfully absurd exaggeration of the rage that's driving sea change like the #MeToo movement." Variety remarks that "its tapping into women's anger as an omnipresent threat to the status quo rings truer than ever now." The New Yorker even goes so far as to state, "I don't generally condone the vigilante murder of criminals by hurling them from airplanes onto city sidewalks…But on 'Dietland' - it's fairly appealing."
I have to assume from additional comments that this is all intentional. Series creator Marti Noxon remarked on the show, "It was the right time to take this out, and that was just when the guy running for President was talking about grabbing p---y. We thought that was going to be over." Actress Julianna Margulies who plays the media mogul Kitty Montgomery is decidedly more political stating, "The #MeToo movement should be hand-in-hand with the fed-up movement. I'm fed up of reading about one more school shooting. I'm fed up. I think we're all fed up. It's why six Democratic women just won in Pennsylvania. I feel like this is a revolution. It's brewing, but it's not new. We're just finally getting to the surface."
Fortunately, the show has not yet gotten as political as Margulies believes it should be. "Jennifer" remains in the background for now as the plot focuses more on Plum's body positivity. However, I imagine that can and will change pretty soon. They just can't help themselves.