2010 will be by far the worst ever in the 48 years records of new home sales have been kept, and there is little if any reason to believe things will get better soon. The news on existing home sales has hardly been better, given the price reductions sellers have had to make to move their homes. Graphics will follow shortly indicating just how bad the market for new and existing homes has been this year.
These on-the-ground realities explains why one's jaw has to almost hit the ground when reading the headline and first few paragraphs of Julie Schmit's December 23 front-pager in USA Today's Money section:
Optimism for home sales adds up
Demand for existing houses continues to rise

The housing market's climb from the depths of depression is continuing at an uneven pace, and economists say signs point to further slow improvement in 2011.

"The trend is starting to move in the right direction," says Diane Swonk, chief economist at financial services firm Mesirow Financial.

A string of new housing data is building optimism. Existing home sales in November rose 5.6% from October to a seasonally adjusted annual rate of 4.68 million, the National Association of Realtors reported Wednesday. Demand has steadily improved since bottoming in July following the end of the buyers' tax credit.

New home sales data for November, out today, are also expected to show slight improvement after an October that made the third-worst showing in 47 years, says IHS Global Insight. Last week, the Commerce Department reported that housing starts rose almost 4% in November, the first uptick in new home production since August.
Let go over a few -- actually quite a few -- inconvenient facts that cause USAT's and Ms. Schmit's optimism not to "add up."
Let's start with new home sales. First, the numbers from the eight most recent months:
After making a bit of a comeback in April -- a comeback attributed to that month representing the final opportunity to take advantage of an $8,000 homebuyer's tax credit, the market has hit rock bottom, and stayed there:
(red boxed months) The May through November sales total of 170,000, which annualizes out to less than 300,000, even though it includes most of the strongest sales months, is the lowest seven-month total on record by far. A couple of seven-month periods including the winter months of 2008-2009 and 2009-2010 scraped as low as 200,000, but that's as close as any period in the past 48 years.
(starred item) USAT, Julie Schmit, and others in the establishment press, please take note -- November's 21,000 new homes sold is the lowest total for any month in the 48 years the Census Bureau has been publishing its monthly sales report (large PDF here). How anyone can spin the worst month in recorded history as a cause for optimism is beyond anyone even remotely attached to reality.
(green boxed seasonally adjusted annual totals) The only reason Ms. Schmit can type mindless statements about the new-home market's "climb" is that the Census Bureau's seasonal adjustment factors enable it. That isn't to knock the attempt, but when the numbers are this low and this unprecedented, the seasonal numbers don't mean as much. Astute journalists should know this; they either clearly don't, or are desperately searching for something, positive to write, even if it's thoroughly misleading. But even then, the past seven months' seasonally adjusted annual figures represent the seven worst such numbers on record, and November's 290,000 is barely above the 289,000 average of the previous six months. This is cause for optimism?
Now let's look at annual new home sales from the past 30 years (I went back that far to show 1982, the previous lowest annual total):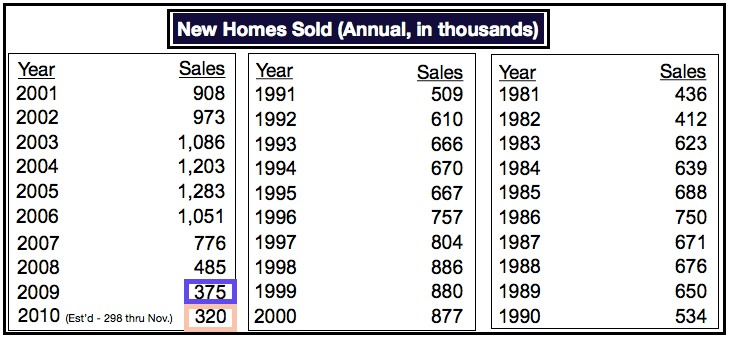 This really brings out how pathetic USAT's headline and Ms. Schmit's reporting are:
(blue box) 2009 was the worst year on record, roughly 9% below the previous worst in 1982, when the country had about 25% fewer people.
(orange box) 2010 will be far worse than 2009, to the tune of about 15%. Again, with the most recent seven months established as the worst on record, what possible justification is there for the "optimism" Schmit cites?
In 2011 and 2012, you can expect the establishment press to trumpet the wonders of "double-digit" increases in new home sales, while conveniently forgetting to tell readers, listeners and viewers that anything would seem impressive in the context of the market's two worst years.
Now let's examine existing-home sales (complete graphic, including seasonally adjusted annual sales by month, is here at the National Association of Realtors web site):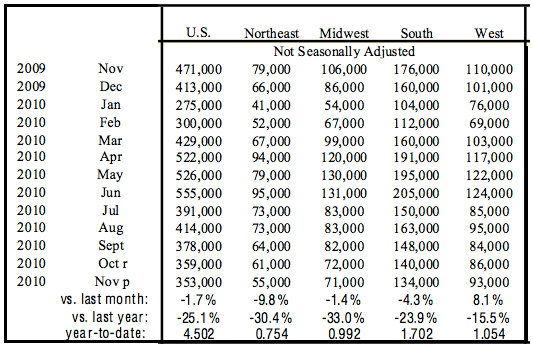 Here again, the reality in the raw data betrays the optimism based on seasonally adjusted numbers. November 2010 was 25.1% below a year ago. Yet according to Ms. Schmit, "demand has steadily improved" in the existing-home market. Give, me, a, break.
The fact of the matter is that this administration has taken a tough situation and turned into an absolute nightmare, driving the homebuilding and home-lending industries so far into the ground that any movement at all looks impressive. It isn't, but it seems that during the next two years you can count on ignorant cheerleaders in the business press to try to make it appear that way.
Cross-posted at BizzyBlog.com.