Gosh, what's a bigger story -- that to the extent it was ever happening at all the housing recovery "seems to have been aborted," or that according to the government there was very little inflation in October?
Readers probably didn't hear much about the Census Bureau's terrible reports Wednesday about what happened in the U.S. housing market in October. There's a reason for that, which is that the Associated Press, on which the nation over-relies for business news, paid very little heed to the Bureau's reports, and in fact co-opted their awfulness to pat Ben Bernanke on the back for his quantitative easing efforts.
The AP might counter with the excuse that the news about inflation was (supposedly) more important. The Bureau of Labor Statistics reported today that prices rose 0.2% in October, and were flat except for food and energy. Even if we concede its relative significance (which I don't), are we supposed to believe that the Essential Global News Network's business reporters can't provide detailed coverage of more than one big story at a time?
There is no story specifically dedicated to the housing news at the AP's main site, as illustrated in the graphic that follows. It shows the results of a search on "housing," and lists all stories that have appeared or have been updated since 8:30 this morning, when the Census Bureau issued its report about housing starts and building permits: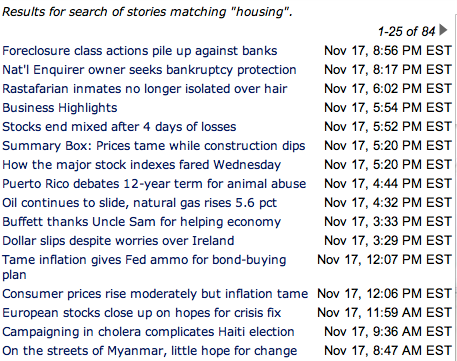 Here is what Marty Crutsinger and Chris Rugaber had to say about inflation and the housing news in the "Tame inflation gives Fed ammo for bond-buying plan" listed above:
Consumer prices barely changed for the third straight month, strengthening the Federal Reserve's hand at a time when it is defending a plan to boost the economy by buying more government debt.

Extraordinarily low inflation was a major impetus for the Fed program to spend $600 billion buying Treasury bonds. A report Wednesday from the Labor Department showed that inflation remains super-low.

A steep rise in gasoline prices drove the consumer price index up 0.2 percent in October, the fourth straight monthly increase. But excluding volatile food and energy costs, core consumer prices were unchanged for the third straight month.

... the Commerce Department said construction of new homes and apartments sank 11.7 percent last month to a seasonally adjusted annual rate of 519,000 units. That was mainly because apartment construction, which represents less than 20 percent of the housing market, fell by more than 40 percent. The much larger single-family home category fell 1.1 percent.

Still, the drop reduced the pace of home construction to its weakest point since April 2009, when it reached the lowest level on records dating to 1959.

... "The data is definitely in the Fed's camp today and should help keep the Fed's critics at bay," said Christopher Rupkey, chief financial economist at Bank of Tokyo-Mitsubish. "There is nothing in this data that would push the Fed off its course of continuing to buy government securities. Inflation is getting closer to becoming deflation and the recovery in housing seems to have been aborted."

A troublesome sign in the October report were price declines on new cars and clothing.

While flat prices may seem like a good thing for shoppers, the Fed would like to see prices rise more quickly to keep deflation at bay.
Crutsinger and Rugaber really wrote that inflation isn't just low, it's "super-low." I guess if next month's CPI adjustment is near zero, it will be "super-duper low." Zheesh.
As to housing, here is how bad it really is, using not seasonally adjusted, or NSA, numbers (i.e., what really happened):
The number of NSA housing starts (long PDF here) in October 2010 (44,300) was the lowest on record for any October since records have been kept. October 2009, a terrible month, was barely higher (44,500). October 2008 (68,200) was the third-worst. No other October going back to 1959 came in below 75,000, and the vast majority have been well over 100,000.
The NSA number of single-family housing starts in October 2010 (36,400) was down 7.6% from October 2009 (39,400), and is another all-time low since records have been kept.
Meanwhile, actual starts for dwellings of 5 units or more jumped over 50% from October of last year (4,700) to this year (7,100). These are still historically poor numbers, but even worse they may be an indication that there may be a possibly permanent move towards multi-unit dwellings and away from single-family units.
The news in building permits is just as bad (long PDF here). The October 2010 NSA total (43,700) came in almost 9% lower than October 2009 (47,900); the single-family decline was worse (from 38,600 to 31,900, or -17%). Both numbers are all-time October lows since records have been kept. The mix of permits also leaned more towards 5-plus unit dwellings.
Actual housing starts on the whole have trailed last year's awful levels in four of the past five months; as far as single-family homes are concerned, the current losing streak compared to last year is five months in a row. The re-collapse in housing is far more significant news than the fact that inflation came in as expected.
Cross-posted at BizzyBlog.com.