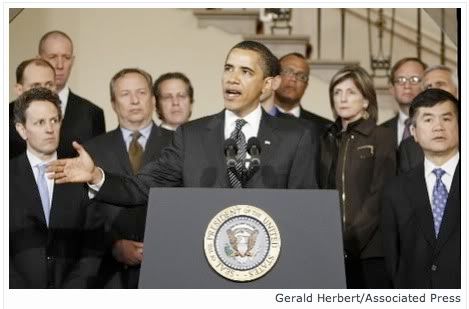 On the surface, it's one of the Associated Press's better dispatches from the real world on the state of the economy as people are experiencing it.
Datelined in Twinsburg, Ohio, Megan Barr's Monday morning report, "Recession is ending? Some Americans don't buy it," does a good job of mixing macro and micro elements, painting a picture of a struggling town, a non-improving state economy (now eighth-worst, according to AP's "economic stress" measurement tool), a somewhat-improving national picture, and a pervasive belief on the part of most Americans that things aren't really getting better. I couldn't help but notice the irony that AP reporter Jeannine Aversa, who wrote that the top economic story of last year was the economy's "fall - and rebound," contributed to Barr's report.
But something was done to Twinsburg a year ago that goes a long way towards explaining why many people there are likely responding as one quoted resident did -- "Who are they trying to kid?" -- when asked for a reaction as to whether the economy is getting better. The AP didn't cover that story last year -- and should have -- so it didn't know that it should have referred it this year.
Shortly after noon on Thursday, April 30, 2009, the President of the United States told the nation that a Chrysler Corporation bankruptcy "will not disrupt the lives of the people who work at Chrysler or the communities that depend on it." Shortly before that, senior Obama administration officials had made statements mirroring what the President said to Northeastern Ohio union leaders, politicians, and even a United States senator.
Late the next day (i.e., Friday), Detroit reporters digging through voluminous Chrysler bankruptcy documents learned that the company would close plants in four states. One of the plant's closed was Twinsburg's stamping facility, which employed 1,250. Nice timing: Tell a fib on a Thursday, make people look for it and not find it until late on a Friday, by which time few are paying attention.
As I noted at the time (at NewsBusters; at BizzyBlog), this monumental deception (not just the closures, but the accompanying deception) received the type of coverage it deserved in only one major newspaper, the Cleveland Plain Dealer ("Chrysler, Obama take the truth about plant closings for a spin").
The AP was among the establishment news organizations that ignored the deception when it was uncovered. With no record of what actually transpired in any of its prior reports, no one at the wire service would have even thought to go back to a year-ago event to get background for the Monday recession story.
I trust that readers are beginning to see how media malfeasance builds on itself.
The bottom line is that Obama lied, and jobs died. The people of Twinsburg know that. The rest of the nation should. The self-described "Essential Global News Network" deserves a major share of the blame for why it doesn't.
Cross-posted at BizzyBlog.com.