One week from today, Americans go to the polls to choose between Hillary Clinton and Donald Trump. A Media Research Center study last week documented that Trump has received an avalanche of bad press, with 91 percent negative coverage on the ABC, CBS and NBC evening newscasts since the two party conventions.
As for Clinton, she hasn't received the adoring coverage that journalists showered on Barack Obama during the 2008 campaign, but reporters have spent far less time digging into her public corruption scandals than they have Trump's controversial statements and personal behavior.
In addition, Clinton was carried to this point by more than a quarter century of positive treatment by the establishment media. To be sure, Clinton's big government liberal policies, as well as her scandals, have been highly criticized by conservative columnists and commentators, but the liberal media establishment has spent the past 25 years celebrating Clinton as an "icon of American womanhood," while fiercely attacking those who would challenge her ethics.
As First Lady, journalists found Clinton "remarkable," "fabulous," even "sexy." She had "wondrous talents," and "dazzling" "political mastery." In 1999, an essay in Time even suggested Hillary Clinton would surpass her husband's achievements, representing "a new archetype, somewhere between Eleanor and Evita, transcending both."
Investigations into her suspicious $100,000 profit in cattle futures trading, or her shady Whitewater land deal, were dismissed as retrograde sexism. CBS's John Leonard chalked it up to a "pathological fear of Hillary and any other uppity woman," while ABC/NPR analyst Cokie Roberts said Clinton's handicap was being a feminist revolutionary, "and it's very difficult for the world to accept people who have been revolutionaries."
Reporters championed Clinton's run for the Senate in 2000 as their heroine getting her due. When she ran for President in 2008, she was crowned a "rock star" of the Democratic party, with MSNBC's Chris Matthews wondering if she was a preferred target of late night comedians because "she's so pure and good." As the media told it, her tenure as Secretary of State was "much admired," even "stellar" — aside from that inconvenient blemish known as Benghazi, of course.
As 2016 came into focus, the media openly championed Hillary for President. "Can you think of a more qualified human being?" Today's Willie Geist wondered a few days after the 2012 election. "No one feels it would be better to crack that glass ceiling than to have a woman as President, and many believe that should be you," ABC's Robin Roberts lobbied Clinton in 2014.
The 2016 campaign brought new scandals, but the media dismissed them with a script similar to the one they'd used decades earlier. What about Clinton's decision to bypass the State Department's computers and set up her own personal e-mail  which would become home to thousands of classified documents? There's "nothing in here that reeks of illegality," CNN morning anchor John Berman ruled in September 2015. "If there's no smoking gun, when does the e-mail issue go away?" his co-host Alisyn Camerota echoed.
As for Republicans investigating her department's failures when it came to the fatal attack in Benghazi, "there's a whisper of misogyny" to the inquiry, charged CNN's Piers Morgan after Clinton testified in January 2013. When she testified again in 2015, longtime journalist Carl Bernstein attacked her questioners: "You have to go back to Joe McCarthy to see this kind of demagoguery in a congressional hearing."
Far from impeding Hillary Clinton's career with critical coverage, the establishment media have enabled her political rise with what amounts to a 25-year long infomercial on her behalf: admiring testimonials about her greatness, and nasty slams against her critics. The MRC has compiled the evidence in a 28-page Special Report (download the PDF by clicking the blue button below; it's free, but you will be asked to enter an e-mail address. If the button is not displayed, you'll need to disable ad-blocker).
Here's a just a few of the outrageously biased quotes you'll find inside:
■ "Friends of Hillary Clinton would have you believe she's an amalgam of Betty Crocker, Mother Teresa, and Oliver Wendell Holmes....Fortunately, Hillary Clinton, the latest wife to be challenged to fit perfectly into the ill-defined role of political spouse, is more interesting than that."
— Deputy Washington Bureau Chief Margaret Carlson writing in the January 27, 1992 edition of Time magazine.
■ "Perhaps in addition to the other items on her agenda, Hillary Rodham Clinton will define for women that magical spot where the important work of the world and love and children and an inner life all come together. Like Ginger Rogers, she will do everything her partner does, only backward and in high heels, and with what was missing in [Lee] Atwater — a lot of heart."
— Time White House correspondent Margaret Carlson, May 10, 1993.
■ "Hillary Clinton, like Eleanor Roosevelt, had already done a great service. Unlike Barbara Bush, she got involved. She has taken stands. She has been a leader. It's too bad, of course, that there is not health care legislation this year, but that is Congress's failure, not Hillary Clinton's. Her role has been a success. She awakened the nation. She educated the nation. She enlightened the nation....For when a nation gets two leaders for the price of one — a Franklin and Eleanor, a Bill and Hillary — it can tackle twice as many problems, find twice as many solutions, make twice as much progress."
— Former NBC News President Michael Gartner in his USA Today column, September 27, 1994.
 
<<< Please consider helping NewsBusters financially with your tax-deductible contribution today >>>


■ "Hillary Rodham Clinton is as pious as she is political. Methodism, for her, is not just a church but an extended family of faith that defines her horizons...If the Kennedy era was Camelot and the Reagan White House a ranchero on the Potomac, the Clinton presidency — in the figure of its formidable First Lady — is Washington's Methodist Moment."
— Newsweek reporter Kenneth L. Woodward, October 31, 1994.
■ "Our pathological fear of Hillary and any other uppity woman, whatever her politics, is a form of foot-binding, as well as a species of hate radio."
— CBS's John Leonard on Sunday Morning, September 1, 1996.
■ "From an early age, Hillary Rodham Clinton radiated an aura of extraordinary promise. But in the White House, that sense of promise has been shattered by relentless scrutiny, a barrage of accusations, the scent of scandal. Friends say the haze created by political opponents and a scandal-hungry media has obscured who Hillary Clinton really is: a traditional woman; a woman with a deep-seated desire to do good; a woman raised on American staples of family, hard work, and helping others."
— Kathleen Slobogin in the CNN Presents: Democracy in America special on Hillary Clinton and Elizabeth Dole, "They Don't Bake Cookies," October 13, 1996.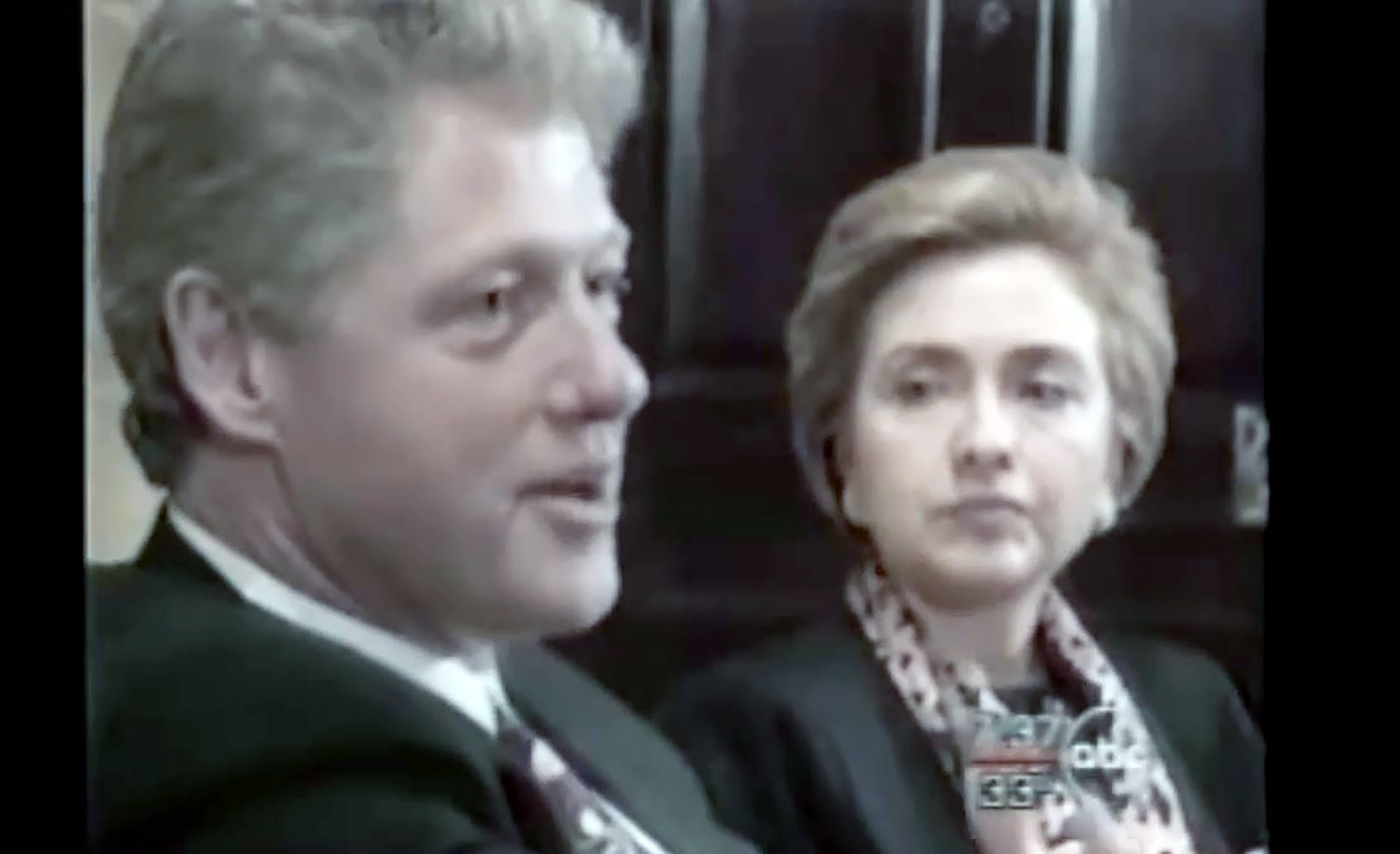 ■ "She emerged on health care, only to beat a very bruised retreat. She clearly hated being thought of as just Bill Clinton's wife. But ironically, it would take his scandals, finally, to free her. Finally, last November 1998, Hillary Clinton showed the world what she could do on the campaign trail without him. Political mastery, every bit as dazzling as his: the thoughtful speech; unapologetically strong; emboldening Democrats; electing Senators. So, her friends say, she has really earned this campaign, this moment, if she chooses; earned it by changing herself, searching, stumbling; and at the end, by standing, not by her man, but by herself."
— Co-host Diane Sawyer on ABC's Good Morning America, March 12, 1999.
■ "We are in the middle of a primal American saga and the important part is yet to come. Bill Clinton may be merely the prequel, the President of lesser moment except, so to speak, as the horse she rode in on....I think I see a sort of Celtic mist forming around Hillary as a new archetype (somewhere between Eleanor and Evita, transcending both) at a moment when the civilization pivots, at last, decisively perhaps for the first time since the advent of Christian patriarchy two millenniums ago toward Woman."
— Time's Lance Morrow in a July 12, 1999 "Viewpoint" piece.
■ "It's her resilience and capacity to survive and thrive against all comers that partly fuels the haters' fury....Installed in Washington, Hillary morphed into a comic-book villain for her detractors — a man-eating feminist, they claimed, who allegedly threw lamps at her husband, communed psychically with Eleanor Roosevelt and lit a White House Christmas tree adorned with sex toys. The narrative of depravity — a tissue of inventions by conservatives — was often hard to follow....The anti-Hillary industry has never managed to bring down Hillary herself — in fact, the more they have attacked, the higher she has risen."
— Newsweek's Jonathan Darman and Mark Hosenball in "The New War on Hillary," June 18, 2007 issue.
■ "I had a dream that before I died, I would see a woman as President of the United States. I think you are the woman, and I think this is the time."
— Former ABC News anchor Carole Simpson endorsing Senator Hillary Clinton in New Hampshire, as quoted in MSNBC's "First Read" daily political blog, October 17, 2007.
■ "One of the great lessons of that campaign is the continued and accepted role of sexism in American life, particularly in the media. Many women have made the point that if Senator Obama had to confront the racist equivalent of an 'Iron My Shirt' poster at campaign rallies, or a Hillary nutcracker sold at airports, or mainstream pundits saying they instinctively cross their legs at the mention of her name, the outrage would not be a footnote. It would be front-page news."
— CBS Evening News anchor Katie Couric, in a June 10, 2008 CBSNews.com online video commentary.
■ "When I look at your Twitter page, you — the last thing you list is saying you're a 'glass ceiling cracker.' And no one feels it would be better to crack that glass ceiling than to have a woman as President, and many believe that that should be you."
— ABC's Robin Roberts to Clinton in an interview shown on ABC's World News, May 7, 2014.
■ "Let me finish tonight with the prospect of Hillary Clinton becoming not just the next President, but a truly great President. Let me be the first to say that the elements are there: her political positioning, her talents and personality....Hard work, experience, a willingness to work with Republicans — indeed, a real feel for the political world and how it works. If she weren't a candidate, I'm sure a lot of Republicans would be saying this. It's an established fact that people who work with her like her."
— Host Chris Matthews wrapping up MSNBC's Hardball, May 19, 2014.
■ "As an editor, I've launched investigations into her business dealings, her fundraising, her foundation and her marriage. As a reporter, my stories stretch back to Whitewater. I'm not a favorite in Hillaryland. That makes what I want to say next surprising. Hillary Clinton is fundamentally honest and trustworthy."
— Ex-New York Times managing editor Jill Abramson in March 28, 2016 Guardian column: "This may shock you: Hillary Clinton is fundamentally honest."