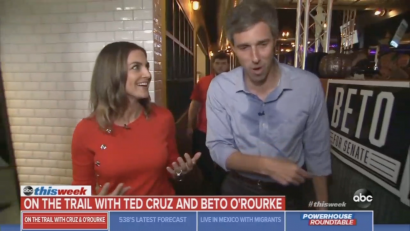 Beto O'Rourke has lost. The hype started way back in February when the New York Times's Michael Tackett fantasized about Democratic candidate O'Rourke's campaign embodying "a sense of the possible." The "Turn Texas Blue" dream continued with Late Show host Stephen Colbert, in March, proclaiming: "Texas might be feeling the Beto-mentum, because so far this year, O'Rourke out-raised Ted Cruz by $1.5 million."
In April, the New York Times's Frank Bruni purred: "Count me among the swelling ranks of the infatuated. I, too, have been Beto-struck...He's a peppy, rangy, toothy progressive with ratios of folksiness to urbanity and irreverence to earnestness that might well have been cooked up in some political laboratory."
By summer the liberal media hype machine was in full blown Beto-Mania as he had achieved "rock star" status. Liberal writers paid him their highest form of respect by comparing him to Barack Obama and John F. Kennedy. Variety magazine cooed: "With his youth and magnetism, O'Rourke, 45, draws comparisons to Barack Obama." And Time magazine observed: "The Congressman is lanky, handsome and charismatic. Elderly voters some-times tell him that he reminds them of John F. Kennedy."
The following is just a sampling of the out-of-control media love for Beto O'Rourke and his Quixotic attempt to turn Texas blue.
First Excited by "A Sense of the Possible"
"Operating on two hours' sleep, Beto O'Rourke was 20 hours into his day and looked it. His white shirt and gray slacks were an accordion of wrinkles. His hair, flecked with gray, drooped on his forehead and small dark rings had formed under his eyes. But he hadn't lost his voice. The Democratic congressman from El Paso was speaking to a crowd of several hundred at Suga's restaurant, 830 miles from home, trying to make an improbable case: that he can defeat Texas' incumbent Republican senator, Ted Cruz....He appealed to their sense of virtue....There is power in the giant-killer narrative and signs that his anti-campaign playbook campaign is working. He raised $2.4 million in the last quarter, and gets applause when he notes that was $500,000 more than Mr. Cruz took in. He has a restless energy that has put him in 217 of Texas 254 counties, driving tens of thousands of miles, fueled by bad coffee and Hostess cupcakes that supporters bring him....And Mr. O'Rourke's campaign is all about a sense of the possible."
— Reporter Michael Tackett in February 19 New York Times article "A Blue Spark In the Heart Of Deep-Red Cruz Country -- El Paso Lawmaker Fights Uphill Battle."
He's Gonna Turn Texas Blue With the Power of His Rocking
Host Alisyn Camerota: "About an hour and a half from now, voters in Texas will head to the polls, kicking off the midterm elections officially. Something interesting is happening with Democrats in that deep red state. CNN's Ed Lavandera is live in Texas with more. Tell us about it, Ed."
Correspondent Ed Lavandera: "Good morning, Alisyn. Well Democrats here in Texas once again talking about a blue wave taking over this state. And you know, more people are afraid, skeptical of that in a lot of circles but over the last few months, little known Congressman from El Paso, turns out has raised a lot more money than Republican Senator Ted Cruz in the Senatorial race. Now, Cruz still has more than a million dollars of cash on hand but nonetheless, this striking news of this little known Congressman outraising Ted Cruz is making this race a lot more interesting....Beto O'Rourke wasn't a politician back then, he was road tripping around Texas to his own soundtrack as the shaggy-haired guitarist of a punk rock band....O'Rourke says he's brought that punk rock spirit to this campaign....O'Rourke knows making punk rock mainstream in Texas isn't easy but he'll head out on the road again hoping to make it happen."
— CNN New Day, March 6.
Rooting for Beto-Mentum Over "Weird Ted Cruz"
"Texas might be feeling the Beto-mentum, because so far this year, O'Rourke out-raised Ted Cruz by $1.5 million – and that has gotten Ted Cruz serious about this race. So serious, he released a novelty song. Yeah, they don't call him 'Weird Ted Cruz' for nothing. They call him that because he's weird."
— Host Stephen Colbert on CBS's Late Show, March 8.
"Beto-Struck" by the "Toothy Progressive"
"Count me among the swelling ranks of the infatuated. I, too, have been Beto-struck. I have seen the alternative to Ted Cruz – Lord knows we need an alternative to Ted Cruz – and he's a peppy, rangy, toothy progressive with ratios of folksiness to urbanity and irreverence to earnestness that might well have been cooked up in some political laboratory. Could that formula enable Representative Beto O'Rourke, a Texas Democrat, to wrest Cruz's seat in the Senate from him in November? By now you've probably heard of Beto – seemingly no one calls him by his surname – and that in and of itself is a marvel....Cruz is a rare and precious gift. He's so loathed that any passable Democrat with a picayune chance of toppling him was bound to draw more attention and inspire more hope than the political dynamics warranted....But Beto is more than passable. Many of his campaign events are mobbed. People line up for selfies and then insist on hugs...He talks about fried catfish one second, James Joyce the next. (The older of his two sons is named Ulysses.) He's fluent in classic punk rock and contemporary country. He's fluent in Spanish, too."
— Columnist Frank Bruni in April 7 New York Times article "Watch Out, Ted Cruz. Beto Is Coming."
Is He The Next JFK or Obama?
"O'Rourke is running a U.S. Senate campaign a world away, in Texas – a race that resembles one run by another Kennedy. It's not just the toothy grin, the tall stature, and the shock of hair swept over his brow. With a disdain for highly paid consultants, a willingness to travel to unexpected places, and an inspiring message for an extraordinarily divided electorate, it's hard to look at O'Rourke and not think of Bobby Kennedy in 1968."
— Washington Bureau Chief Matt Viser in July 26 Town and Country article "Why So Many People Are Betting on Beto O'Rourke, He's a Kennedyesque longshot in a roiling red state, but the Democrat from Texas just might have a chance at unseating Ted Cruz."
The Congressman is lanky, handsome and charismatic. Elderly voters some-times tell him that he reminds them of John F. Kennedy."
— Nash Jenkins in May 22 Time magazine profile "Beto O'Rourke Is on a Long, Hard Road."
"With his youth and magnetism, O'Rourke, 45, draws comparisons to Barack Obama, but he projects a gawkier sort of charisma than the former president's. His delivery is faster and jerkier. He sprints through his stump speech. Speaking without a mic, his unoccupied left hand constantly wanders to his solar plexus, while he repeatedly points down forcefully with his right hand, as if making an emphatic point in a rap battle."
— Senior Editor Ted Johnson in July 9 Variety article.
Even If He Loses, He Still Wins!
"A lot of people think this guy's name, if he wins, they think he's the nominee. If he loses, he may be the Democratic nominee."
— Substitute host Peter Alexander on MSNBC's Andrea Mitchell Reports, October 18.
"O'Rourke offers not just a path to victory in Texas but an antidote to the entire stupid artifice of American politics in the Trump era. He's authentic, full of energy, and stripped of consultant-driven sterility. On what planet is Beto O'Rourke not a presidential contender, even if he loses?...The most appealing thing about O'Rourke is both delightfully uncomplicated and extremely powerful: he talks about politics like you and your friends do."
— Writer Peter Hamby in August 29 Vanity Fair article.
"Win or lose, Beto O'Rourke set to emerge victorious. Follow #Midterms2018 coverage here."
— November 6 tweet from official Reuters Top News Twitter account.
Unlike Ted Cruz, "Charismatic" Beto is a Normal Human Being
"You have in Beto O'Rourke a guy who's charismatic, who looks like he is a human being, who sounds like a normal person, who seems to be able to rise to the rhetorical occasion. And that contrast with Ted Cruz is so powerful."
— New York Times columnist Bret Stephens in September 25 article.
He Lives By His Own Rules, Man!
"Incumbent Republican Senator Ted Cruz won his seat by almost 16 percentage points in 2012 but recent polls show a rising Democratic star....Before running for Senate, O'Rourke was a punk rock bassist who also ran a software company before being elected to three terms in Congress... His campaign has broken all conventional rules!"
— Correspondent Bianna Golodryga on CBS This Morning, October 5.
He's Even Pulling In Christian Conservatives
"After church on a recent Sunday, Emily Mooney smiled as she told her girlfriends about her public act of rebellion. She had slapped a "Beto for Senate'' sticker on her S.U.V. and driven it to her family's evangelical church. But then, across the parking lot, deep in conservative, Bible-belt Texas, she spotted a sign of support: the same exact sticker endorsing Beto O'Rourke, the Democrat who is challenging Senator Ted Cruz....Listening to Ms. Mooney's story, the four other evangelical moms standing around a kitchen island began to buzz with excitement. All of them go to similarly conservative churches in Dallas. All are longtime Republican voters, solely because they oppose abortion rights. Only one broke ranks to vote for Hillary Clinton in 2016. But this November, they have all decided to vote for Mr. O'Rourke, the Democratic upstart who is on the front line of trying to upend politics in deep-red Texas."
— Reporter Elizabeth Dias in October 10 New York Times article "In Deep-Red Texas, Evangelical Women Trickle Toward O'Rourke -- Citing moral imperative to fight Trump's agenda."
Fangirl Paula Faris Loves "Rock Star" Beto
Correspondent Paula Faris: "You can't go ten feet without an interruption from a Beto-backer."
Beto O'Rourke to supporter: "I love you too! Thank you all."
Faris: "You're a rock star!"
— ABC's This Week, October 21.
"Cruz is banking on Trump to rev up the Republican base, because his rival, Congressman Beto O'Rourke, with his cheering crowds, is energizing Democrats.... He's raised a record $38 million in just three months. Using some of it on ads all shot on an iPhone."
— Correspondent Paula Faris on ABC's World News Tonight, October 22.
"Inevitable" That Texas Will Turn Blue
"Texas is a deeply red state, but it's changing and changing fast. It sits there as a big red target for Democrats. They recognize that if they can start to flip Texas, it changes the entire nationwide electoral map....The idea that Texas is ripe for the picking, it's powered by the growing minority population, the growing young voter population. It's almost inevitable that Texas ultimately turns blue. The question is did Beto O'Rourke find this moment?"
— Political Director Rick Klein on ABC's Nightline, October 23.
Hardball Intro Or Beto Campaign Ad?
"One week from today Americans head to the polls for an historic election that will determine the balance of power in Congress...It will either create a check on President Trump's power or embolden him....And it could all come down to Texas....Ted Cruz has the backing of his former, bitter rival....But Democratic upstart Beto O'Rourke has caught fire....Raising tons of cash and running neck-and-neck....in a state that hasn't elected a Democratic senator for a quarter of a century. Tonight, the rising star of the party takes center stage....Can he pull off an upset in the Lone Star State?...And is this all a step to a White House run in 2020?"
— Announcer on MSNBC's Hardball, October 30.