Why should former NFL player Colin Kaepernick hate America? After all, the country gave him a home, an education, and a great sports league to showcase his talents (that is, it was great before it became a platform for social justice activists). Despite these blessings, Kaepernick is resolved to fight against America for the sake of "social justice"-- and he's recruited a new ally to help him. 
Yahoo.com reported on December 10 that Kaepernick and the company Ben & Jerry's had clubbed together to create a new flavor of ice cream. After throwing together some caramel, sunflower butter, fudge chips, graham cracker swirls, and chocolate cookie swirls, they labeled the new concoction "Colin Kaepernick's Change the Whirled," completely vegan and dairy free. 
Kaepernick announced on Twitter that "100% of my proceeds will go to @yourrightscamp with matching support from Ben & Jerry's."
According to knowyourrightscamp.com, "Our mission is to advance the liberation and well-being of Black and Brown communities through education, self-empowerment, mass-mobilization and the creation of new systems that elevate the next generation of change leaders."
In other words, buyers of this new ice cream will be supporting perpetrators of anti-American ideology who haven't been able to move past 1865 (The website emphasizes that black and brown communities "have the right to BE FREE"). 
However, Kaepernick thinks he's here to "to serve up joy," according to his Twitter account.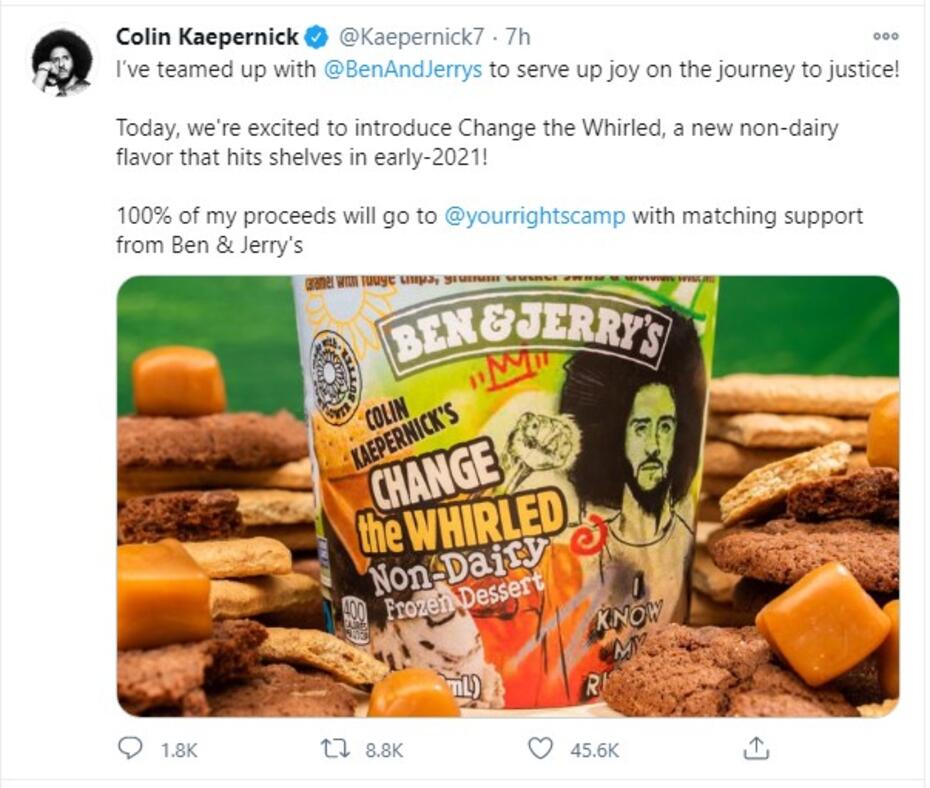 Ben & Jerry's also announced their new product on Twitter on December 10. "We've teamed up with @Kaepernick7! Introducing Change the Whirled Non-Dairy, the flavor that's supporting the fight to dismantle systems of oppression and empower Black and Brown people. Coming to freezers in 2021! Learn more: https://benjerrys.co/3qJHAVE"
Apparently even Ben & Jerry's think that America's still in the 1800s. No wonder they allied themselves with Kaepernick. 
According to fastcompany.com, Ben & Jerry's global head of marketing said that "This is a full-time flavor . . . delicious ice cream, with a joyful packaging that honors a man whose words and actions have love rooted in it. Do we expect this to change everyone's mind? Of course not. But it can open up conversations and, to a degree, challenge people's thinking and spread the actual message Colin is talking about and the work Know Your Rights Foundation is working on."
Colin Kaepernick's 4th of July post on Twitter this year disproves the claim that his social justice is rooted in "love." It actually sounds like it's rooted in revenge.
It will be hard to have good "conversations" with so much anger present on one side. 
Kaepernick also said that "I'm honored to partner with Ben & Jerry's on Change the Whirled. Their commitment to challenging the anti-Black roots of policing in the United States demonstrates a material concern for the well-being of Black and Brown communities. My hope is that this partnership will amplify calls to defund and abolish the police and to invest in futures that can make us safer, healthier, and truly free."
How about American consumers defund and abolish Ben & Jerry's for supporting such a foolish and dangerous cause.