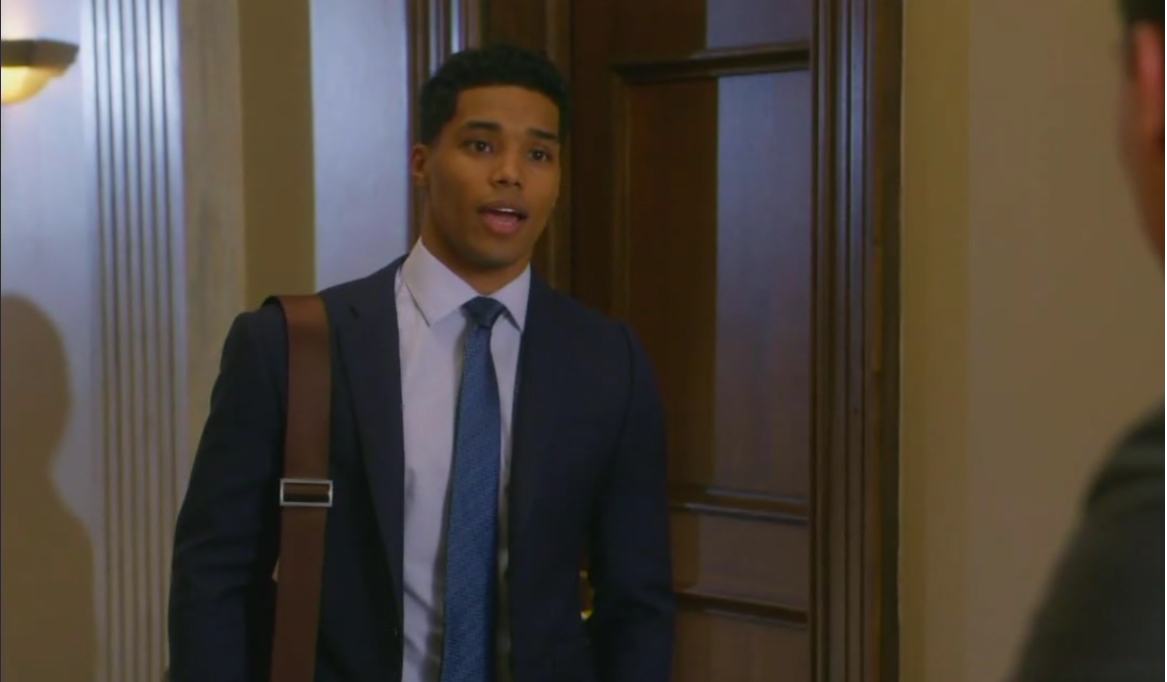 Shonda Rhimes' How to Get Away from Murder on ABC hasn't shied away from seeking to disrupt the current criminal justice system, and that includes disrespect towards police officers who protect and serve our communities. Apparently, even the decision just to become a police officer constitutes an act of betrayal.
Law student Gabriel Maddox (Rome Flynn) has spent his time with Professor Annalise Keating (Viola Davis) doing whatever he can to fight the system. In the October 25 episode, "It Was the Worst Day of My Life," Gabriel is angry not only about Nate Lahey (Billy Brown), a friend of Annalise, being a witness who wrote a letter against their client, Nate's own father, when he was a young teen but also for being a police officer.
Connor: You know, this all could've been avoided if you'd just done the research and found that letter.

Gabriel: Sounds like your boyfriend's job.

Oliver: Uh, fiancé, and is anyone really to blame here?

Gabriel: Yeah, the guy who wrote the letter.

Michaela: We all do stupid things when we're 14.

Gabriel: Pretty sure he wasn't 14 when he chose to become a cop.

Michaela: What does him being a cop have to do with anything?

Gabriel: What kind of guy turns his back on his own people?

Laurel: Okay, none of this helps our case right now.

Gabriel: Exactly. I'm going to C&G to prep for tomorrow.
Though it may not be helpful to their case, as mentioned by 3L student Laurel Castillo (Karla Souza), Gabriel still finds the need to try to make it relevant that Nate is a police officer and apparent race traitor.
Annalise has taken on Nate's father, Nate Lahey Sr. (Glynn Turman), as a client so that he may have his murder conviction re-heard and overturned by reason of insanity. Nate and his father have had a complicated relationship, as acknowledged by both father and son. Nate Sr. dropped out of school at sixteen to be a boxer, and then turned to dealing drugs to make money. When Nate was fourteen, his father could have been paroled, but he wrote a letter mentioning he preferred if his father stayed in prison, because he felt safer.
Though they have an improved relationship now, Nate and his father have been at opposite sides of the criminal justice system.
Nate: I lied on the stand, Annalise. I remember writing the letter.

Annalise: You were just a boy. God knows what I said to my mother at that age --

Nate: Just listen. First time I saw him in cuffs, I was pissed at the cops. But by the second, the third, the fourth... I began thinking he wasn't the good guy, they were. So I decided to be one of them. So at least I wouldn't end up like him.

Annalise: If you beat yourself up over this, the same system that got in his head is gonna get into yours.

Nate: What if all this is for nothing?

Annalise: Do you think I would drag our asses all the way to the Supreme Court only to lose in Philly? We're gonna win.

Nate: All right. Okay.
Gabriel is not present to hear Nate explain why he became a police officer. He's a new character and does not know or understand the reasons why Nate would become a police officer, and it doesn't seem as if he would care to take the time to find out why, he only sees it through the lens of black vs. white, us vs. them.
Like his fellow classmates, Gabriel is a passionate social justice warrior progressive. In past episodes he has been sympathetic towards a lesbian Muslim immigrant who is framed for her wife's death by a white supremacist. He was disgruntled by the idea that Annalise's would take on a client whose burger chain has been boycotted by minorities. We've also seen past pictures of him engaged in protests where he carried signs declaring "Legalize Black."
He doesn't merely seek criminal justice reform, however, but has the radical idea to disrupt it and abolish our prison system. Gabriel was selected to be part of Annalise's circle after he presents the reasoning behind his crusade in the first episode of the season, saying:
I'd file suit against Mississippi arguing that every prison in the state is de facto cruel and unusual… I-I'm arguing you didn't go far enough. I'd lose my Mississippi case, but that's the point. The 5th Circuit will say that prisoners deserve only to be kept alive. As the appeals go on, my lead plaintiff will die -- sad, yes, but the publicity will make SCOTUS take the case and the 5th Circuit will have to eat their words. I'd sue other states until every prison in the country is under investigation and we're forced to abolish our prison system on a national scale.
Though he may be passionate about his cause, for Gabriel to be so set in his ways means he won't be able to grow as a student and a lawyer. For unless he cares to consider why someone who is black would wish to become a police officer, and not merely regard him as someone who "turns his back on his own people," he cannot expect to learn very much. Like the typical progressive social justice warrior, however, perhaps it is because Gabriel thinks he already knows everything he needs to know.