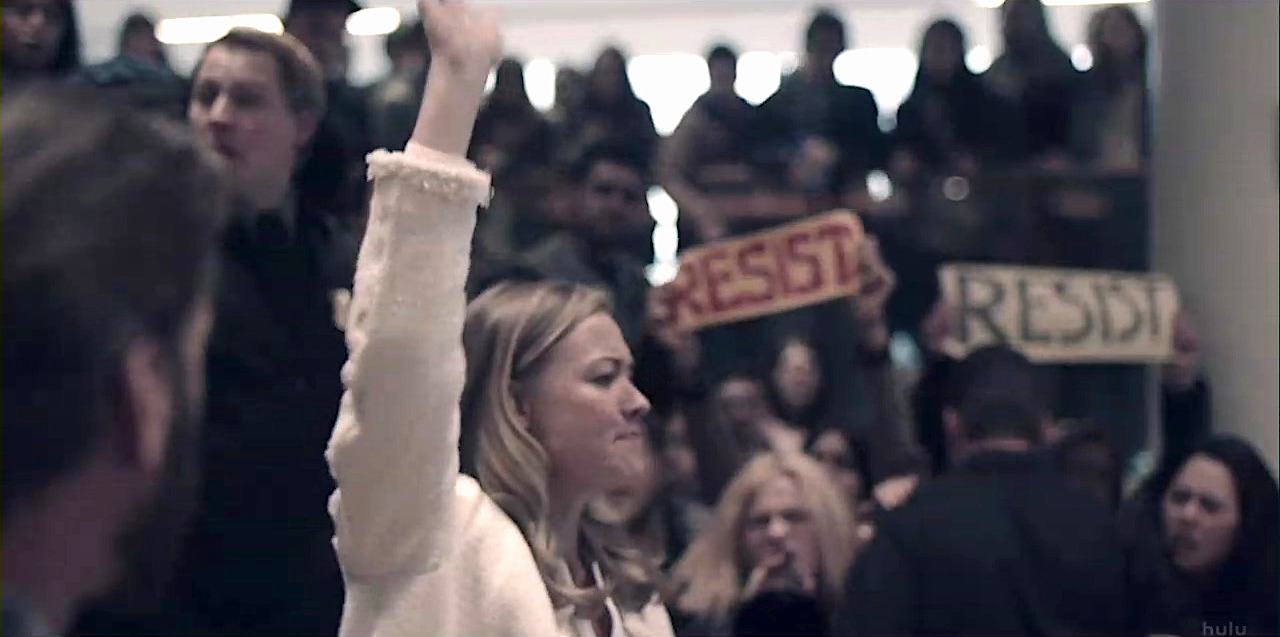 Does Hulu's The Handmaid's Tale have any original ideas anymore? We're now more than halfway through the second season, and every episode seems to just parrot feminist talking points and overblown fears of the Christian patriarchy. This latest episode just takes it one step further by comparing one of the show's villains to the conservative speakers who face anti-free speech protests on campuses across the nation today.
The May 23 episode "First Blood" gives us a flashback for the character of Serena Joy Waterford (Yvonne Strahovski), the cruel wife of Commander Fred Waterford (Joseph Fiennes) whom June/Offred (Elizabeth Moss) serves. Before the rise of Gilead, Serena worked as the face of the ultra-religious movement that eventually takes control of the nation after environmental degradation leaves most of the female population infertile.
To spread her message, Serena attempts to give a speech at a local university in a very familiar scene, complete with "Resist" signs in the crowd. She suffers the same blow-back felt by any speaker right of Karl Marx who dares to think on a campus, the implication being that today's conservative speakers are just as evil and fascist as she is and allowing their ideas to be heard will lead to Gilead.
Serena: Serena Joy, good afternoon.

Fred: Fred Waterford, pleased to meet you.

Man: Nice to meet you.

MC: You may not agree with what she has to say, but that's what's great about our country, the freedom to express your own opinion. She is on our campus as a guest so please, let's welcome Serena Joy.

Fred: Stay focused, stay calm.

[Crowd booing, jeering, cursing]

Guy 1: We don't want you at our school we don't believe anything you do!

Serena: Good afternoon. It's my honor to be-

Girl 1: Nazi cunt! Fuck you!

[Boos and jeers continue]

Guy 2: Quiet! Let her speak!

Guy 1: Sit down you stupid little bitch! Fuck you!

Serena: When I first received your invitation to come and -

Girl: Facist bitch, go home! Go home!

Man: We made a mistake!

Fred: She has a right to speak!

Man: It's not safe!

Fred: This is America!
Later on, Serena faces another angry crowd and delivers her message. She tells them, "You're spoiled, you're privileged, and you're living in an academic bubble," sounding just like your everyday conservative, before sounding the alarm on the country's fertility crisis.
As she walking out of the school, Serena survives an assassination attempt which reinvigorates her passion for the movement that eventually leads to the oppressive religious tyranny that now rules what was once America. I guess the message is "If you're going to shoot, shoot to kill," literally. Hopefully no crazed fan who believes the liberal line that The Handmaid's Tale is happening right now in America takes that lesson to heart and tries to kill conservatives in the name of stopping fascism.
Every episode I see of this series just makes this world seem even more bizarre. In this world, the American government chains pregnant women to beds. In this world, Christianity apparently promotes child brides. Now, this world pretends a college speaker booed by students will start religious fascism under the guise of "free speech." If this is what these writers think is discussed by people like Ben Shapiro, Jason Riley, or Betsy DeVos, they're even further lost than I thought.