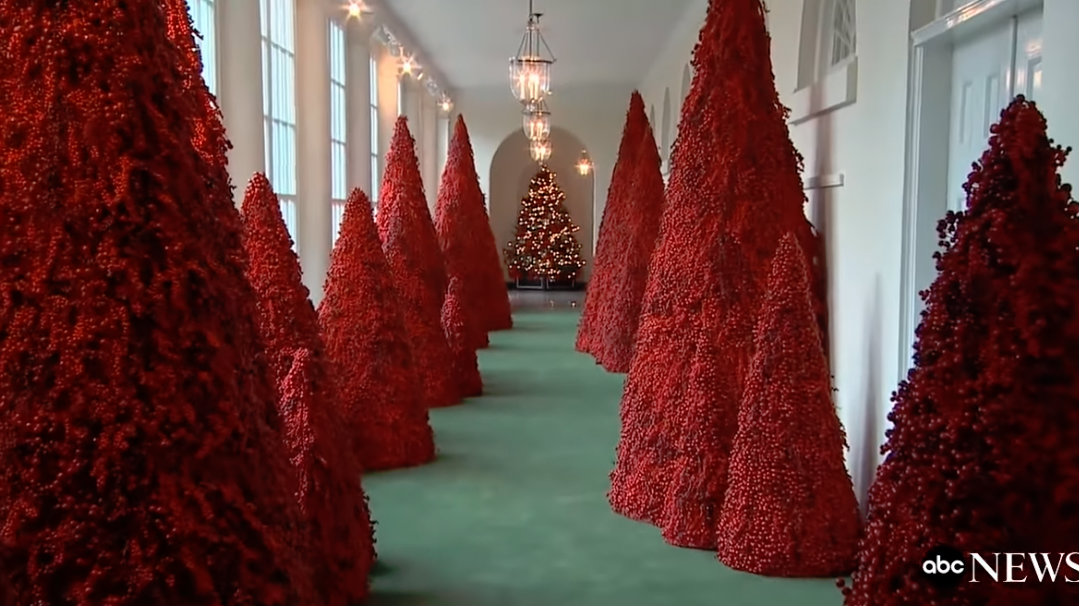 On Monday, Melania Trump unveiled her theme for this year's White House Christmas decorations and, right on cue, celebrities and the media have started attacking her for it. The woman can't get a break as last year her holiday style choices were described as being from "hell," and now as something out of a "horror movie."
Hollywood lefties mocked Melania's Christmas style by comparing it to feminist dystopian drama The Handmaid's Tale, claiming that it reminded them of the First Family's ties to the Russian government, and even slamming her wreaths with obscene toilet humor. Once again, they took great pleasure in pointing out the display's creep factor.
Comedian Sarah Silverman spent early Tuesday morning looking for the most creative and vulgar ways to insult the First Lady's decor. She tweeted out a photo of one of Melania's wreaths and captioned it with, "I guess my favorite White House decoration is this inflamed asshole made w[ith] Be Best pencils."
Sci-fi actor and Hellboy star Ron Perlman couldn't resist blasting the First Lady's style choice as well. Perlman shared a mean-spirited article from Gizmodo about the decor's creep factor, and tweeted the caption, "I saw this display in the same catalogue the first lady appeared in. The White House Continues its Tradition of Turning Christmas Into a Horror Film."
Margaret Atwood, author of The Handmaid's Tale, was taken with the media's comparisons of Melania's holiday tastes to her dystopian novel. Tweeting out a Huffington Post article about how the red Christmas trees "conjure" themes from the book and popular Hulu series, Atwood wrote, "Crimson Trees have put the White House in a very red state."
LGBTQ comedian Dana Goldberg also poked fun at the red Christmas trees that Melania had line the halls of the First Family's home. She shared a doctored photo of the trees in which each was topped with a white bonnet, a la The Handmaid's Tale. Goldberg included a caption saying, "Somebody did this to Melania's creepy Christmas trees, and it's all I've ever wanted today."
Supernatural actor Misha Collins posted that the red tree theme reminded him of another type of red — Russian red. He tweeted, "If you ever doubted the Trump/Russia collusion, this should put you over the top: This year in the White House, even the Christmas trees are red." Red for Russia? Sure. It's not like red is one of the two traditional Christmas colors or anything.
People can have their tastes all they want, and they are perfectly fine to argue about what's elegant or not. But let's not pretend that if this exact same style was present in the White House during Christmas 2015, that these lefty celebs wouldn't have been saying that Michelle Obama had done an incredible job with the presentation.