2016 was a crazy year. Many celebrities died including Gene Wilder, David Bowie and Prince. So did Cuban dictator Fidel Castro.
Americans also had ringside seats to the presidential boxing match between Apprentice star Donald Trump, R, and former Secretary of State Hillary Clinton, D. Trump won the prize fight in spite of the liberal media acting more like Clinton's boxing promoter than the referee.
Throughout the tumult, the liberal agenda dominated economic and business news from media spin of the Dakota Access Pipeline fight, to repeatedly ignoring weak economic data, and failing to expose the economic damage of Castro's communism.
Networks underreported economic issues even as voters repeatedly told pollsters how much it mattered to them. Instead, sexy or trendy stories like Pokemon Go and the Brangelina breakup got far more time. Journalists also tried to protect Hillary Clinton's campaign, even as WikiLeaked emails showed just how cozy she was with the press and economists blasted her left-wing agenda.
Here is MRC Business' list of the top 10 ways the liberal agenda dominated economic news in the past year.
1. Networks Downplay Protester Violence, Include Many More #NoDAPL Voices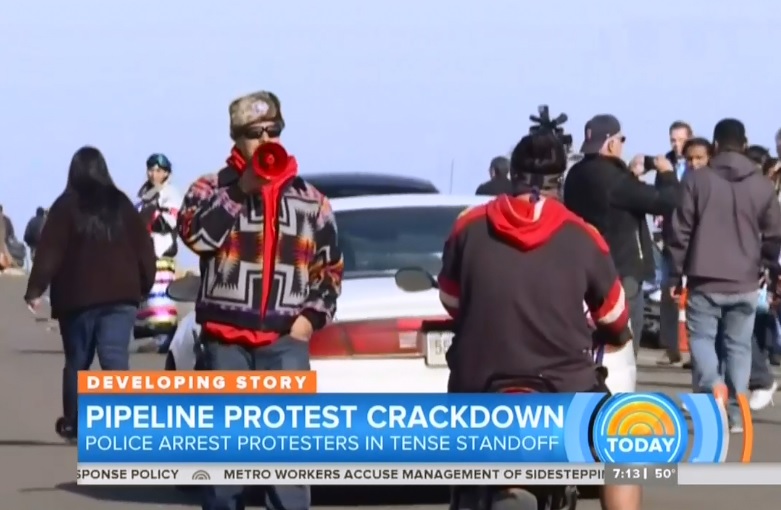 Even using an improvised explosive device, setting vehicles on fire and throwing Molotov cocktails and rocks, and doxxing police wasn't enough for the broadcast networks to negatively cover anti-Dakota Access Pipeline protesters. The #NoDAPL movement portrayed itself as peaceful, prayerful opponents of a dangerous oil pipeline. Many protesters labeled themselves "water protectors."
And, often, that's how ABC, CBS and NBC depicted them and their "occupation" of private and government property in North Dakota. Protesters were also the go-to interviews for network reporters. Following the Army Corps of Engineers' announcement it would not grant a final permit necessary for the pipeline to cross the Missouri River, protesters were jubilant. Eight of them were shown on the networks' morning and evening news shows. Those same programs showed zero critics of the Army decision or proponents of the pipeline project. 8 to 0.
That was the networks' idea of balance.
2. New Media Spotify and Mic Team Up to Push Left's Election Issues
The bias of traditional media is so entrenched and documented it fails to surprise. But in many ways new media are even worse. Take Spotify, the streaming music service with 100 million active users, for example.
This year it partnered with Mic to create the Clarify video series to reach millennial voters and to "inspire civic engagement." Show host Baratunde Thurston promised it would be about "facts," but in reality it promoted liberal views on student debt, gun control, the economy and more. Week after week, the program included musicians, roundtables and other infographics to push left-wing talking points from Bernie Sanders' supporter Diplo, to disgust over income inequality, war and police brutality from rap rock supergroup Prophets of Rage. Other episodes promoted pro-abortion views, the gender pay gap myth, gun control, universal healthcare and other liberal causes.
3. Castro's 'Economic Disaster' Gets Ignored by Networks Most of the Time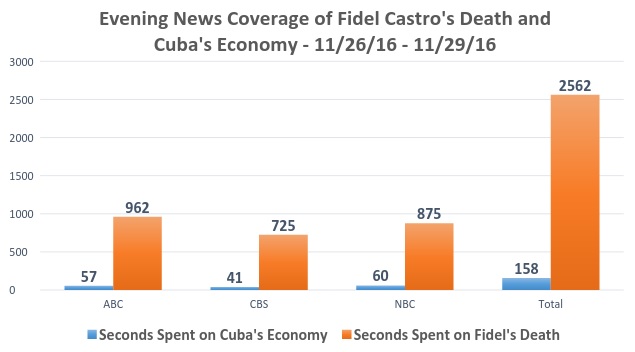 Fidel Castro died Nov. 25, after decades of oppressive control of Cuba. Yet, the networks credited him with delivering education and health care to Cubans, and pointed out the beautiful classic cars lining Havana's streets.
The vast majority of reports ignored the fact that those cars were emblematic of Cuba's suffering and economic stagnation. Rather than expose that, 94 percent of the evening news coverage of Castro's death ignored Cuba's economy altogether between Nov. 26, and Nov. 28, (40 minutes and 4 seconds out of of 42 minutes 42 seconds).
Much of the networks' reporting on Cuba's economy focused on positive developments that occurred after Fidel's brother Raul Castro assumed power. And when the networks did cover Cuba's economic problems under Fidel, they often didn't explicitly attribute them to the dictator's economic policies.
On Nov. 26, CBS Weekend News gave a very flattering portrayal of Castro the night after his death which included anchor Scott Pelley touting Castro's foreign policy success.
Weekend News Anchor Reena Ninan introduced Pelley's segment by describing Castro as "the bearded revolutionary who survived a crippling U.S. trade embargo and possibly hundreds of assassination plots."
Pelley listed Castro's achievements: overthrowing a U.S.-backed Cuban dictator, defeating the U.S's invasion during the Bay of Pigs, as well as the country's free health care and high literacy rate.
"He was the revolutionary leader who put Cuba on the world stage and made himself a world player," Pelley remarked.
Other reports found described the brutal leader like a father, or grandfather figure to his people.
<<< Please support MRC's NewsBusters team with a tax-deductible contribution today. >>>
4. Nets Ignore Coal Country's Pain Even as Clinton Promises to Put Miners Out of Work
Democratic presidential candidate Hillary Clinton accidentally spoke a little too freely regarding coal mining jobs on the campaign trail on March 13.
"[W]e're gonna put a lot of coal miners and coal companies out of business. Right, Tim? And we're gonna make it clear that we don't want to forget those people," she admitted during a televised town hall meeting.
The network morning shows said nothing about her candid remark the next day. In fact, the networks ignored Clinton's anti-coal industry remark until an unemployed coal company employee confronted her on the campaign trail May 2.
ABC, CBS and NBC just didn't seem to care about the pain of coal miners. Between June 1, 2015, and May 31, 2016 — a year that included the bankruptcy of Peabody Energy and four other coal companies — 95 percent network news stories and briefs mentioning coal failed to show just how much the industry was suffering (36 of 38). ABC, CBS and NBC also went out of the way to disconnect currently "distressed" coal communities, from Obama's regulatory actions through the EPA.
5. U.S. Economy Gets Short Shrift As Voters Rank it Top Priority
Democratic strategist James Carville famously advised Bill Clinton to focus on what matters to voters saying, "The economy, stupid."
In 2016, voters once again had economic concerns — yet month after month leading up to the election ABC, CBS and NBC evening news shows spent very little time on the state of the U.S. economy.
Pokemon Go, a mobile game for catching monsters, got more than twice as much network coverage in July. ABC, CBS and NBC evening news programming spent 731 seconds combined on Pokemon Go, compared to 338 seconds on the U.S. economy.
The networks also spent more time on San Francisco 49er Colin Kaepernick's pre-season protest in August, and twice as much time on the Brangelina divorce as the economy.
6. Race Card, Panicked Predictions and 'Bregret,' Media Freak Over Brexit
For the left which loves the idea of more centralized government and global governance, it was inconceivable that enough Brits would want to exit the European Union (EU) and regain more autonomy.
The bias against a British exit was obvious ahead of the vote. NPR's Morning Edition which aired three separate anti-Brexit stories the day before the vote. CNN's Christiane Amanpour described "leave" voters as "very xenophobic, anti-immigrant, very populist, nationalist ..." The shock of the June 23, vote send the media into a frenzy — making panicked predictions about stock market swings and hyping "Bregret."
ABC World News Tonight with David Muir led its Brexit coverage on June 24, with Muir saying "some British voters may be having second thoughts."
The following night, London-based ABC correspondent Lama Hasan even tried to coax remorse out a pro-Brexit voter asking him, "do you regret the fact that you voted to leave the European Union?"
Between June 24, and 26, 88 percent (7 out of 8 programs) on the broadcast evening news shows touted UK voter "second thoughts," and repeatedly brought up a manipulated petition for another referendum.
7. Networks Gloss Over 6 Indicators of Weak Economy to Tout 'Comeback'
It's no wonder the economy ranked highest in polls of voter concerns. By the middle of 2016, national economic growth remained "subpar," labor force participation remained shockingly low, while poverty rates and food stamp use stayed high.
The networks barely reported on those four issues, as well as weak wages and median household income, preferring to report positive economic news. But the evening shows couldn't ignore the entire economy, so between Jan. 1, 2015, and June 30, 2016, they aired at least 342 stories or news briefs that said something about the U.S. economy or American economic policy. Ninety-one percent of those stories (311 out of 342) ignored those six key negative indicators which revealed remaining weakness in the U.S. economy.
Instead, many of them heralded positive economic signs like a "hiring surge," or low gas and oil prices giving consumers a boost, or other "signs of a strengthening economy." Stock market and oil price movements also got plenty of attention.
8. Media Moguls and Moderators Boost Clinton Campaign
The presidential campaigns were in full swing even before 2016 began, and the liberal predictably did all they could to support Democrat Hillary Clinton including ignore economists' criticism of her plans.
Once America's wealthiest media mogul Michael Bloomberg decided not to run for president himself, the owner of the Bloomberg media empire endorsed Clinton.
WikiLeaked emails showed the Clinton campaign had close ties to many journalists and even held an off-the-record dinner with "influential reporters, anchors, and editors" just before she announced her bid for president. One of those emails even indicated CNN political commentator Donna Brazile leaked debate questions to Clinton. CNN dropped her for the breach, but The Washington Post reported Brazile was unapologetic and considered it part of her role as "an activist, a strategist."
The broadcast networks also ignored Clinton Foundation conflict of interests in 95 percent of stories — even when the conflicts were so bad some Democrats argued the Clinton family should leave the foundation.
The first debate between Trump and Clinton began with the subject "achieving prosperity" and moderated by NBC News anchor Lester Holt. All of Holt's hard economic questions were directed at Trump. He could have asked Clinton why a letter published in The Hill that very day indicated that more than 300 economists warned Clinton's economic policies are "wrong for America." But he didn't.
9. Soros and Steyer Drive Liberal Agenda, Bankroll Clinton Campaign
The liberal media spent the year peddling the liberal agenda, while men like George Soros and Tom Steyer spent millions trying to set that agenda and get Clinton elected in order to govern from the left.
Soros alone spent more than $103 million on media groups in the past 14 years in order to promote his progressive agenda. This year, he pledged $25 million to Clinton and other Democratic candidates and causes, Politico reported. Many of the media groups he funded push the same liberal agenda as Clinton, from immigration issues, to wealth redistribution, unionization and increased minimum wage.
The liberal media avoided exposing Soros' Open Society Foundation when a group called "DCLeaks" posted what it claimed were "workplans, strategies, priorities and other activities of Soros."
Left-wing billionaire and climate activist Tom Steyer also spent millions to help Clinton, broadening from his previous choice to spend solely on climate change. In fact, he was the largest single donor with more than $67 million spend entirely on Democrats and liberals. CNN Politics profiled Steyer's latest strategy with the For Our Future PAC which promoted causes from "racial justice," to "climate change" to "building strong public schools."
10. News Media and Celebs Continue to Sound the Climate Alarm
The liberal media kept the hot air coming on the threat of climate change. The cost of the liberal solutions to the climate threat would be less economic growth or even severe economic regression.
In May, Huffington Post used an image of the world on fire while it bemoaned "apathy for climate change." CBS hyped what it called the Earth's "chronic fever" and celebrity, activist and hypocrite Leonardo DiCaprio stood at the White House and said climate deniers "should not be allowed to hold public office."
DiCaprio also intentionally released his latest alarmist documentary, Before the Flood, just ahead of the election. His film premiered at the White House South By South Lawn event, then aired on National Geographic channel on Oct. 30. The project took DiCaprio and director Fisher Stevens to "China, to India, to Greenland, to the Arctic, Indonesia to Micronesia" to see the impact of climate change — all while spewing the carbon dioxide he loves to blame for those problems.
Returning to an old habit of trying to connect "extreme weather" events to climate change, in order to demand government action the media also tried to connect the terrible Fort McMurray wildfires and five drowning Pacific Islands to climate change. But on May 10, Canadian environmental scientist Blair King criticized journalists for "not really listening" to experts about the causes of the blaze.
According to King, the Fort McMurray fire was so severe thanks to "the effects of El Nino and historic forest management decisions."