Associated Press Economics Writer Paul Wiseman apparently exhausted his supply of adjectives to describe the current state of the U.S. economy, and came up with a new one.
Today's news wasn't good. The Institute for Supply Management's Manufacturing Index plunged from 60.4% to 53.5%. While still indicating expansion (any value above 50% means that), it's the biggest one-month drop since January 1984, a factoid impressively relayed by the AP's David Wagner earlier today. ADP's private-sector payroll report showed only 38,000 jobs added in May, the lowest number since September. May car sales slumped.
So how did Paul Wiseman describe the economy? See after the jump (bolds are mine):
Signs point to an economy growing more slowly

 

The economy is tiring again.

 

Reports Wednesday on manufacturing and company hiring were so weak that many economists immediately downgraded their forecasts for Friday's jobs report for May. Some analysts also slashed their estimates for growth in the April-June quarter.

 

"We're definitely in a soft patch," says Steve Blitz, senior economist for ITG Investment Research.

 

No one knows whether the slowdown is a temporary setback or the start of a prolonged period of anemic growth. Many analysts hold out hope that the economy will rebound in the second half of 2011.
Hey pal, I mean Paul, I've got news for you. If we get anemic growth, it won't be the start -- it will be a continuation, as seen in the following graphic, which compares the first seven quarters of post-recession growth during the presidency of Ronald Reagan to the first seven analogous quarters under Barack Obama: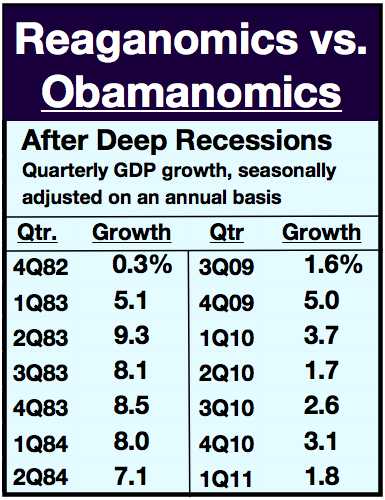 Wiseman's term appears to be quite inventive, if non-descriptive:
An advanced search at the New York Times since 1981 on "tiring economy" (in quotes) came back with nothing, while a search on "economy is tiring" (again in quotes) came back with one -- Wiseman's.
A Google News Archive search from January 1, 1980 to April 30, 2011 came back with three items on "tiring economy." One was out of Pakistan in 2004, one was in a St. Petersburg Times in 2001, and the third was in the New York Post in December 2000.
Wiseman really does seem to have broken new ground in American journalism with his use of "economy is tiring." A Google News Archive search on that phrase with the same parameters as the "tiring economy" search came back with one item - about Australia's economy. This means that even though Wiseman wrote that "The economy is tiring again," it looks like nobody ever wrote that "the economy is tiring" the first time.
In an editorial this evening, Investors Business Daily, after indulging in a bit of unexcerpted sarcasm, described the economic recovery using an interesting term quite superior to Wiseman's (bold is mine):
We know the president is busy, but maybe it's time he returned to thinking about our foundering, job-challenged economy.

 

Recent data show a shocking turn south. While some worry we might soon experience a double-dip recession, we're already in a kind of recession — a growth recession. That's where the economy is barely eking out enough growth to create jobs. And the number of jobs being created isn't enough to sop up the unemployed and new entrants to the workforce.

 

... Faced with such "unexpected" news, economists are returning to their spreadsheets to revise their growth estimates downward.

 

The most recent survey of top economists by Blue Chip Economic Indicators shows the average forecast for GDP growth in 2011 fell from 2.9% in April to 2.7% in May. Based on recent data, it will head even lower.

 

... A good start for the president would be to heed the letter sent to him by 150 economists — including some Nobel Prize winners — saying that any increase in our government's debt limit must be offset by even bigger spending cuts in the future.

 

That's great advice, but by no means enough. It would be a start, a minimal first step. We'll see how serious this president is — and how competent — based on how he responds.
If form holds, we're in for the same, tired stuff known as "stimulus" -- if not the legislative version, then the Federal Reserve's, known as (even more) "quantitative easing."
What's really "tiring" is having to note that the prospects for all of this working out well continue to dangerously diminish.
Cross-posted at BizzyBlog.com.