Establishment press reporters will insist from now until the cows come home that they play it straight. Their actions all too often belie their claims.
One such face-hitting example came yesterday in Associated Press reporter Chris Rugaber's coverage of the government's Regional and State Employment and Unemployment report. If it weren't already given away in this post's title, veteran media bias sleuths would have had no trouble detecting the "clever" technique employed in the following two paragraphs on seasonally adjusted state job gains and losses from Rugaber's risible rendition (key sentences bolded):
New York enjoyed the biggest job gain in July: 29,400. The state added jobs in education and health care and professional and business services - a category that includes accounting, engineering, and temporary workers, among other professions.

Texas reported the second-most number of new jobs. It added positions in retail, transportation, education and health, and hotels, restaurants, and other leisure industries.

Texas has accounted for nearly half the U.S. jobs created since the recession officially ended two years ago, according to calculations by the Federal Reserve Bank of Dallas. Its job-creation figures are coming under scrutiny now that Gov. Rick Perry, a Republican, has launched a presidential campaign.

Illinois reported the biggest loss of jobs last month: 24,900. It was followed by Florida, with a loss of 22,100 and Minnesota, with 19,800. Many of Minnesota's job losses stemmed from the state government's shutdown last month. State agencies temporarily laid off 22,000.
It was so nice of Chris to tell readers that Texas's "job-creation figures are coming under scrutiny." Too bad he chose not to give them any figures to scrutinize, even though he did give specifics for the other four states identified in the excerpt.
Texas's seasonally adjusted job additions in July were 29,300. That's within a whisker of the Empire State's 29,400. Especially given the vagaries involved in seasonal adjustment, Texas's monthly figure should not only have been specifically reported, it should have been identified as a virtual tie.
Rugaber's choice to refer to the Dallas Fed as the source of job growth data since the recession ended is odd, almost giving one the impression that it's a bunch of home team cheerleading. The same Bureau of Labor Statistics which issued yesterday's report is where the Dallas Fed would almost definitely have obtained its post-recession information, which after yesterday looks like this: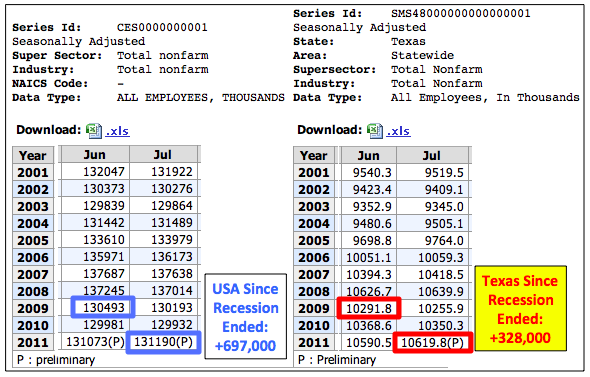 In the 25 months since the recession ended, Texas has added 328,000, or 47%, of the nation's 697,000 seasonally adjusted jobs.
Those specifics would have been nice too, Chris.
There may not be an AP embargo on the numerics of good news about Texas now that Governor Rick Perry has declared his presidential candidacy, but Rugaber's report yesterday sure makes it look as if there is.
Cross-posted at BizzyBlog.com.