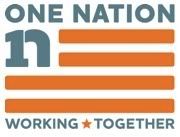 There are so many problematic items in the establishment press's treatment of yesterday's "One Nation" rally in Washington that it's difficult to know where to begin.
So let's start at the very beginning. Among the many howlers in the coverage is a claim the Associated Press's Philip Elliott pass without response towards the end of his 12:21 p.m Saturday report (saved here at my web host for future reference, fair use, and discussion purposes; bold is mine):
One Nation organizers said that they began planning their event before learning about Beck's rally and that their march is not in reaction to it.
It would appear that either Elliott felt that this statement would easily withstand scrutiny, and thus performed none himself, or that he knew better, and let it get into his report anyway.
Given the fact that so-called progressives have been continually monitoring Beck's activities and pronouncements for several years, One Nation's organizers would have to prove that they began substantively "planning their event" before November 21, 2009. Good luck with that.
Wikipedia's related entry describes the Restoring Honor rally's germination as follows:
On November 21, 2009, at The Villages, Florida, Beck announced a rally to be held on August 28, 2010, in Washington, D.C., at the Lincoln Memorial. Beck originally intended the rally as political, and planned to promote his next book, The Plan, in which he would outline a century-long plan to "save the country." Over the 2009 Christmas holidays, however, Beck decided to publicize the event as being "non-political", and focus on raising awareness and funds for the Special Operations Warrior Foundation charity, because soliciting tax-exempt funds to pay for the rally through the charity restricts political activity.
The rally's Facebook page was founded on on January 20, 2010.
Google News Archive searches on "one nation rally," "one nation march," and even "October 2 rally" (all in quotes) between January 1, 2009 and June 30, 2010 all come up empty. Take your pick: Either organizers fooled Mr. Elliott, or he played along.
More generally, the rally was largely reactive in nature, as shown in this excerpt from a July 12 LA Times item. It's also worth a lookback as a reminder that "One Nation" was originally envisioned as a vehicle for "progressive" denunciation of alleged "racism" of the Tea Party movement before it became clear that the use of that rhetorical tactic was counterproductive:
The NAACP and other parts of the Democratic base are seeking to reactivate the voters who mobilized to elect Obama. The group announced an Oct. 2 rally in Washington as an answer of sorts to the tea party protests. The One Nation campaign would also involve a coalition of labor groups.

"We have to get up off the couch. We have to demand the change that we voted for," (NAACP spokeswoman Leila) McDowell said.

Publicizing what it sees as racist and extreme behavior within the tea party is part of that effort.
Just for fun, here are two other interesting tidbits:
The earliest Google News mention in an archive search using "one nation rally is dated September 14. It's an item published at the Socialist Worker Online.
One of the endorsing organizations at the "One Nation Working Together" web site is the Communist Party USA.
Cross-posted at BizzyBlog.com.