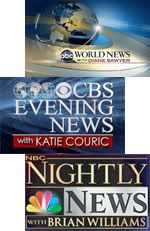 They'll have all sorts of excuses (but only if asked) about why it happened: It's because they had a lot of guest anchors last week, it was hot, summer vacation season is still on (though lots of kids around in Greater Cincinnati were already back in school by last Wednesday), cable is killing us, blah-blah, etc., etc.
But the Big Three networks won't be able to avoid the fact that their ongoing decline reached a painful low last week of 18.82 million average viewers. Here is the graphic that appeared this morning at ABC's lipstick-on-a-pig blog post: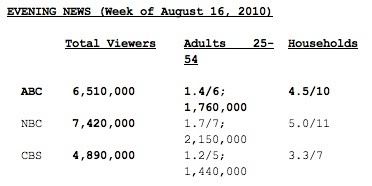 I don't know whether that's an all-time low, but Kevin Allocca at Media Bistro, who hadn't posted the full numbers as of the time of this post, has noted that one of those networks indeed scraped bottom last week:
'CBS Evening News' Ties All-Time Low

The network newscast ratings for last week are in and "CBS Evening News with Katie Couric" tied its all-time low in total viewers with an average of 4.89 million tuning in during the five days.

The low was set last June, when ABC also hit its own low. (Ratings records date back to the 1991-'92 season.)
It's not unreasonable to believe that the Perky Ms. Couric's pathetic performance might have more than a little to do with her compulsion to lecture us.
Here is how the overall numbers compare to those from one and two years ago:
This past week was down 4.8% from a year ago, and almost 14% from two years ago. NBC's audience, which was a whisker shy of 9 million two years ago, has fallen 17.5%. Gee, do you think that might have something to do with Brian Williams's open contempt for the Tea Party Movement?
Though the comparison isn't apples to apples because the 2010 numbers are for a summertime week, the nets' average audience during calendar 2005 was about 27 million. There's little doubt their 5-year decline is in the neighborhood of 20%-25%, and possibly much more. The U.S. population grew by about 4% during that five-year period.
As Instapundit's Glenn Reynolds might say, though usually in a more positive vein: "Faster, please."
Cross-posted at BizzyBlog.com.