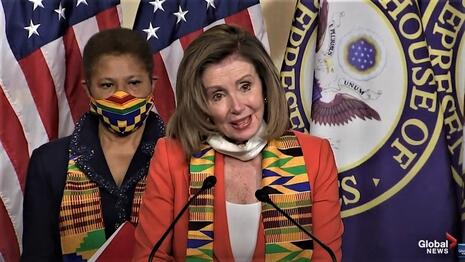 The Washington Times offers a more conservative take on national politics, but we've heard from conservative readers who are not fond of Thursday's front-page item headlined "Pelosi silent on father's complicity in racism." The subhead was "Refuses to judge former mayor in modern context."
No one in the liberal media has pressured Pelosi to answer for her father and his tenure as mayor of Baltimore from 1947 to 1959. But reporter Kery Murakami's story is written in a way that seems to assert that America's allegedly persistent "systemic racism" is a fact, not a guilt-trip term. The story began: 
House Speaker Nancy Pelosi refuses to denounce her late father, former Baltimore Mayor Thomas D'Alesandro Jr., for supporting the erection of Confederate monuments in the city and perpetuating systemic racism by not stopping discriminatory practices, including refusing rental housing to Black people in White neighborhoods.

Mrs. Pelosi, who has made confronting the country's past racism and combating systemic racism a cornerstone of the House Democrats' agenda, refused repeated requests this week to address her father's legacy.

Meanwhile, Democrats are pushing policies for White people to own up to their ancestors' complicity in racism, including paying reparations to Black Americans. 
It's not surprising that discriminatory practices were still allowed in the 1940s and 1950s, but many conservatives take offense that opposing the removal of Confederate monuments is racist, or that "systemic racism" is presented on the front page without quotation marks or a distancing word like "alleged" or "purported."
It's fair to question if Pelosi is a hypocrite, but such an approach can also appear too cute, since conservatives object to the "woke" standard that anyone who didn't live up to 2020s standards -- or made a political calculation and didn't crusade like a modern-day activist -- should be denounced as a "racist."
Murakami pointed out that while Pelosi has championed removing Confederate monuments from the Capitol, her father spoke in 1948 at a dedication for a new monument in Baltimore honoring Robert E. Lee and Stonewall Jackson. He "praised the Confederate icons and said the nation should look to them as examples." A Times caption notes that statue was "removed quickly and quietly" by the city in August 2017.
Pelosi "refused to say last year whether her father was wrong to support the erection of Confederate statues in a city where many residents are descendants of slaves. She still will not address the issue."
This underlines how the liberal media go soft on their own heroes, as reporter Susan Page is selling her new Pelosi biography and touting her on TV. They refuse to judge liberals by their own standards. And Pelosi gets very testy at being challenged by reporters.