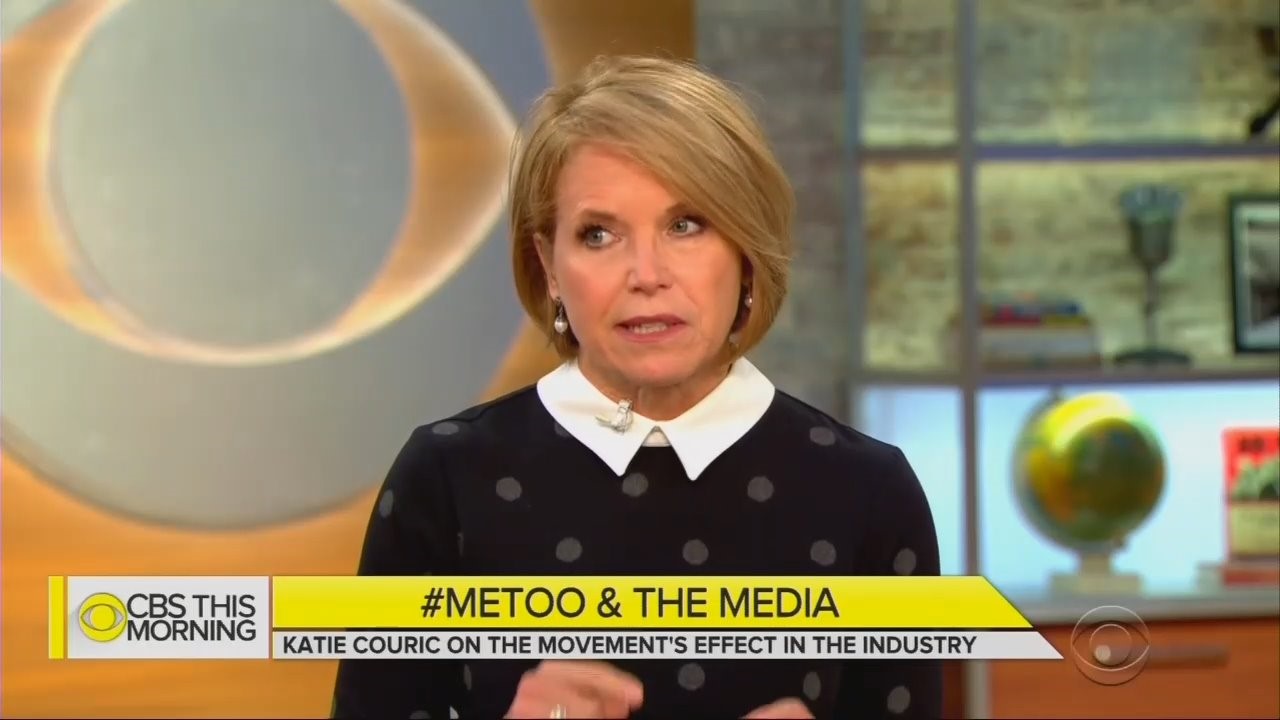 Former CBS anchor Katie Couric was welcomed back to CBS This Morning on Thursday to plug her new Internet project with the drug-maker Merck. It's for cancer patients and it titled "With Love, Me." In the last two minutes of the segment, it turned more political.
She applauded Merck, and said she just founded her own production company, and "I want to work with companies who care about the same things I care about, cancer, that care about environmental sustainability, gender equality, criminal justice reform, mental health issues. So I'm really excited to be able to collaborate with people who want to do great storytelling that's going to engage and elevate and really inform people."
So that means no more embarrassing interviews with sex robots for Nightline...
Then it turned to women in the media after the #MeToo "reckoning." Couric proclaimed women were "woefully underrepresented" in the media, and it's "ridiculous" that women don't do half of everything.
NORAH O'DONNELL: Journalist Katie Couric is now enterpreneaur Katie Couric.

KATIE COURIC: It's fun being a disrupter!

O'DONNELL: ...We're now a year and a half into the #MeToo reckoning. Has there been enough change?

COURIC: No, actually there hasn't. There have been some changes -- congratulations, Norah! Norah and I have talked about this. This isn't the first time we talked about it. But I'm so excited for you. Representation is critically important. Women, people of color, people on television need to look like America, and they need to be in leadership positions.
Couric then fished out her glasses to cite the Women's Media Center, a radical feminist think tank founded by Gloria Steinem, Jane Fonda, and Robin Morgan.
COURIC: The Women's Media Center just did a study, a compilation of 94 different studies, and women are still woefully underrepresented in media -- in news, entertainment, and digital media. I think 63% of broadcasts. In fact, I've got statistics, since I knew we were talking about it. 63 percent of TV prime-time news broadcasts feature male anchors and correspondents; 37 percent are women. Since we're more than half the population, that is actually ridiculous. What's more heartening is to see women in leadership positions...

GAYLE KING: Susan Zirinsky [the new CBS News boss]...

COURIC: All three morning shows, the executive producers are now female. Until they get into decision-making positions, the top tier of leadership in these organizations, we're not going to have enough parity or representation of all different kinds of people, and in my company, diversity is really, really important to me.
The WMC study also lamented "The share of women among nominees in the Oscars' 19 non-acting categories rose slightly from 23 percent to 25 percent from 2018 to 2019, but women were shut out of nominations for cinematography, directing, editing, original score and visual effects." So they should win half the Oscars. Alert the bean counters!