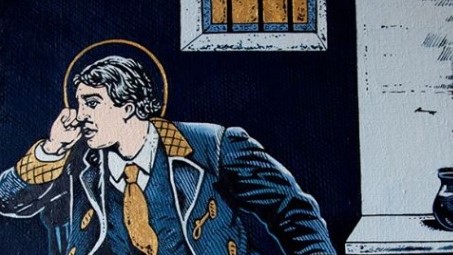 Friday's New York Times carried a front-page article on the Weekend Arts II section on a "shrine" to the Irish author Oscar Wilde as a "martyr of gay rights." Times writer Ted Loos played up how Wilde would be portrayed as a "deity" at a nominally Methodist church in Manhattan – albeit one with the motto "A Progressive and Radically Inclusive Expression of God's Grace."
The temple, which takes over the Russell Chapel at the Church of the Village on 13th Street from Sept. 11 to Dec. 2, will be an Aesthetic Movement–style shrine with paintings, sculptures and rows of chairs for worshipers amid faux-painted columns meant to resemble crumbling stone.

It will be available for weddings and other ceremonies, with proceeds going to the youth and family programs at the church's neighbor across the street, the Lesbian, Gay, Bisexual & Transgender Community Center. The center collaborated on the project with the Church of the Village, and it was organized by the independent curator Alison Gingeras.

In his Bushwick studio last month, Mr. [Peter] McGough, 59, excitedly showed off the temple components. "I always loved Oscar Wilde because he was a complete fop," he said. "He's the deity of the religion."
This church's Christianity is so "radically inclusive" it has a collection of deities. Other martyrs for the "faith" are honored:
Also on view will be six "martyr paintings" depicting more recently persecuted figures including Brandon Teena, Harvey Milk and Alan Turing, and a side chapel dedicated to AIDS, with devotional candles and a mystical-looking painting called "Advent Infinite Divine Spirit." The pulpit is an overturned soapbox….

Though the Church of the Village has never attempted an art show on this scale, the lead pastor there, the Rev. Jeff Wells, said the temple was a natural fit because of the church's significant L.G.B.T. membership.

"We thought it was a terrific idea to honor Oscar Wilde and other martyrs of the liberation movement," Mr. Wells said. "Plus, it's not bad publicity for the church."
Neither Loos nor this shrine's promoters discussed how Wilde converted to the Catholic Church shortly before his death, which complicates the idea that Wilde in the end was a raging role model for an unrepentant LGBT agenda. Author Joseph Pearce argued that the "gay icon" description doesn't match the real Wilde: "Years later he told a reporter that if his father hadn't kept him from becoming Catholic, he would have entered the Church earlier and spared himself his descent into homosexuality."