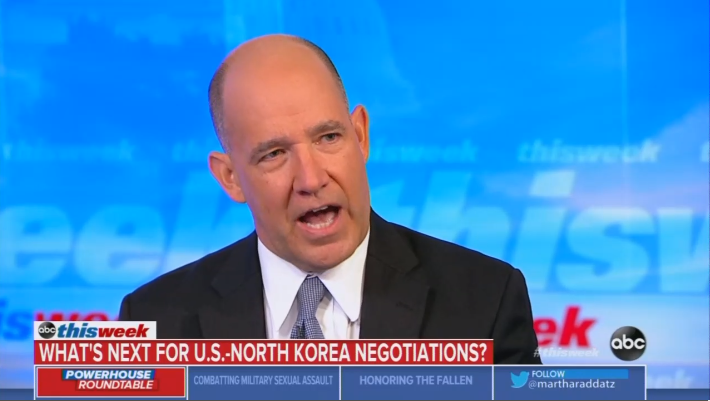 Memorial Day is a sacred day for all Americans were we honor and remember the soldiers who died defending us and our freedom. But for ABC's faux Republican Matthew Dowd, the day was just another political cudgel to use against the target of his ire: President Trump.
Towards the end of the "powerhouse roundtable" on Sunday's This Week, Dowd was a little incoherent as he rambled about "a great country song by Justin Morris called 'The ones that didn't make it home'" and how Trump wasn't really honoring the memories of the fallen:
And if you really want to honor the ones that didn't make it home, the this President-- Watching this president this past week, do you really honor the ones that didn't make it home by considering pardoning people that might be convicted of war crimes?

Do you really honor the ones that didn't make it home by the troop assignment in Iran after we watched the folly in Iraq, the folly in Afghanistan and we didn't learn the lesson of the Vietnam War, took us 30 years to finally learn the lesson of the Vietnam War. We haven't leaner—30 days—

And do we really honor the ones that didn't make it home by banning transgender troops – banning transgender people from being in the military? And so, to me when I look at this and this race in 2020 goes back to it, is not going to be about what our economic situation with is -- with China and what the GDP numbers and appointment is, it's going to be about who we are. And on this Memorial weekend, I think it's important to ask, is who we are and how do we honor those people that didn't make it home.
About ten minutes prior to self-righteously using our fallen soldiers as his personal soapbox, Dowd acted as a spokesperson for the Democratic National Committee and boasted about how "the Democrats have actually passed over 200 bills in the House of Representatives since this new Congress has come in."
"They can both legislate and investigate. They have done both at the same time," he touted. "All of those bills are languishing in the Senate because Mitch McConnell just decided passing anything the Democrats do isn't a good idea."
Of course, he then shifted gears "back to impeachment just for one second" to make the "principle" argument for removing Trump, by comparing it to the civil rights movement:
And at some point Democrats, even if the politics of this is problematic for Democrats and you can't change Republicans' minds on this which right now you can't, there is a principle argument to be made.

Civil rights, the American public did not support -- the leaders in the American public were off base on civil rights. On gay rights, the leaders were off base with where the American public was. I think at some point of time you have to put the politics aside and what is the principled argument that you want to do regarding the President's impeachment.
Dowd was ignoring all the polling data that showed that Americans didn't want Democrats to pursue impeachment, though. Apparently, the memories of both America's fallen soldiers and civil rights activists were merely cannon fodder for Dowd's crusade against President Trump.
The transcript is below, click "expand" to read:
ABC's This Week
May 26, 2019
9:35:41 a.m. Eastern

MATTHEW DOWD: If you look at the reality of the situation in Washington today is, the Democrats have actually passed over 200 bills in the House of Representatives since this new Congress has come in. They can both legislate and investigate. They have done both at the same time. All of those bills are languishing in the Senate because Mitch McConnell just decided passing anything the Democrats do isn't a good idea.

I want to go back to impeachment just for one second, though. This is an argument I think is both politic -- that you can argue the politics of it but then there's the principle of it. And at some point Democrats, even if the politics of this is problematic for Democrats and you can't change Republicans' minds on this which right now you can't, there is a principle argument to be made.

Civil rights, the American public did not support -- the leaders in the American public were off base on civil rights. On gay rights, the leaders were off base with where the American public was. I think at some point of time you have to put the politics aside and what is the principled argument that you want to do regarding the President's impeachment.

(…)

9:45:51 a.m. Eastern

DOWD: It's Memorial weekend. Right? It's Memorial weekend. Tomorrow is Memorial Day and I'm struck by the President in this. There's a great country song by Justin Morris called "The ones that didn't make it home." And if you really want to honor the ones that didn't make it home, the this President-- Watching this president this past week, do you really honor the ones that didn't make it home by considering pardoning people that might be convicted of war crimes?

Do you really honor the ones that didn't make it home by the troop assignment in Iran after we watched the folly in Iraq, the folly in Afghanistan and we didn't learn the lesson of the Vietnam War, took us 30 years to finally learn the lesson of the Vietnam War. We haven't leaner—30 days—

And do we really honor the ones that didn't make it home by banning transgender troops – banning transgender people from being in the military? And so, to me when I look at this and this race in 2020 goes back to it, is not going to be about what our economic situation with is -- with China and what the GDP numbers and appointment is, it's going to be about who we are. And on this Memorial weekend, I think it's important to ask, is who we are and how do we honor those people that didn't make it home.

(…)