Hurricane Maria hit the U.S. island territory of Puerto Rico last Wednesday and since then, there has been an ever-worsening humanitarian crisis. Most of the island was still without power, supplies slow to arrive, and the threat of a failing dam as of Monday. Despite the terrible news coming from the island, the Big Three Networks (ABC, CBS, and NBC) have dedicated far more time since Sunday to President Trump's spat with protesting athletes than to the Puerto Rican people fighting to stay alive.
Between September 24 and September 25, the Big Three Networks spent a total of 92 minutes and 33 seconds of airtime hyperventilating about Trump's feud with various sports athletes. Compared to the 25 minutes and 45 seconds of total airtime between the three for Puerto Rico, over those two days. That means the networks spent 3.6 times more airtime on Trump's Twitter war than the humanitarian crisis.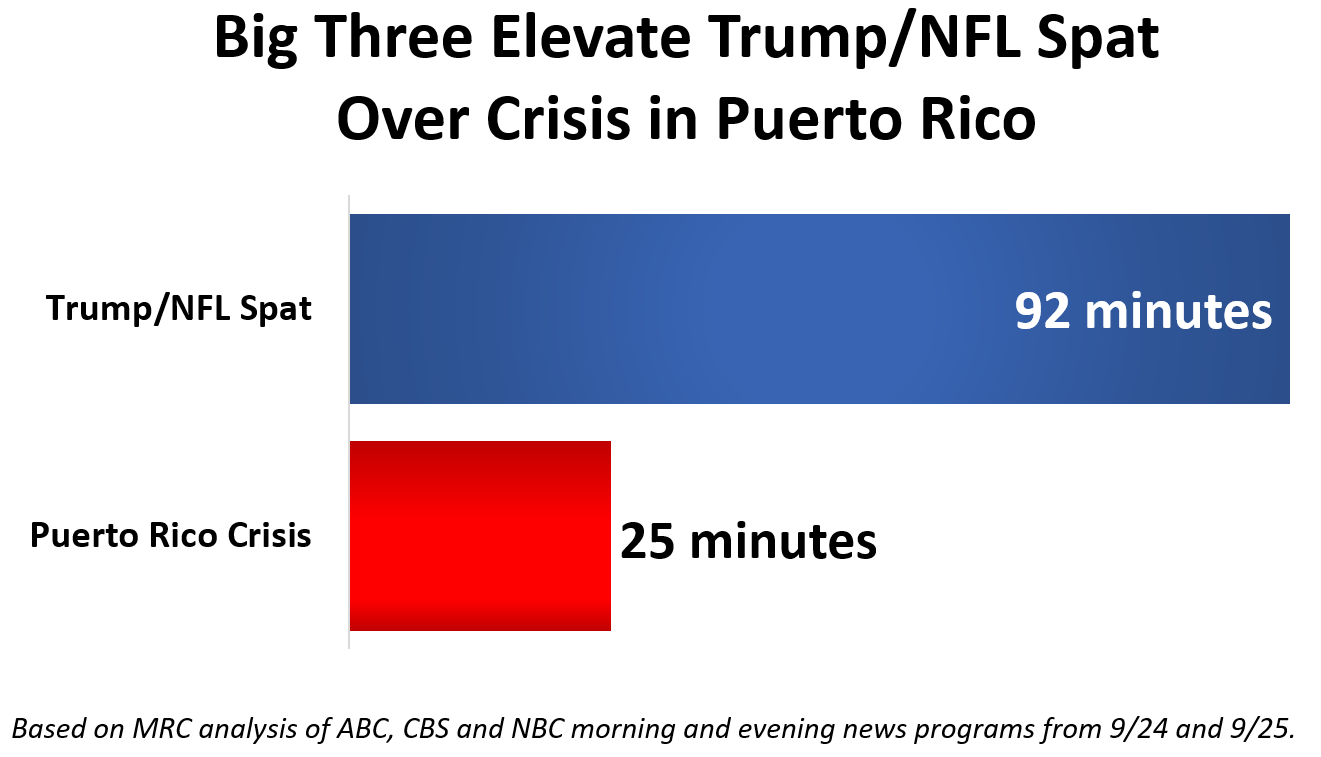 Those figures only included the time dedicated to the stories in reports and news briefs from both ABC, CBS, and NBC's morning and evening news programs. They exclude commercials and teasers.
ABC News' coverage was by far the most grotesque. It alone made up a bulk of the Trump/NFL time at 52 minutes and 54 seconds, while they only allowed seven minutes and 39 seconds for the crisis in Puerto Rico, a seven-to-one disparity.
Good Morning America spent Sunday morning arguing that Trump's comments were dripping with racially coded rhetoric. On Monday morning alone, GMA spent 24 minutes and 52 seconds on the kneeling saga. That's more time than NBC News' total over the course of our two-day study, and they came in second place on airtime to Trump.
During the two days, NBC News spent 23 minutes and three seconds focusing on Trump's feud with the kneeling athletes. However, they spent the most time covering the unfolding crisis in Puerto Rico at 12 minutes and seven seconds. While NBC did spend the second largest amount of time talking about Trump and the NFL, their reporting on Monday stood out from the pack.
That high airtime for the Puerto Rico crisis was driven by the fact that Monday's NBC Nightly News was broadcast live with anchor Lester Holt displaying rational news judgment by reporting on the ground from the devastated capital city of San Juan. This led to their coverage numbers being inverted that evening. NBC spent six minutes and 24 seconds on the crisis compared to the only two minutes they gave to Trump and the NFL.
Then came CBS News. They spent 16 minutes and 34 seconds on the Trump/NFL spat while only leaving five minutes and 59 seconds for Puerto Rico. In fact, CBS's coverage of Trump's comments and the fallout Monday evening lasted 349 seconds (over three different reports), so that's only 10 seconds less than their total Puerto Rico coverage over the two-day study (359 seconds).
Not only did the network unironically complain about Trump tweeting while other important things were going on during CBS Evening News on Monday, they attacked NASCAR for threatening to fine drivers for kneeling and criticized the racing league for being too white. They also highlighted a woman in Chicago who claimed that Trump and his supporters were all cut from the same racist cloth.
(H/T to the whole NewsBusters crew for providing the data for this study!)