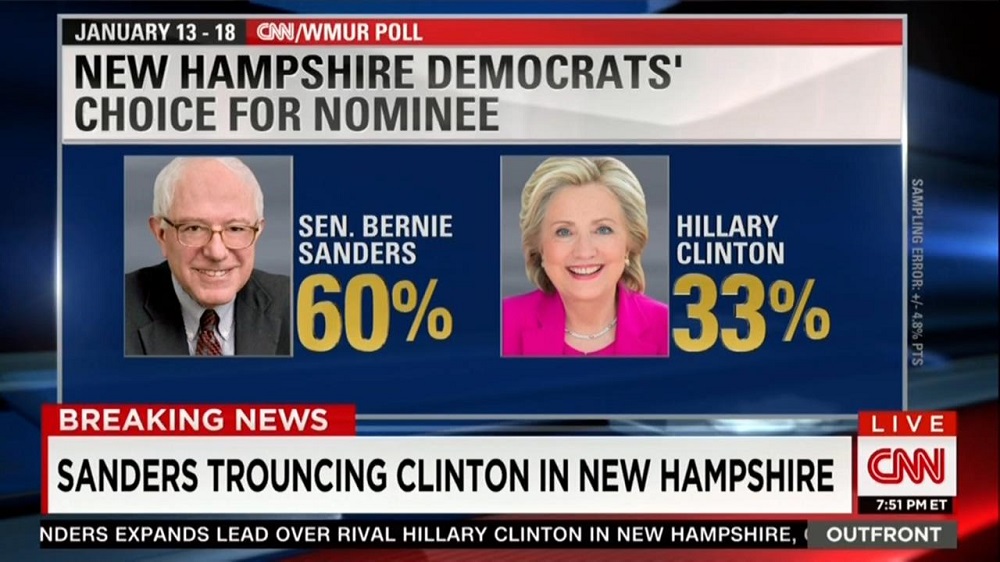 CNN is staying true to its reputation as the "Clinton News Network," even after it released a poll on Tuesday which found that Hillary Clinton is behind competitor Bernie Sanders in New Hampshire by 27 points. The following morning, on Wednesday's CNN Newsroom, Carol Costello spotlighted how Bill Clinton was "about to take the stage to stump for his wife, Hillary Clinton — something, perhaps, that is much needed at this moment, since Hillary Clinton seems to be lagging in some of the polls that are out there." [video below]
The liberal network seems to have forgotten that former President Clinton actually started campaigning for his wife in New Hampshire on January 4, 2016. CNN anchor Michaela Pereira hyped on that morning's New Day how "Hillary Clinton is going to use her not-so-secret weapon, her husband, out on the campaign trail. Former President Bill Clinton about to make his first solo stop out there for her." For the remainder of the day, CNN would brush aside the possibility that the former President and his past scandals might actually hurt his wife's campaign.
Moments later, correspondent Brianna Keilar underlined that despite "these issues that Donald Trump is making about Bill Clinton's past aside, he's very popular....So he's trying to bring some of his popularity here to New Hampshire for his wife. And this is also a state that, I think you can say, has a place in his heart. It is what gave him a key second-place finish back in 1992 — really, sort of, salvaging his chances for the presidency — and, ultimately, of course, he was successful."
Keilar repeated many of the same points the following hour on CNN Newsroom:
BRIANNA KEILAR: ...The campaign very much views Bill Clinton as an asset. You look at how he plays, overall, nationally in the polls. He's at about 60 percent — an enviable position, certainly, Hillary Clinton would say. And so, she's trying to use him to her benefit at a crucial time in this state, where it's a very competitive race — Bernie Sanders, Hillary Clinton, neck and neck — and it's been that way pretty much since the summer. She's really trying to pull ahead; and she's hoping that her husband, with his popularity nationally and in this state, can help her do this.
Later in the day, CNN Newsroom anchor Brooke Baldwin noted how "we were talking about Bill Clinton and how he was out on the trail today in New Hampshire. This is a big deal. This is his first solo campaign appearance, obviously, on behalf of his wife." CNN legal analyst Jeffrey Toobin also did his best to tout the former President on The Situation Room:
WOLF BLITZER: Jeffrey, talk a little bit about Bill Clinton on the campaign trail right now — stumping for Hillary Clinton. Is he a big risk for her, or a big reward?

JEFFREY TOOBIN: I don't see any risk at all. He's — he's very popular. I think those of us in the news media are very interested in his sex scandal, but I don't think voters care about it, now that it's 20 years in the past. I think — you know, that every time that stuff gets mentioned, it only helps Hillary Clinton. That's how she got elected, in part, to the United States Senate from New York. I just don't think voters care about it at this point, but we do.
Fifteen days later, on Tuesday's Situation Room, Wolf Blitzer teased the CNN/WMUR poll results from New Hampshire, but didn't get to airing an actual report on them, as CNN devoted a significant amount of air time that evening to Sarah Palin's endorsement of Donald Trump. Later in the evening, anchor Erin Burnett finally devoted a segment to it 51 minutes into her hour-long program. She turned to Mrs. Clinton's press secretary, Brian Fallon, who contended that "even folks from CNN would admit that this poll is an outlier in terms of the margin that it shows Senator Sanders leading by."
CNN would only devote three more segments to the bad poll results for the former secretary state by noon on Wednesday — one with correspondent John King on Tuesday's Anderson Cooper 360, another segment with Fallon on Wednesday's New Day, and a report from correspondent Jeff Zeleny on Wednesday's At This Hour. One might conclude that the Trump/Palin story "allowed" the liberal network to downplay their own poll results regarding Mrs. Clinton.