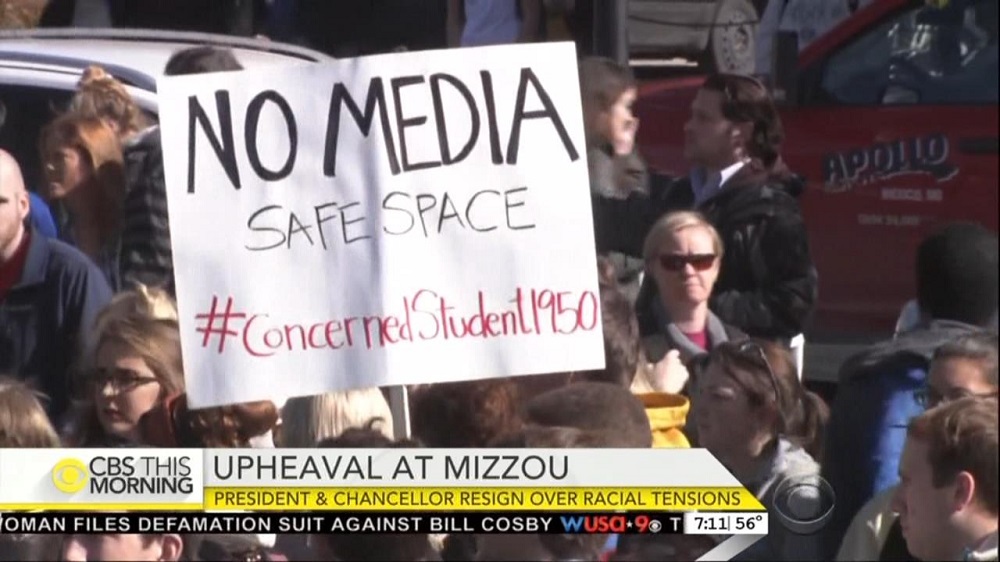 CBS This Morning stood out as the sole Big Three network morning newscast on Tuesday to cover a University of Missouri academic shouting down a reporter, briefly physically attacking him, and then calling people over to "get this reporter out of here...I need some muscle over here." Norah O'Donnell spotlighted Melissa Click, "an assistant professor of mass media," who along with "students, were telling the media — including a photography who confronted her — to back off." [video below] ABC's Good Morning America and NBC's Today didn't mention Click during their coverage of the racial controversy at Missouri.
O'Donnell cited the Washington Post's reporting on the incident during her 38-second news brief. It came over an hour after correspondent Adriana Diaz's full report on the resignation of the university's president and chancellor, after students — including members of the school's football team — protested alleged racism on campus. During the segment, Diaz did mention how "the protests drew the spotlight of the national media. On Monday, some activists faced off with journalists — including this exchange with a campus newspaper photographer." She also featured footage of one of the protesters holding a "no media safe space" sign [screen cap above].
NBC anchors Matt Lauer and Savannah Guthrie gave a 31-second news brief on Today about the University of Missouri president and chancellor's resignation:
MATT LAUER: Major new developments in a story we told you about on Monday: Tim Wolfe, the president of the University of Missouri system, abruptly resigned following weeks of protests over his handling of allegations of racism on campus.

SAVANNAH GUTHRIE (voice-over): That move came just two days after a group of black football players threatened to boycott this Saturday's game, and a graduate student was on the eighth day of a hunger strike demanding the president's resignation. Also, R. Bowen Loftin, the chancellor of the University of Missouri's flagship campus, also announced he is stepping down.
Just under 20 minutes later, Guthrie set aside another 16 seconds of air time to another brief: "Football practice is resuming at the University of Missouri today, after the school's president announced his resignation. Over the weekend, nearly three dozen players joined growing protests over Tim Wolfe's handling of alleged racial incidents on campus, and the players vowed not to suit up again until he stepped down." However, neither journalist mentioned how the activists targeted the media.
ABC's Good Morning America gave the University of Missouri controversy the most amount of attention. Anchors Robin Roberts and Amy Robach devoted 30 seconds to a news brief on President Wolfe's resignation:
ROBIN ROBERTS: And now, Amy has the morning's other top stories, beginning with big news at the University of Missouri.

AMY ROBACH: That's right, Robin. The school — football team there will resume practice today, after the school's president resigned amid growing racial tension. The school's chancellor also says he will step aside from his position as well. Students and faculty had joined the football team's protest. The team threatened to boycott over how racial tensions were handled. So coming up at 7:30, we will talk to Jonathan Butler, the grad student who staged a hunger strike triggering the protest on campus.
Seventeen minutes later, at the bottom of the 7 am Eastern hour, Roberts led into correspondent Alex Perez's full report on the story by touting the "sweeping changes" at the university. Perez mentioned how the "victory" in Missouri is "now being watched on campuses across the nation also facing racial tensions — like at Yale — hundreds of students marching Monday protesting alleged racial intolerance on campus." However, the ABC journalist failed to mention that the "racial intolerance" at Yale involves an uproar over professors objecting to an e-mail advising students to not include insensitive "cultural appropriation and/or misrepresentation" in their Halloween costumes. Left-wing activist students then shouted down one of the professors and called for their resignations.
Roberts then brought on Butler for a four-plus minute interview on his hunger strike. At the end of the interview, co-anchor George Stephanopoulos gushed over how "he set a powerful example right there."
The transcript of Norah O'Donnell's news brief from the November 10, 2015 edition of CBS This Morning:
NORAH O'DONNELL (voice-over): The Washington Post reports on a University of Missouri professor who tried to block reporters from covering an anti-racism protest on campus. Melissa Click is an assistant professor of mass media at Mizzou. She and other students were telling the media — including a photography who confronted her — to back off.

MARK SCHIERBECKER (off-camera): I'm media. Can I talk to you?

MELISSA CLICK, PROFESSOR, UNIVERSITY OF MISSOURI: No! You need to get out! You need to get out!

SCHIERBECKER: Well — no, I don't.

CLICK: (hitting camera) You need to get out.

SCHIERBECKER: I actually don't.

CLICK: Hey, who wants to help me get this reporter out of here!? I need some—

O'DONNELL: The photographer explained he had the right to take photos. Professor Click has declined to comment.