Though most of it didn't make the Tuesday network evening newscasts, the White House press corps made an effort to raise tough questions with National Security Adviser Jake Sullivan and Press Secretary Jen Psaki amidst the collapse of Afghanistan, showing that neither had the answers to basic questions about how they'll ensure the safe departure of American citizens and Afghan allies, the plight of Afghan girls, and what this means for our commitments around the globe.
NPR's Ayesha Rascoe led off the Sullivan portion, pointing out the disconnect between President Biden saying "the buck stops with him" but he's refused to outline which things he's "taking responsibility for that," including whether that includes "any bloodshed that may be happening right now."
The next reporter (and a slew of colleagues afterwards) pressed both officials on what this means for U.S. allies and, in particular, Taiwan in the face of invasion threats from China (click "expand"):
UNIDENTIFIED MALE REPORTER [TO SULLIVAN]: Yeah, what — what is President Biden's response to the people of Afghanistan who are now in the hands of the Taliban terrorists and feel abandoned by the United States or those in Taiwan and elsewhere that are fearful that the U.S. will abandon them to the aggression of China? And follow up to that is what is President Biden's response to people in Israel and other countries who might also believe that the U.S. will be abandoning them to terrorists. 

(....)

UNIDENTIFIED MALE REPORTER [TO SULLIVAN]: There's a large number of this large number of Christian missionaries and aid workers that are particularly vulnerable because they're going to be Christians. Is there any plan to get them to the airport and get them out? 

(....)

UNIDENTIFIED FEMALE REPORTER [TO SULLIVAN]: Yesterday, President Biden said that the United States military cannot sacrifice — sacrifice where there is no national interested. If the same analogies be used to withdraw troops from its allies, including South Korea?

(....)

AMELIA ADAMS [Australia's Nine News] [TO SULLIVAN]: [T]here's a lot of anger in Australia this morning about the way this has played out. Um, we've got citizens and then, of course, so many Afghan who have helped the Australian forces and helping the U.S. mission over the past 20 years. Um, does the administration accept some responsibility? Or perhaps what would be your response to those people who are trapped and — and some are fearing execution because of the exit strategy, or perhaps lack of competent exit strategy?

(....)

UNIDENTIFIED FEMALE REPORTER [TO SULLIVAN]: President Biden was expected to incur the damage caused by the previous administration with NATO. The way the withdrawal was carried out added new strength to the alliance. How severe is this damage and what you would tell your allies?

(....)

JACQUI HEINRICH [FNC] [TO PSAKI]: And then the last question, what are we doing to counter message with what's happening right now with China in Taiwan? The President said yesterday that China and Russia would love nothing more than to have the U.S. sink billions of dollars and stay here forever. But it seems to be that they're celebrating this. They were touting U.S. humiliation in Afghanistan and the warning to Taiwan and other allies of the U.S. won't come for help if war breaks out. China's embassy's functioning as normal. So what are we doing to counter their propaganda? And how does the administration view Russia and China's engagement with the Taliban?
Though his questions were too long and thus undercut his effectiveness, The New York Times's Michael Shear was on the right path when he told Sullivan of the reality that there's "another choice" Biden won't acknowledge that avoided "masses of people crushing through the airport and the execution of the last four, five, six days that has seemed to just about everybody as...not the way a competent" and "confident administration" functions.
Later with Psaki, Shear's question was similar in its pluses and minuses, but that one pointed out how even longtime Democratic hand David Axelrod had said the administration's handling was indefensible.
Across the 69-minute briefing, a dominant theme touched on the ability for Americans to safely leave the country. VOA's Patsy Widakuswara and NBC's Peter Alexander first posed this to Sullivan, but all he would offer was the assertion that the Taliban had promised them those wanting to leave will be allowed to get there safely.
Of course, this was fake news. The Wall Street Journal's Catherine Lucey fact-checked him a few minutes later by citing reports about checkpoints in which beatings were taking place, but Sullivan continued on with the Baghdad Bob moniker.
A slew of reporters carried on with this narrative about allowing "safe passage" (including Lucey and The Washington Post's Matt Viser), but like most solid questions on The Psaki Show, they were one-offs and went nowhere beyond spin about ensuring safety at the Harmid Karzai International Airport and seats on flights. 
With Fox's Peter Doocy not in the room, the most effective reporter fell to his colleague Jacqui Heinrich (who only questioned Psaki) and, surprisingly, CBS's Weijia Jiang, who did the opposite of Shear with short, pointed questions.
In both her exchanges with Sullivan and Psaki, Jiang showed the Biden team hasn't and won't commit to ensuring that each and every last American (and Afghan ally) is safely out of the control. Real Clear Politics' Philip Wegmann and one reporter from Sky News also provided assists (click "expand"):
JIANG: If the mission is not completely be August 31st and there are Americans and Afghan allies who remained there. Will U.S. troops stay until everyone is out or will they leave? 

SULLIVAN: So I'm not going to comment on hypotheticals. What I'm going to do is stay focused on the task at hand, which is getting as many people out as rapidly as possible. And we will take that day by day. 

JIANG: You can't commit to — 

SULLIVAN: Yes.

JIANG: — bringing back every American as well?

[SULLIVAN MOVES ON]

(....)

WEGMANN: [Y]ou noted that you had encouraged Americans on the ground there to leave, and that many chose not to. I just wanted to follow up on Weijia's question. Will the U.S. government commit to ensuring that any Americans that are currently on the ground in Afghanistan get out. 

SULLIVAN: That's what we're doing right now. We have asked them all to come to the airport to get on flights and take them home. That's what we intend to do. 

(....)

UNIDENTIFIED FEMALE REPORTER [Sky News]: Sorry to belabor the point here, but we're speaking to Afghan citizens who supported the American mission in Afghanistan who are now terrified for their lives. Can you confirm that when it gets to August 31st and your troops leave, will you abandon them or will you stay and save them?

(....)

JIANG: You mentioned at the top that about 700 people have been evacuated in the past 24 hours. Pentagon officials, including Press Secretary John Kirby expect that number to increase — 

PSAKI: Yeah.

JIANG: — to 5,000 to 9,000 a day. Can you talk about what needs to happen between now and then to ramp the number up and when you expect to hit it?

(....)

JIANG: And it's our understanding that Americans have been called to the airport, but it's up to them to travel there at their own risk. Why isn't the U.S. providing any support, any transportation for them to get to Kabul?

(....)

JIANG: Just one more. I know we all tried to ask Jake this question, but can you offer any guarantee to the Americans and Afghan allies that if they remain there past the end of the month, U.S. troops will help them evacuate past the end of the month?
In addition to a Taiwan question (including in the collapses quote near the top of this post), Heinrich was one of many reporters who simply wanted a consistent number on how many Americans are in Afghanistan, but it took one extraneous word after the next to get to what the government claims could be 11,000 (or more).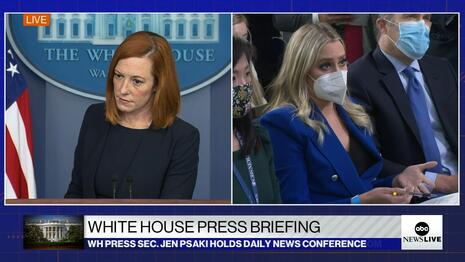 Heinrich also sought comment on the fact that "one of the commandos who was released from Guantanamo Bay as part of the Bowe Bergdahl prisoner of swap" as not only returned to the battlefield, but appeared in videos with Taliban leadership inside the former presidential palace.
Of course, Psaki declined to comment, pointing her to the intelligence community.
Elsewhere, CNN's Kaitlan Collins received a stunning answer to a basic question when she wanted to know if Biden has spoken with any foreign leader and Sullivan replied that Biden hadn't, but it was more important that he and the rest of Biden's national security team speak with theirs overseas. 
When Rascoe asked Psaki about this to close the briefing, Psaki argued what matters most is getting Americans out of the country.
And to acknowledge one last group of reporters, Bloomberg's Josh Wingrove, Politico's Alex Thompson, and others inquired about the perils facing Afghan women and girls and how the Biden administration will enforce Taliban pledges on things like human rights.
Once again, they received little in the way of substance (click "expand"):
UNIDENTIFIED FEMALE REPORTER #4: Yes, Jake, what do you say to the next generation of Afghan women and children, young girls who face fundamentally different human rights moving forward?

SULLIVAN: I — I say that, truly deeply, my heart goes out to Afghan women and girls in the country today under the Taliban. We've seen what they've done before and that's a very hard thing for any of us to face. But this wasn't a choice just between saving those women and girls and not saving those women and girls. The alternative choice had its own set of human costs and consequences, as I said. And those human costs and consequences would have involved a substantial ramp up of American participation in the civil war with more loss of life and more bloodshed, families here in the United States who would be asking a different form of the question you just asked. These are the choices the President has to make. And it doesn't mean because we don't have forces in that country that we're not going to fight on behalf of women and girls in human rights and human dignity. We are. We do in many other countries where we don't have active military participation, and we'll do it in Afghanistan too and we will attempt to use every measure of tool and influence we have along with our international allies and partners to alleviate the burden that those women and girls will face in the days ahead. We are absolutely, resolutely committed to that.

(....)

THOMPSON: Back in the spring, you and several administration officials committed that civilian and humanitarian aid would continue into Afghanistan. Now that the Taliban has taken over the government, does that just completely stop? Is there a possibility that would restart at some point?

SULLIVAN: We will have to take a hard look at how we proceed on any basis at all and as I said to one of your colleagues earlier, it's premature to answer those questions. That's something we will have to take a look at after we get through the immediate task of this mission.

(....)

UNIDENTIFIED MALE REPORTER: Follow up question about Taliban saying they'll respect the rights of Afghan women. What tools does the United States have to hold them to this pledge? And if not, what does the U.S. plan to do?

(....)

WINGROVE: You said it's too early to say whether the U.S. will recognize Taliban as the government of Afghanistan. Are there any steps you're taking in the meantime around sanctions or foreign currencies or anything? Is there a chance that if they do take power to maybe able to tap into quite a fair bit of money that the U.S. might want to head off the possibility of? Are there any steps you're taking in that regard and sort of preventatively, I suppose.

SULLIVAN: We're working on those options right now. I don't want to get ahead of the President's decision making on them and I'll leave it at that.

WINGROVE: If you are working on those options, doesn't then that speak to a doubt that you might ever recognize them? If you don't ever recognize them, how can you be — how can you ensure that the President's promise of aid continuing to be Afghan people will be enacted?

SULLIVAN: Well, so I don't want to get into hypotheticals, but I would point out that there are a range of different diplomatic relationships the United States has with countries around the world, including some very difficult or non-existent relationships with governments where we still provide forms of aid to people[.]
To see the relevant transcript from the August 17 briefing, click here.