On Wednesday, Ohio State University released the "Report of the Independent Investigation" of "Sexual Abuse Committed by Dr. Richard Strauss," who as a longtime athletics doctor abused over 175 male students from 1979 to 1996. The scandal became a national news story last year since Congressman Jim Jordan (R-OH) was an assistant wrestling coach from 1986 to 1994 after a career as a Buckeye student athlete.
The horrifying and sobering report found that, collectively, the decades of abuse persisted without action from Ohio State officials and that Strauss's behavior was akin to an open secret. Strauss went onto commit suicide in 2005.
However, the report by the law firm Perkins Coie LLP concluded that they couldn't find evidence to name names of coaches who had "received or were aware of complaints regarding Strauss' sexual misconduct." In response to the report, Jordan reiterated his complete and total innocence.
On Friday, Washington Post congressional reporter Paul Kane claimed otherwise. In a since-deleted tweet, Kane insisted that it showed Jordan did know of allegations against Strauss:
Kane then corrected himself: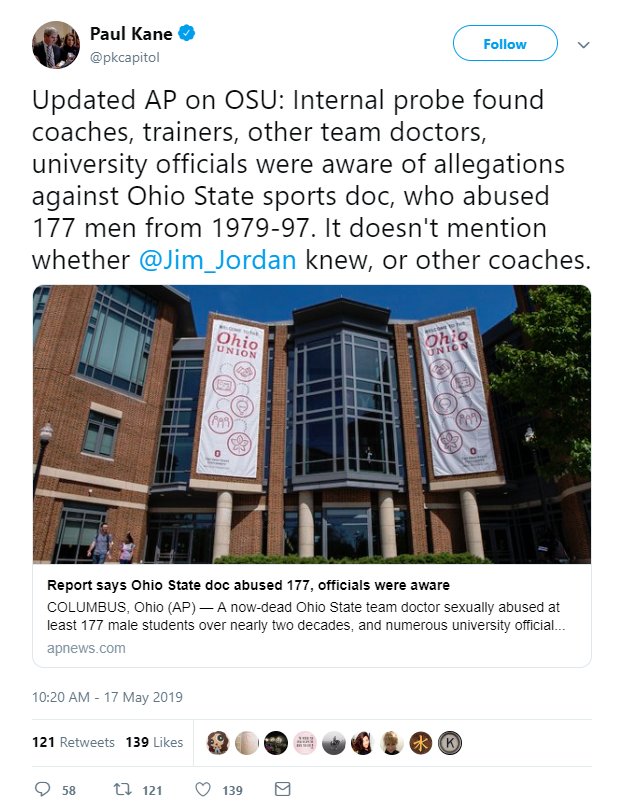 In other words, a report full of nuance was taken by a liberal Post reporter to mean something that — wait for it — wasn't the case.
Last summer, then-MRC Culture intern Isaac Cross and then-NewsBusters intern Alex Sears wrote about the media uproar here, here, here, and here. In August 2018, senior news analyst Kyle Drennen chronicled MSNBC touting an ad by the liberal House Majority PAC that compared Jordan to the late Joe Paterno.
To CNN's credit, Friday afternoon's CNN Newsroom spent six minutes and 41 seconds on the Ohio State report with 42 seconds spent on Jordan and a statement from communications director Ian Fury.
Here was that portion of the segment from correspondent Polo Sandoval (click "expand"): 
Now, you may also remember Ohio Congressman Jim Jordan and how he potentially ties into this. You'll remember that he repeatedly denied having any knowledge of any sort of inappropriate behavior during his time as an assistant wrestling coach at OSU. That despite several victims saying that he knew. The report, however, does not name him specific by but said investigators could not conclusively determine each and every allegation made about a particular coach's knowledge — a specific portion of that statement reads, quote, "the investigators concluded what we have said from the beginning, that Congressman Jordan never knew of any abuse, and if he had he would have dealt with it." 
"We should point out this report found that Strauss's behavior is basically an open secret is how this report refers to this kind of behavior, especially as it looks at it now, Brooke," he added.