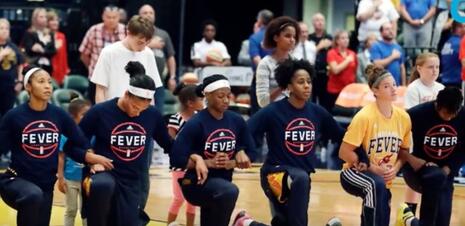 Times are probably kind of tight for the WNBA. Coronavirus curtailed its season and drove the ladies into a "bubble" in Bradenton, Florida, disappointing dozens of fans and easily costing hundreds of dollars in lost revenue.
So kudos to CNN's Eryn Mathewson and Leah Asmelash for their selfless pro bono flack work for the league, assuring readers that when it comes to tainting athletics with radical politics -- the true measure of the modern athlete -- these gals aren't some Janey-Come-Latelys. In an August 29 article, Mathewson and Leah Asmelash write that, "for WNBA players, activism has been a part of their DNA for a long time." It shows in their popularity.
"Though Colin Kaepernick became the face of police brutality demonstrations in 2016, WNBA players actually began protesting before he did," they write. On July 19, 2016, the Minnesota Lynx captain Rebekkah Brunson held a press conference that was so snotty and self-righteous, the off-duty cops working the game up and left. Or, to put it in CNN social justice fangirl speak: "Their actions were powerful, so much so that four off-duty cops working the game that night walked off."
But in 2020, when lefties are vying to outdo each other in displays of performative outrage, "They've been especially outspoken," say the authors. They've dedicated the season to Breonna Taylor and the Say Her Name campaign. And "New this season, they introduced a Social Justice Council of players and activists to push conversations around social issues forward." Nothing puts butts in the seats like a Social Justice Council!
But don't forget the stunts. The L.A. Sparks walked out of the arena at the playing of the national anthem earlier this summer, inducing left-wing swoons in and out of the sports world. And, "this week, one team wore shirts with seven bullet holes in the back, a testament to the fate that befell Jacob Blake in Wisconsin," Mathewson and Asmelash write. Blake was the wanted sex offender who may or may not have been reaching for a knife when he defied police officers' commands.
But the shirt stunt thrilled members of the race industry, like "Ashland Johnson, founder of the Inclusion Playbook, a sports justice project that aims to increase diversity, inclusion and social responsibility in sports." Johnson gushed that the shirts were "provocative" and said "It's creative, and I think it goes with their brand, where they know that sports are important for social justice."
Or is social justice important for sports that are, well, lacking in other charms? Missing from Mathewson and Asmelash's 1500-word love letter to the woke women is any talk of, ya know, basketball. But maybe that wouldn't go "with their brand," which seems to be maximum hoopla and minimum hoops. People notice when the NBA threatens a boycott. The WNBA?
Ah, but the ladies are risking more than their male basketball counterparts, the authors assure us. "Because the WNBA doesn't have the backing the NBA does, these players have more to lose by being so politically active and outspoken." Just not fame or money.
Really, there's not much at stake. The WNBA was implicitly founded on the type of identity politics that's poisoning our social institutions. The anger and resentment are features, not bugs. It earns the league accolades from lefties in the sports media and gooey write-ups at CNN.
As Mathewson and Asmelash write, "Though the league's regular season ends in mid-September, its commitment to activism and civic engagement will continue."
Great to hear. Now what about its commitment to basketball?