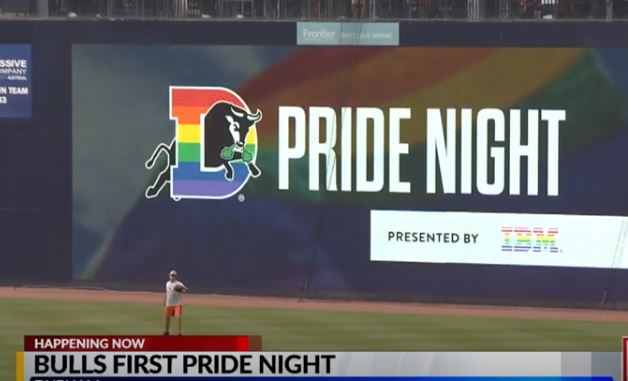 Had the coronvavirus not interrupted their plans, LGBT advocates were about to engulf minor league baseball with their propaganda this season. The number of pride nights was going to explode to an all-time high, and the resultant "service to humanity'' by LGBT pressure groups was going to be off the charts, says Ken Schultz, writing for SBNation Outsports.
In 2017, minor league baseball hadn't yet been infiltrated by homosexual, bisexual and transgender advocates; there were just 20 pride nights staged in minor league ballparks that year. Note the imagery (right) at a Durham Bulls game last year when the team hosted its first pride night. This year the minor leagues were going to quadruple from 2017 to 81 pride nights, creating euphoria among the LGBT crowd and making inroads in conservative, religious communities.
LGBT activists are just doing their part to make the world a better place, Schultz implies:
"In small rural or conservative areas, a minor league Pride Night is not just a successful promotion, it's a time where a rural town's LGBTQ population can be welcomed and celebrated without fear or the need to hide who they are. Which means that in those areas, Minor League Baseball is performing a public service and an essential gesture of basic humanity."
That being said, the SBNation Outports writer also bemoans Major League Baseball Commissioner Rob Manfred's intent to trim the number of minor league teams by 40 ball clubs.
Schultz contends that with pride nights on the rise in minor league venues, each and every minor league team is not only vitally important to the LGBT cause, but also, "essential to the community."
The loss of a small baseball franchise and a few hundred fans attending games may not seem like that big a deal to some, but it's one less place where LGBT activists can politicize and indoctrinate the locals.
"There are many reasons why contracting minor league teams is a wretchedly shortsighted decision," Schultz goes on to write. "A major one is that the minor leagues are currently doing yeoman's work in introducing Pride Nights to areas where they've never been before."
Minor league baseball employs Ben Pereira to strong-arm LGBT events onto its fan base, including those in southern and conservative communities. The Minor League Baseball Specialist for Diversity & Inclusion, Pereira says:
"I think there was a little bit of trepidation initially with some clubs. Like, 'Does this make sense? We're more rural, we're more southern, we're more conservative. How is our community going to respond to this?' With last year as an example, all of those concerns are null and void.

"There weren't any markets that had any issues with Pride Nights. Particularly, it was some of the more rural conservative ones that actually did better. And that's because in those markets, the community might not always feel seen. It might not always have those opportunities where they can go out and celebrate being their authentic selves."
There were two cities -- Ogden, Utah and Pulaski, Virginia -- that Pereira was especially looking forward to invading this summer. Ogden is Mormon conservative to the core, not exactly the "home team" for all things LGBT. Pulaski is located in the heart of the Blue Ridge Mountains and in a county represented by two Republican state lawmakers. "That would've really been something," Pereira says.
Schultz gave a shout-out to the Hartford Yard Goats who were planning to "celebrate" three pride nights this year "because they wanted it to be considered normal that you can have more than one."
The Daytona Tortugas scheduled pride events for June and August. "Which is an especially great idea because a specialized Pride Night for students has the potential to hook a younger LGBTQ generation on baseball. That's what MLB does best," Schultz raves.
Or is that to hook baseball fans on the LGBT? No answer needed.