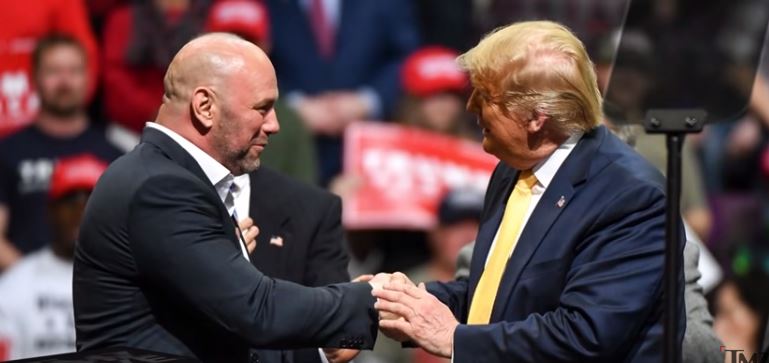 Only one big-time sporting enterprise is "reckless" enough to keep going right through COVID-19, and of course, the blame falls on President Donald Trump. New York Magazine's Will Leitch said the UFC is looking for ways to get around social distancing because the President and Vice President Mike Pence encouraged its leader to live his life. And by the way, the White House is mismanaging the coronavirus pandemic, too.
Leitch noted that the CDC is recommending no public events with more than 50 people should be held for the next eight weeks. UFC president Dana White was the last man standing, as he tried to keep scheduling events.
White was so desperate to continue fight cards that he was going to stage the fights on a reservation in Oklahoma. Events on tribal lands do not have to conform to the rules of state commissions.
"The UFC was so determined to do this that it not only wasn't listening to federal and state governments, it was finding a way around them," Leitch wrote as he prepared to lower the boom on the real culprit ― the President himself, who had previously booked UFC events at his resorts when the late Sen. John McCain (R-AZ) was speaking out against ultimate fighting.
Yes, it was the president who encouraged White, who had spoken in support of candidate Trump at the 2016 Republican National Convention and then more recently appeared with him at a rally in Colorado. "Any good thing that happened to me in my career, Donald Trump was the first to pick up the phone and call and say 'congratulations,' " White said.
"So it should not be a surprise that when the coronavirus hit, White called Trump for assistance," Leitch wrote. "And the message was clear and explicit: Keep going":
"Actually, it was more straightforward than even that: White says Trump (and Mike Pence!) told him to 'stop panicking.' 'They're saying be cautious, be careful, but live your life,' White said last week. 'Everybody is panicking and instead of panicking, we're actually getting out there and working with doctors and health officials and the government to figure out how we keep the sport safe and continue to put on events.' "
Thus, Leitch pointed out, White was trudging forward "even as the spread of the virus has worsened and every other sports league has begun to consider canceling their currently-only-suspended seasons for good." Even when White cancelled Saturday's fights, he got no credit from Leitch because the event was scrapped merely out of loyalty to Trump.:
"When the president, at his noticeably (almost disorientingly so) more sober and grave press availability on Monday, said that there shouldn't be any events with more than ten people, White finally succumbed, but only out of a sense of loyalty to his friend."
White said on ESPN's SportsCenter that he could not stage a UFC event with a minimum of 10 people involved in the production. Yet Leitch reported: "White has followed Trump, and Trump only, from the beginning. And he insists that an upcoming April 18 event will happen, 'even if it's not in the United States.' "
White took his cue from Trump only when the chief executive "finally, somehow, changed his tone."
Leitch added: "The UFC is so uniquely its own crazy enterprise that it only altered its habits when explicitly told to by Donald Trump. And even then, only temporarily. And you know what? If White successfully puts on that April event, a sports-starved public will watch the shit out of it. And White will win again."
With White dispatched over his friendship with the President, Leitch closed by clamping a "choke-hold" on Trump:
"The underlying story of the failure of the American response to the coronavirus pandemic is a lack of clear, straightforward messaging from the White House, giving out not just conflicting and inaccurate information but also implementing measures that prevented the slowdown of the virus's progression and actively assisted its spread. But we can see, with his interaction with the one sports league's commissioner with whom he has an actively positive affiliation and open line of communication, a very clear message: This isn't such a big deal. ..."
Leitch couldn't have written a "better" campaign ad for the Democrats in this election year.