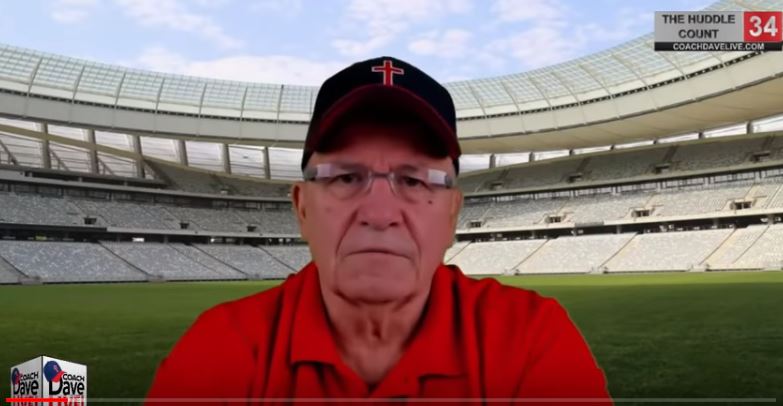 A former prep football coach in Ohio, now the host of a Christian ministry podcast, is under fire for threatening to sue the NFL over last week's raunchy Super Bowl halftime show. Dave Daubenmire says the performance by Jennifer Lopez and Shakira was pornographic and children watching at home should not be subjected to such. The Complex Sports blog and Right Wing Watch ripped Daubenmire for watching the program and then saying his eternal salvation had been put at risk.
Daubenmire said on the podcast he wants to sue the NFL "for $867 trillion," but later told Newsweek that figure was "a hyperbole." "I said it right off the top of my head, I just threw some big number out there. In my opinion, there's not a big enough number to sue them for.
"If the NFL wants to have crotch shots at halftime, put up a warning 'May not be suitable for young children,' " Daubenmire says in the Newsweek story. "The NFL should have warned their viewers beforehand that the halftime show would be filled with unsolicited "crotch shot." Daubenmire said.:
"I think we ought to sue. Would that halftime show, would that have been rated PG? Were there any warnings that your 12-year-old son – whose hormones are just starting to operate – was there any warning that what he was going to see might cause him to get sexually excited? Could I go into a courtroom and say, 'viewing what you put on that screen put me in danger of hellfire?"
The Super Bowl program is pornography, in Daubenmire's view, and he does not think it should be coming into our homes, "but I'm not worried about my personal salvation because of pornography. I'm worried about innocent children who are viewing it without the approval of their parents."
"My position is not about my own salvation; my salvation is secure. I'm not gonna lose my salvation for watching a clip at the Super Bowl," Daubenmire added. "Parents have the right to know pornography is coming into their home."
Complex had a field day with the Christian activist. Joe Price writes, "Clutching his pearls, he said he's looking for a lawyer to help him with a class action lawsuit against the show, which he described as a 'strip club performance.' He continued, 'I think we ought to go sit down in a courtroom and present this as evidence of how whoever is keeping me from getting into the kingdom of Heaven.' He claimed that the show 'penetrated the sanctity of my home.' "
Price further writes that Daubenmire, "an avid Donald Trump supporter," is reaping a major backlash and is receiving obscene images from critics.
Complex posted several critical tweets, including from the far Left hate group Right Wing Watch, telling Daubenmire he could have turned off the halftime show. He said he did just that, but later watched videos to gain a full understanding of how bad the program was.
The New York Post described the controversy as a former Ohio football coach "on an all-out blitz against the NFL over its Super Bowl halftime show with Jennifer Lopez and Shakira ... ."
Yaron Steinbuch writes, "The Super Bowl LIV halftime extravaganza showcased the two women gyrating to Shakira's 'Hips Don't Lie' and Lopez's 'On the Floor,'' which Daubenmire slammed as a "porn show" unfit for young viewers.
Daubenmire said, "I turned on the TV to watch football, not to watch a pole dance. They penetrated the sanctity of my home. I'm not here to tell the NFL what they can put on. I'm not here to tell anyone what they can watch. But they don't have the right in the middle of a game to broadcast soft porn."
Daubenmire isn't the only Christian using his platform to speak out against the NFL's trash. The host of Family Talk with Dr. James Dobson said in an email blast this week the Super Bowl program was "a sexual smorgasboard.":
"Let me be clear: pole dancing, sex stimulation, and crotch shots are not a celebration of Latin culture; they are a celebration of our hypersexualized culture. I regret the need to be so graphic, but have we collectively lost our minds? Objectifying women -- whether they willingly participate or not -- is wrong. Failing to oppose such an affront to women is equally blameworthy."
Dr. Dobson said we should demand better of the NFL, networks, sponsors and entertainers.