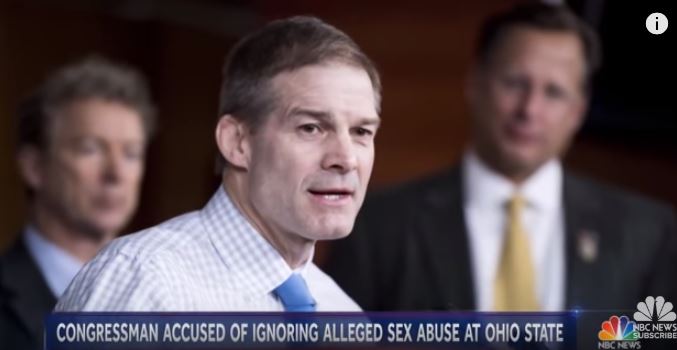 Democrats just flipped 27 seats and regained control of the U.S. House of Representatives, but one of the surviving GOP congressmen is already facing renewed heat for a controversy that arose during his campaign. LIberally baised USA Today writer Christine Brennan says it's time to go after Ohio Republican Rep. Jim Jordan again, though he won re-election.
Rep. Jordan's campaign was dogged by reporters who demanded to know whether, as an assistant wrestling coach at Ohio State University many years ago, he was aware that the team doctor was molesting Buckeye wrestlers.
Jordan was a two-time national champion as a wrestler for the Buckeyes, then served as an assistant coach for the team. Seven former OSU wrestlers accused him and other coaches and faculty members of sitting on the knowledge that Dr. Richard Strauss was abusing athletes. Jordan, who will begin serving his seventh term in Congress in January, denied those allegations, but Brennan wants to turn up the heat on him again.
"Now that he's done with that, scrutiny should return to his alleged role in failing to stop an Ohio State team doctor from molesting student-athletes when Jordan was an assistant wrestling coach at the school from 1986-94," Brennan writes.
Brennan complained that as the election neared, the controversy died down. She wants to fan those flames again:
"So Jordan returns to Washington, but no longer in the House majority. How can these allegations not follow him there? How is this not a bigger story? After the horrifying sex abuse scandals at Penn State, Michigan State and USA Gymnastics, how did Jordan simply sail through this election season?"
Brennan also attacked President Donald Trump for defending Jordan when the controversy reached its height last summer:
"He had help. President Donald Trump certainly did his part. Even though Trump of course has no idea what happened in Strauss' office at Ohio State three decades ago, that didn't stop him from blindly defending Jordan when the accusations mounted back in July."
President Trump had offered this defense of Cong. Jordan from the accusations: "I don't believe them at all. I believe him. Jim Jordan is one of the most outstanding people I've met since I've been in Washington. I believe him 100 percent. No question in my mind. I believe Jim Jordan 100 percent. He's an outstanding man."
"Trump took one look at a college sex abuse scandal and turned it into political theater," Brennan writes. "Apparently, he has learned nothing from what happened at Penn State, Michigan State and USA Gymnastics."
The USA Today story pointed to former Buckeye wrestlers Michael Alt, Mark Coleman and Shawn Dailey, who claim Rep. Jordan knew of the doctor's devious behavior and did nothing. Coleman previously told The Wall Street Journal, "There's no way unless he's got dementia or something that he's got no recollection of what was going on at Ohio State."
Brennan wants this story to be a constant thorn in the side of the GOP congressman who survived yesterday's loss of the House:
"Now that Jordan is heading back to Washington, this important story should shadow his every step."