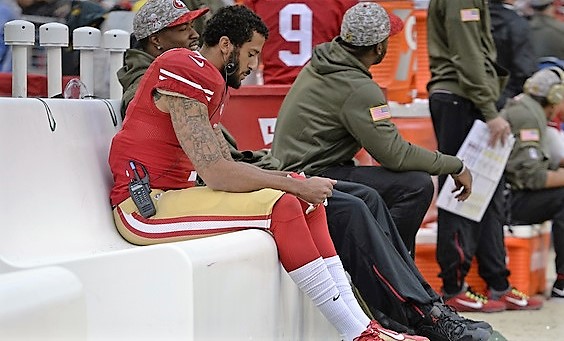 Liberal media apologists for unemployed quarterback Colin Kaepernick are growing more indignant by the day with NFL teams who show no interest in signing the controversial free agent. Two ESPN writers today posted highly critical blogs in defense of Kaepernick.
Bomani Jones, the co-host of "Highly Questionable" on ESPN and the host of The Right Time on ESPN Radio, wrote today that the notion of Kaepernick as "distraction" to any team that signs him is "football's laziest cliché, a catchall for anything or anyone a team might not like." He angrily demanded that pro football teams focus on the real "D" word – discrimination:
"Stop hiding behind code. Stop trumpeting the idea that sports are the ultimate meritocracy, then shrugging and say 'thems the breaks' in the face of a visible potential case of discrimination. It's intellectually disingenuous at best, indefensible cowardice at worst and sounds eerily like the worst of past evaluations and coverage of black athletes.
Jones claims Kaepernick was not a distraction to the 49ers last season. He also said former head coach Chip Kelly, "who arrived under a cloud of suspicions from his former players that he couldn't handle independently-minded black players," didn't find Kaepernick impossible to work with.
To Jones, the NFL has long had a race problem: "The rap on Kaepernick as a quarterback sounds exactly like what we've heard before about scores of black quarterbacks, decade after decade." … The league "stands in solidarity with those who want to make their players' lives more difficult than they should be."
Jones' comments did not sit well with a fellow African-American talk show host. Jason Whitlock, who teams with Colin Cowherd on the Fox Sports 1 show, Speak for Yourself, Tweeted this criticism at Jones:
"What u write when u never played football, never covered football and are only writing to advance an agenda"
ESPN writer Dan Graziano wrote today that critics and defenders of Kaepernick are both wrong, but he repeatedly stood up for the embattled cop-hating quarterback.
Graziano claims "the NFL establishment has thrown Kaepernick and his politics into the bin labeled 'distraction,' and much of the league's support structure has nodded in agreement." He fails to identify who comprises this "support structure."
Saying there is no proof that all 32 teams have conspired against Kaepernick, Graziano disagrees with Seattle cornerback Richard Sherman that Kaepernick is being "blackballed." Graziano speculates that Denver and Houston are the only possible destinations for Kaepernick and that one of these teams will acquire Tony Romo from Dallas.
Graziano deviates from course and reveals his own bias when he writes: "The people who run these teams regularly create distractions that go unpunished or easily forgiven." In this list of wrongdoers are Colts' owner Jim Irsay, busted for drunk driving, and Patriots' owner Robert Kraft, who will soon hobnob with "our polarizing president." It's telling that Graziano equates a championship team visiting the White House with drunk driving.
Additioally, Graziano opines that "it's bullheaded" to use the arguments of "distraction" and ineffective play against Kaepernick. But here's the real kicker that exposes Graziano's left-stream bias against patriotic people who support the military and police:
"Kaepernick makes some people squirm. He shouldn't, because he's done nothing wrong or even un-American. He has quite clearly taken a stand on behalf of citizens of this country. He has put his money where his mouth is, actively participating in and donating to charities that stand for the same things. … There are things Kaepernick is doing worth commending."
"Unfortunately, he plays in a league that sells the flag and the military and the police as part of its brand. And what Kaepernick did by wearing socks with pigs dressed in police gear and refusing to stand for the national anthem is viewed by a segment of our population – and of the NFL fan base – as un-American, even treasonous."
Graziano ends his piece by saying there are a lot of "untapped discussions" to be had about Kaepernick, but people are stuck on the same points that he just finished focusing on.
The braintrust at ESPN recognizes the growing opposition to its polarizing politics, but Public Editor Jim Brady recently weighed in on the controversy by writing that his organization will not back down to charges of prejudice.