Well, it happened. Everyone's favorite crazy, pro-Communist tween "fashion" magazine effectively pushed out their brand new liberal woman of color editor-in-chief for her racist tweets from ten years ago. It begs the question, if Alexi McCammond isn't woke enough for Teen Vogue, then who on earth is?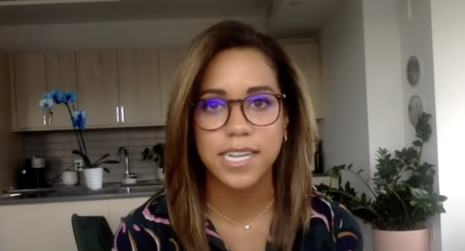 After a week-long struggle session brought on by her woke staff members, newly-hired Teen Vogue editor-in-chief Alexi McCammond announced her decision to step down from the position on March 17. McCammond had caused a stink among the staff at the outlet for anti-Asian tweets she made when she was 17-years-old and in college. 
The tweets, which had been dredged up in 2019 – and for which McCammond had already apologized – were brought up once again by a former New York Magazine employee in a viral Instagram post after McCammond landed her Teen Vogue gig.
In this woke climate, especially when the media has been fixating on attacks against Asian Americans (partially as a way to punish former President Trump for his anti-CCP rhetoric) the controversy finally stuck. On March 9, more than twenty Teen Vogue employees addressed the "racist and homophobic tweets" in a public statement that was shared on Twitter. The staffers wrote, "In a moment of historically high anti-Asian violence and amid the on-going struggles of the LGBTQ community, we as the staff of Teen Vogue fully reject those sentiments."
Of course, McCammond apologized to staff in an email, but showed no indication of leaving the company. In fact, she maintained that she would commit to promoting inclusivity across the Teen Vogue "platform" for the future. 
Only about a week later, McCammond suddenly announced that she was stepping down from her brand new position. She put out a formal statement on Twitter saying, 
My past tweets have overshadowed the work I've done to highlight the people and issues I care about – issues that Teen Vogue has worked tirelessly to share with the world – and so Condé Nast [Teen Vogue's parent company] and I have decided to part ways. 
McCammond added that she regretted the anti-Asian tweets and that she has "taken full responsibility for them." She also mentioned that she has "redoubled her commitment to regrowing in the years ahead."
The timing of McCammond's stepping down is interesting. Coincidentally, on March 17, eight people died in a massage parlor murder spree in Atlanta, Georgia, six of whom were Asian. Though a racist motive for the crime has been denied by the lead suspect, journalists, politicians, and Hollywood entertainers have put part of the blame for the crime on President Trump and Republicans for anti-Asian rhetoric that many say has been trending in the wake of COVID. Perhaps the shocking event and manufactured political fallout inspired McCammond's decision.
Either way, McCammond has had a rough 2021 so far. In addition to being essentially cancelled by the wokest outlet in America, McCammond's relationship status with disgraced former Biden administration Deputy Press Secretary spokesperson TJ Ducklo was exposed. Ducklo resigned from the Biden staff in February after reports surfaced that he threatened a Politico reporter for asking about said relationship with McCammond, who covered the Biden campaign for Axios at the time.
According to an Axios spokesperson, after McCammond disclosed the relationship with the company, they moved her to reporting on Vice President Kamala Harris. To think that a young, woke, liberal, woman of color journalist can't catch a break in this town sure spells disaster for the rest of us and our career prospects.