Of course Twitter's been aggravated with Star Wars actress Gina Carano for her anti-leftist viewpoints, but her wrongthink has become so annoying for people that Hollywood outlets are now demanding that Disney remove her from The Mandalorian.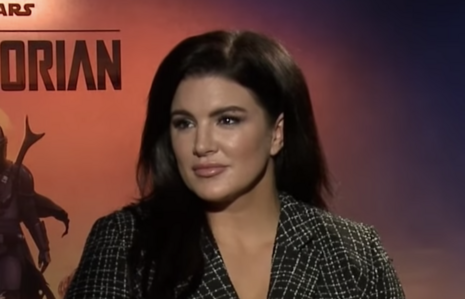 Pop culture and Hollywood news outlet Popdust published a piece this week seeking the removal of Gina Carano from the media company's flagship series because she has "wrong-headed and dangerously ignorant views." Oh, who knew Popdust was such an authority on right or wrong speech?
Popdust staff writer Keith Baldwin wrote the condescending smear of Carano on November 23, which featured a headline that fit the textbook definition of elitist. It asked, "Can Disney Fire Gina Carano From The Mandalorian for Being Depressingly Normal?" Oh, there's a double whammy. Not only are Carano's more conservative viewpoints noxious enough to get her blacklisted from the Hollywood scene, but they're also boring and lame. Oh yes, get out of here with that country bumpkin routine, Carano.
Though again this is all because Carano, a rising star in one of the most popular franchises in film history, is bashing the leftist groupthink. Popdust's appeal is how could any self-respecting entertainment company elevate a woman who questions Chinese plague lockdown orders, demands investigations into voter fraud, and is critical of BLM protests?
Baldwin attacked Carano's ideas as "moments of apparent ignorance" that are designed to "anger or alienate Left-leaning fans." That's hilarious. Lefty Hollywood fans are a small, abused minority? Don't make us laugh. If anything, it's the fact that Carano's more conservative than the typical Trump-hating Hollywood denizen that gives any character of diversity to Disney's roster.
Still Baldwin whined, "Gina Carano has revealed herself to harbor some wrong-headed and dangerously ignorant views. But they are views that are common enough to be completely ordinary in 2020. In large swaths of the country, they are undoubtedly much more common than the alternative." Wow, he seems like the kind of guy who was completely gobsmacked by the fact that more than 70 million people voted for Trump in the 2020 election.
Sorry guys. Did you really think the few cheap lesbian asides thrown around in recent big budget Disney films turned the whole country into a LGBTQ paradise?
Speaking of Trump, Popdust's piece moved from Carano onto the subject of President Trump, which is funny considering that Carano has never made any specific appeals to the president or to his party. (She has just kind of spoken out against big government tyranny in general.) The author wrote, "after four years with a president who has normalized and amplified conspiratorial and divisive views, it's easy to say that Gina Carano's behavior on Twitter has been offensive and disturbing."
He then lumped her in with the folks who voted for Trump, and accused them all of aiding and abetting said "dangerously ignorant" views. "But on some level we have to confront the fact that around 74 million Americans voted to reelect a president who endorses the same awful views," he wrote.
So what, Popdust? We need to get them all fired from their jobs?