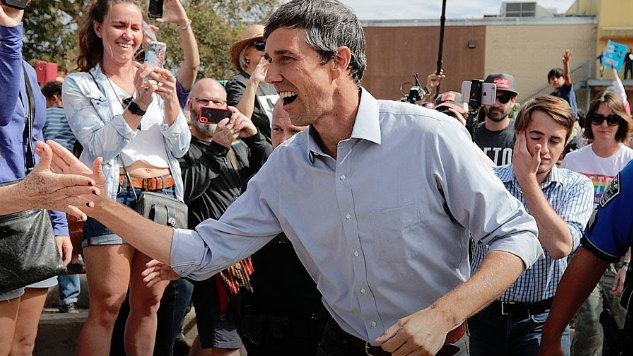 If you grew tired of seeing Beto O'Rourke's goofy grin everywhere during the 2018 midterm election cycle, then you're in for a little more lefty superhero fatigue. HBO recently announced that it will be releasing a Beto O'Rourke documentary about the former punk rocker turned political "rockstar's" failed Texas senatorial candidacy, giving viewers "intimate access" to his 2018 campaign.
Because watching his semi-annual dental cleaning left you wanting more Beto.
Anyway, beginning in March, premium channel surfers will be in danger of stumbling onto content displaying lefty America's favorite skateboarding, dress-wearing, #resist-powered Texan rail on about open borders in the reddest state in the Union, while ultimately losing to Ted Cruz. It's a tale as old as time, but for progressives the rest is still unwritten, as there's real hope that O'Rourke is the kind of guy who will get to the White House.
"Running With Beto" will be offered by HBO in Spring 2019, following a recent Hollywood trend of lionizing fringe-Democrats with immaculate media productions — Alexandria Ocasio-Cortez becoming a Sundance Film Festival Star for the same reasons. Directed by David Modigliani, the film "tracks O'Rourke's campaign over the course of a year."
In a statement HBO revealed that Modigliani's crew was given "intimate access to O'Rourke, his tight-knit family and his team of political newcomers, who champion a new way of getting to know a candidate — one Texas county at a time."
HBO claimed that this new doc was going to be a particularly hard-hitting and revealing snapshot of the life of an aspiring candidate, especially one who had as "grueling" a journey as Beto's. The media giant stated that its film unveils "the personal and political toll that running for office can take on a candidate and a family, capturing revealing moments with his wife and three young kids throughout the grueling journey."
Yeah, yeah, real hard, considering the man lost an election and is still reaping the rewards of a massive diehard fan base (and its donations) and media that consider him to be a future president of the United States. Still, the film grapples with "the attacks lobbed at O'Rourke, who notably tried to run a campaign predicated on positivity — though in its later days, he attacked Cruz directly."
"Running With Beto" will be offered to HBO subscribers this March after debuting at the progressive nerdapalooza South By Southwest in Austin, Texas. And if that's too long to wait for a dose of anti-capitalist, hippie puffery, Netflix is releasing its Alexandria Ocasio-Cortez' documentary "Knock Down the House" this week.