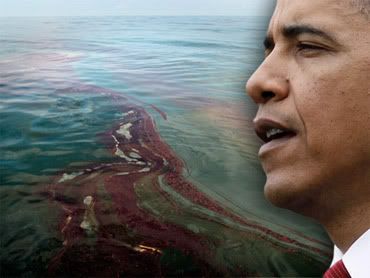 Instapundit's Glenn Reynolds employed sarcastic irony this morning when he wrote that "Obama's hate speech is promoting violence against BP." Well, it's at least clear that the blame game out of Washington isn't helping the situation.
Reynolds is referring to a report from TV station WREG in Memphis about an incident involving property damage at a local BP station, and other instances that have occurred in other parts of the country (video is at the link):
Bullets Shatter Glass at BP Gas Station

(Southaven, MS) -- Windows at the BP Gas Station on Highway 51 at Custer Drive were shot out overnight. Folks who work at the store believe the suspects were expressing anger over BP and how it's handling the oil spill.

"I believe that would be the reason," said Alex Saleh. "We don't have any enemies." He said nothing was taken from the store after the windows were destroyed.

Incidents of anger spilling over at locally owned BP gas stations have been reported in several areas. In New York City several BP signs have been vandalized. Owners there believe vandals are filling balloons with dirt then throwing them at the signs.

Stanley Morton posted several clips on YouTube, where he's seen driving to a BP station, then dumping yard waste on the property.
The report also notes that most BP stations are operated by small business owners, so the wrath is often misdirected.
The tone of President Obama's and his administration's rhetoric is also drawing objections across the pond, with serious possibilities of further deterioration in what used to be "the special relationship:
Senior Tories today warned Barack Obama to back off as billions of pounds were wiped off BP shares in the row over the Gulf of Mexico oil spill.

Mayor Boris Johnson demanded an end to "anti-British rhetoric, buck-passing and name-calling" after days of scathing criticism directed at BP by the President and other US politicians.

Former Conservative Party chairman Lord Tebbit branded Mr Obama's conduct "despicable". And with the dispute threatening to escalate into a diplomatic row, Mr Johnson also appeared to suggest that David Cameron should step in to defend BP.

He spoke as the US onslaught against the firm became a "matter of national concern" — especially given its importance to British pensions, which lost much of their value today as BP shares plunged to a 13-year low.
British pensions" is a reference to the UK's Social Security system equivalent, which is primarily based on individuals deciding how their money will be invested. Obviously, many of them, and many mutual funds, have significant BP holdings.
I guess the lesson here is privatized retirement systems don't work, because irresponsible foreign leaders can wreak havoc on them. (/sarc)
The U.S. press is just beginning to notice that the Brits are really, really unhappy. Here are a couple of paragraphs from a business report this morning (as of 9:58 a.m.; link is dynamic). Note well how others are perceiving the administration's posture:
The company has found itself caught in a trans-Atlantic squeeze between an angry U.S. administration and unhappy shareholders - some 18 million Britons hold shares or pension funds in the company.

Prime Minister David Cameron's office said the British leader would discuss the issue with President Barack Obama on a scheduled telephone call over the weekend.

Investors are fretting about the rising costs facing BP after Obama suggested it should also pay unemployment benefits to thousands of oil workers laid off during a moratorium on deep-sea drilling triggered by the spill.

... most market experts also acknowledge that the political rhetoric surrounding the accident is outweighing financial fundamentals.

"We don't believe BP has a funding issue, but given the overwhelmingly hostile nature of the U.S. government the company may decide to suspend payments until the wells are capped and the clean-up sufficiently advanced to convince the U.S. that it can afford all the costs as well as pay dividends," said Evolution Securities analyst Richard Griffith. "Unilateral action against BP over its U.S. operations, be it unreasonable or illegal, hangs over BP."
"Illegal"? Now there's an angle our watchdog establishment press should pursue -- and would be pursuing if a conservative or Republican were in the White House. Don't hold your breath. This bunch has virtually ignored two known cases of misprision that occurred right under everyone's nose. That most readers here won't know what "misprision" is and how it relates to the situation of Joe Sestak and Andrew Romanoff proves my point.
As to the U.S. economy, nothing feeds the current FUD problem (Fear, Uncertainty, and Doubt) like an administration that continues to sew ... fear, uncertainty, and doubt.
(Photo above is from AP/CBS.)
Cross-posted at BizzyBlog.com.