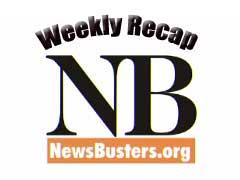 "Get the Hint? Wink Wink? Nudge Nudge?"
Katie Couric may be many things (don't call her perky), but she's not subtle. The "CBS Evening News" anchor touted a new special on Walter Cronkite, a journalist who "stood up to the Commander in Chief" during an "unpopular war."
Former Clinton aide George Stephanopoulos, now the anchor of ABC's "This Week," took time out of his interview with House Majority Leader Nancy Pelosi to muse with the Democrat over what it would be like to stand at the House podium behind the first female President. Hmm, who might that be?
Rosie vs. Elisabeth: The Rematch
In case you somehow missed it elsewhere, NewsBusters has the complete transcript (and video) of the O'Donnell/Hasselbeck dust-up. Thrill as Rosie, who says the media portrays her as a "fat," "loud lesbian," faced off against the feisty token conservative. On Friday, the MRC's Justin McCarthy reported that O'Donnell will not be returning for her contract's final three weeks.
"But What do You Really Think?"
How did "Good Morning America" co-anchor Robin Roberts describe Michelle Obama, the wife of 2008 Democratic presidential contender Barack Obama? Well, how about "amazing," "very confident" and "professional?" She then added "strong" and "warm" to the list. And people wonder if media objectivity is dead.
Unlike Ms. Roberts, "Today" show anchor Matt Lauer hit a Democratic contender hard. Sure, it was from the left, but why focus on details? Lauer complained to '08 contender John Edwards about the Democratic "cave-in" over the Iraq funding bill.
Keith Likes Playing the Hitler Card
For Keith Olbermann, there's no better analogy than a Hitler analogy. It works in almost all situations! This time, the MSNBC anchor compared the aforementioned Democratic deal on war funding to Neville Chamberlain's accommodating of Adolf Hitler.
Happy Memorial Day weekend, everyone.