On Thursday (at NewsBusters; at BizzyBlog), I noted that Us Weekly's web site briefly posted a satirical item as legitimate news.
The satire item was about Sarah Palin criticizing Christine Aguilera's infamous National Anthem botch at last week's Super Bowl on Sean Hannity's Monday radio show. Palin didn't even appear on Hannity's show on Monday. Once caught by gossipcop.com, Us Weekly pulled the item.
The same cannot be said of Time.com. Time was also apparently fooled, but seems to be pretending that it knew the item was satire all along. Readers can judge for themselves from the graphics which follow.
Here's the original: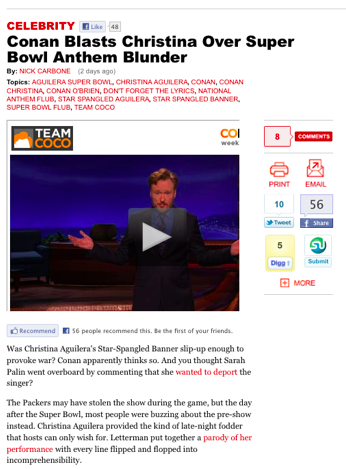 Here's the item as currently posted with a "clarification":
I'd say that what Time put up is not a "clarification" at all. It's a "correction," unless Time assumes that everyone clicked through to the original Current.com item labeled as "Comedy." Even then, a "Comedy" label is far from being the same as "Satire."
Sarah Palin is justifiably not amused, and according to FoxNation.com, sent the following email to the publication's Congressional Correspondent Jay Newton-Small:
Subject: Great job, MSM!

Jay - pls tell your bosses there at Time Magazine thank you for the invitations to attend the upcoming functions. I'll sure put a lot of thought into those invitations.

Then, have your editors retract Time's most recent ridiculous lies about me supposedly giving Sean Hannity a radio interview wherein I supposedly talked about Christina Aguilera (that I slammed her for her Nat'l Anthem mistake, and called for her deportation, etc). You guys were fooled into running a fake story that even US Weekly pulled and apologized for their blunder. Total lies - and you guys (once again) even put quotation marks around things I have never uttered. Then, Time needs to run an apology to Christina along with the retraction. (Add Hannity in your apology, too...those good folks don't deserve to be in a caustic, untrue story about me.) Thanks much - keep up the great work, Time Magazine.
In case Jay is wondering, Palin's last sentence is satire, not a compliment.
Cross-posted at BizzyBlog.com.