The Associated Press's Mark Sherman didn't try very hard to mask his true feelings on a couple of matters on which Obama Supreme Court nominee Elena Kagan was working on during the late 1990s.
The dictionary from which Sherman is working must have interesting definitions of "unsentimental" and "compassionate."
See for yourself in the first four paragraphs of the AP writer's report on what is known thus far from the documents provided by the Clinton Library relating to Ms. Kagan: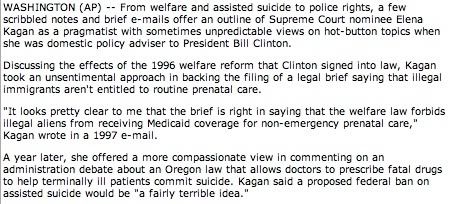 So it "unsentimental" to deny benefits to trespassers who have entered this county illegally and attempting to use services they haven't financially supported with tax dollars, but it's "more compassionate" to allow a state to let people kill themselves.
Glad that's straight. Zheesh.
Sherman's shots from the hip tell us a lot more about his own values than those of Ms. Kagan. Several prior posts about Sherman by others at NewsBusters are quite revealing.
Well, at least we know, so we can be especially on the lookout for more bias in other items written by this reporter.
Cross-posted at BizzyBlog.com.