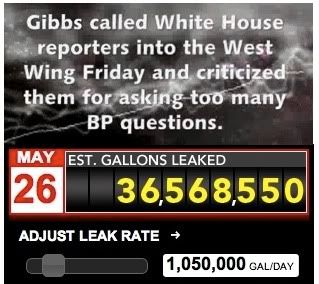 Doesn't everyone remember in 2005 when George W. Bush's Press Secretary Scott McClellan (bless his back-stabbing heart) called reporters into the West Wing of the White House and scolded them for asking too many questions about Hurricane Katrina? That followed a similar admonishment earlier in the year about the press's obsession with anything and everything to do with the Iraq War.
You don't remember those things? That's because they didn't happen. Oh sure, someone will be able to find examples of McClellan, as well as successors Tony Snow (RIP) and Dana Perino occasionally expressing irritation with reporters for their silly and/or repeat questions on these and other subjects. But summoning them to the West Wing for a beatdown? Hardly.
That's what Obama administration Press Secretary Robert Gibbs is said to have done last Friday with White House reporters. Here's the full text of audio that can be heard at Breitbart; a somewhat expanded text report, along with a the continually updated original graphic screen-grabbed and incorporated into the image at the top right, are at Capitol News Connection:
Press secretary Robert Gibbs disputes the notion that the White House is behind the curve on the BP catastrophe - he appeared yesterday on the CBS program "Face the Nation":

"I don't think anybody could credibly say even as frustrated as they are, and as frustrated as we are, that the government has stood around, done nothing and hoped for the best."

But in a sign of defensiveness, Gibbs called White House reporters into the West Wing Friday and criticized them for asking too many BP questions.
Don't even think about how intense the firestorm would have been if any Republican or conservative administration had ever tried to intimidate reporters like this. And yes, it's intimidation, as in, "If you as an individual reporter keep on asking questions about BP, I'm going to lose interest in taking questions from you on any subject. It will get mighty lonely in here for you."
Anyone who minimizes the power play behind what Gibbs did should be asking themselves why someone from a non-establisment media outlet had to be the one to tell the public about this.
Cross-posted at BizzyBlog.com.